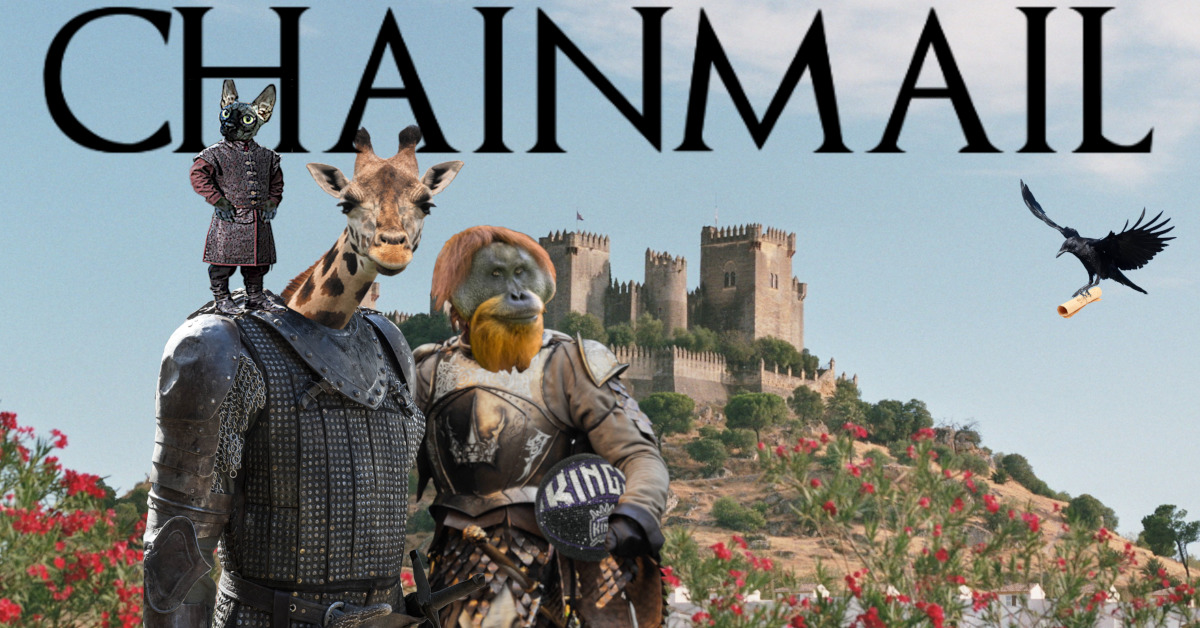 Welcome back to Chainmail! This week, we've forced Brenden to join us in the basement and produce the mailbag (punishment for doubting Alperen Sengun last draft). We're talkin' accountability, the future of the team, and much, much more! Let's dive right in!
From RobHessing:
Are there any players on the current roster that are on the next Kings .500+ team? Any on the next 50-win team? Anyone in the organization?
Will: I firmly believe that if anyone is on this team the next time the Sacramento Kings have a 50-win season, it'll be Tyrese Haliburton. Sure, sure he's in trade rumors right now for bigger, more established names, but I'd wager a decent amount of money that Hali is safe and sound in Sacramento for at least a couple more years and major moves to improve the Kings will be more likely to focus around him than around Fox at this given time. Hali's young enough to withstand a tanking effort, talented enough to play with added talent and has flashed enough promise since Fox went out with COVID that the team would be too scared to move him. IF ANYONE sticks around for it, Haliburton is that guy.
Brenden: When it comes to the next team to go at least .500+, Tyrese Haliburton is the clear easy answer. But, I'm also going to include De'Aaron Fox on the list which is mainly just me predicting that he will not get moved at this deadline, but, the Kings will still manage to acquire a starter-level or better player by risking some draft capital.
As for 50+ wins, the last time that happened in Sacramento Cuttino Mobley was averaging nearly 17.8 points a night... I guess I'll say just Tyrese Haliburton? Ahhh screw it, I'll include De'Aaron Fox in this list as well in an attempt to be optimistic for a quick turnaround. Fox is just now in his first year of a five-year extension -- he's under team control for a real long time.
For funsies, I'll add one random sleeper candidate since Fox and Haliburton are the obvious choices: Terence Davis.
Tim: Tyrese Haliburton is both the obvious and the only answer for me. I can't imagine that Monte McNair will be given the green light to move him this trade deadline, not that he should even if that permission did take place, and Rese will be around for at least the next six to seven years if the Kings are the least bit intelligent. If the Kings haven't had a .500+ season and a 50-win season in the next six to seven years, this blog probably won't be around any longer.
From: GorgeousGeorgios:
I know this current roster could make Greg Popovich look bad, but I do still believe NBA coaching matters. Assuming significant roster changes, how much impact will this offseason's coaching hire make? Are there any names that come to mind?
Will: I honestly think that Greg Popovich could have taken this roster and gotten a 7th or 8th seed out of it this season. Obviously that has to do with COVID/injury related parity but to your point, I think that coaching has a ton to do with it. Sure, I'll mostly subscribe to the adage about coaching truly being the difference makers for the Top 5 and Worst 5 teams in the NBA, but I'm making a slight exception in Sacramento's case! A guy like Dave Joerger might not have fit exactly right with management and might have gotten grumpy at guys like Buddy unnecessarily at times, but with less talent the guy got 39 wins out of the Kings. Luke Walton, for all his smiles and player's backing him, couldn't coach his way out of a paper bag. It matters.
Assuming they're going to continue the time honored tradition of not resetting, I'm all for a retread candidate that didn't seem to get a fair shake on their first go around. I'm sure Tim and Brenden will mention the same name here but Kenny Atkinson would be right at the very top of my list. He set the culture for a Brooklyn team that was trying to rebuild quickly and was a decent reason why Kevin Durant came to Brooklyn. Sure, their clash might ultimately be the reason he was also relieved (far too early in my book) but his emphasis on development fits the Kings current core of young players and was able to put out decent defensive teams despite having so-so personnel to build with. Plus that Warriors connection will mean Vivek can hear first hand how good he's been on the bench this season. Assuming he'll have multiple teams to pick from, I'd also be okay with guys like Brett Brown and Terry Stotts. Sure, they're not sexy names, but beggars like the Kings absolutely cannot be choosers.
I've got a pretty large list of first timers that I've been looking at for awhile and try to research/keep tabs on through the years. Depending on the personnel the Kings acquire in the off-season, I'm all for taking a look at any of the following names: Charles Lee, Will Hardy, Darvin Ham, David Vanterpool, Brian Keefe, Lindsay Gottlieb, Kara Lawson, Jay Larranaga.
Obviously, Becky Hammon would have been a favorite just a couple of months ago - I'll maintain she'd be a fantastic NBA head coach and I hope she does well in the WNBA until someone in the league gets smart. Charles Lee is one of those guys that I've kept a closer eye on. Bucks coach Mike Budenholzer has been really vocal about him for a long time and says that he's the kind of coach that would be both a "meaningful sitdown" guy as well as highly intuitive X's and O's guy. I've mentioned him before but I also think Brian Keefe is dark horse guy to watch in Sacramento. He's a defensive minded coach, known to take novel or contrarian approaches as part of his "question-asker" personality and is really well regarded across the league. He's currently on Steve Nash's staff in Brooklyn, but was previously a coach with the Thunder and got his start under the aforementioned Pop in San Antonio. Monte had a similar reputation before being hired by Sacramento and I think his brand of defense focused, creative thinking would play very well in interviews in Sacramento.
Brenden: Gregg Popovich would probably have this Sacramento Kings roster fighting for something like the five to nine seed in the Western Conference rather than clinging to hope of the 10th spot. I think coaching is ridiculously important in the NBA, and the fact that Tyrese has been led by two head coaches that most people would argue are some of the worst in the association isn't something to be glossed over.
What player has genuinely been optimized under Luke Walton or now Alvin Gentry? Richaun Holmes, I guessssss? McNair's roster construction is confusing and undeniably lopsided, but the attempt made to optimize the available talent has been lackluster. Think of how Dave Joerger made Buddy Hield look like a future All-Star and had Willie Cauley-Stein as a key member of their identity. Or the fact that the team actually had an identity and sliver of consistency, at least in certain aspects.
Personally, I'm eyeing a coaching change this offseason as a potentially big step in the right direction for this franchise. Hopefully, a staff and roster improvement can work in unison towards impactful improvement.
I'm not going to pretend like I have some great knowledge of the potential candidates at this moment but I'll name a few that stand out to me off of the dome: Terry Stotts, Kenny Atkinson, Steve Clifford, and David Vanterpool.
Although, it's important to note that it seems Alvin Gentry could be given a chance to retain his current position next season; likely depending on the final outcome come year's end.
Don't be surprised to see Doug Christie garners serious consideration next season, which was previewed when at the time of Walton's firing. I'd be extremely skeptical if the was the decision made to give Doug the job. But, I sadly wouldn't be surprised.
Tim: A good, inventive, influential coach, say Eric Spoelstra of the Miami Heat, could probably turn this squad into the 7th or 8th seed, but there's only so much one can do with a godawful roster, and the Kings have a godawful roster, as well as godawful coaching.
The hire this summer, whether that's by Monte McNair or a new General Manager, will be the most important decision by the management team, more so even than the top seven-ish draft pick that is undoubtedly headed Sacramento's way. If the Kings can nail this coaching hire, they can quickly find a path back to playoff hopes, assuming the roster is also rebuilt, but if they blow it, they're probably looking at a twenty-year playoff drought because Lord knows Vivek doesn't want to pay for another head coach sometime in the next three or four seasons.
As far as who I would like the Kings to hire, there are plenty of reputable names out there. Before I name any, I would always recommend consulting Jill Adge's expertise in the area of coaching and GM candidates. She's recorded multiple podcasts and written multiple Twitter threads around the subject.
From my perspective, I would like the Kings to focus on names associated with development and defense. That could be Kenny Atkinson, Darvin Ham, David Vanterpool, Will Hardy, or a host of other candidates.
In one other side note, I can't believe that Will wants to hire Charles Lee, a disrespectful, incompetent general who threw George Washington under the bus and was shot by John Laurens in a duel, leading to his resignation from the Continental Army.
From Kangzville08:
Is there any point before the trade deadline that the Kings realize that they're bad enough to tank?
Will: If that moment didn't come 10 seconds after the Kings lost back to back games against the Rockets and Pistons while being 10 games under .500 themselves? It ain't coming. For anyone hoping for an all out tank, there is some decent news for the Kings pulling their head out of their ass: There's seven games between now and the next truly winnable game against the Thunder on February 5th. That's a good long time for the front office and ownership to think about what chances the Kings have in coming years against teams they'd like to think they can match-up against. The Kings drop nine in a row, or six of nine (including the previous two contests) there's absolutely no way they can justify trading picks or young talent for a playoff push. That doesn't mean they won't try, but at that point it is pure, egregious delusion.
Brenden: I almost wonder if this question is even applicable to the Sacramento Kings organization. Is there truly any moment(s) that could lead them to stumble into the point of asking the question you mentioned? It feels like any sort of "holy shit, we're actually bad," type of realization would instead lead to a desperate move to get better now. AKA: Acquire additional, significant talent and/or shake up the top-end guys on the roster.
As Will said, if the recent back-to-back losses against teams that probably don't even want to win games didn't cause that reaction then I have no clue what could. For that reason, I'd expect a significant move from Monte McNair prior to the February 10th trade deadline. There's no lack of reporting that ownership has a clear "playoff mandate" in place to end the infamous record-setting postseason drought they are currently in.
Tim: Here's where I struggle with the tank/reset/retool versus push for the playoffs conversation. To a certain extent, I sort of understand ownership's playoff mandate. Monte McNair likely sold building a contender in his interview process, and it seems as if trading for a star was the highlight of his plan, and he has yet to build for a contender or trade for a star or even assemble a roster that can finish fewer than 10 games below .500. I can squint and see Vivek telling Monte to produce the results that were promised 18 months ago. From that perspective (which is maybe a naive one), the push for the play-in is somewhat understandable.
Strictly from the front office's perspective, they may very well be trying to save face or even save their jobs right now. Promises were made and have not been kept from a goal perspective. So no, I don't see the management team backing away from the play-in plan, even if it's a near-hopeless cause at this point in the season. Draft picks and young talent are going to be sacrificed to try and make a push, assuming other teams are interested in those young players and draft picks.
From 02kingsfan:
How long is McNair's leash since he was hired to push for the play-in with the current group but failed to do so in back-to-back seasons? And is he fit for the job if this ownership group wakes up and realizes a proper rebuild is the only way to do it?
Will: I honestly think he might be better suited for a rebuild than this current challenge based simply on the fact he hasn't done anything stupid in the draft. Sure, lucking into Haliburton isn't huge for his resume in my mind, and picking Davion Mitchell takes a leap of faith that I'm not willing to take without a well-tested net below me, but he hasn't done anything super contrary to what should be done. His biggest, most frustrating strong suite is his patience, something that a rebuilding GM absolutely needs to be exercising.
As for how long his leash is? I'd venture to guess he gets another season or two before he pays the ultimate price. Vivek Ranadive knows he's the only constant left after years and years and years of ineptitude and I think he's wary of trying to pull the trigger too quick on anyone right now, even if it is just for PR reasons. Vlade got a year or two more than he deserved, Luke Walton got a year or two more than he deserved and Monte's going to get the same. I think Vivek is really trying to step back and let the GM fulfill his mission and I'm certain that Monte wasn't hired without telling the powers that be that they'd need to exercise patience to pull off the deals he's been trying to make.
Brenden: I'm gonna interpret this question as "When have we seen enough of McNair? Or, When do I think ownership will say they've seen enough?"
I'd guess that Monte McNair gets through this offseason at the very least unless he does nothing but trade for another Maurice Harkless or Terence Davis at this year's deadline. Assuming that a notable move is made (Ben Simmons, Domantas Sabonis, Myles Turner, Jerami Grant, John Collins, etc.) I'd expect for McNair to be given a full offseason to construct an ideal roster around his new talent(s), make a (hopefully good) coaching hire, and use the cap space he seems to have been looking forward to.
Monte supposedly let Bogdan Bogdanovic walk for nothing with financial flexibility at the front of his mind -- it was also a somewhat understandably tough and timely situation to face right after accepting a complicated job. He also didn't use the available Mid-Level Exceptions in either of the last two offseasons. It even kinda seems like he didn't expect to be able to retain Richaun Holmes to the shocking deal that was eventually signed. Re: the timing of trading Delon Wright for Tristan Thompson plus signing Alex Len.
With an expected cap spike next year, the Kings could be working with roughly $30-million in space. The list of potential free agents is underwhelming, but maybe adding guys like Kyle "SloMo" Anderson and/or Joe Ingles alongside a Sabonis, Simmons, Turner, or Grant could lead to significant improvement? Technically, they could even pull that off and participate in a fancy-schmancy sign-and-trade to complement the roster's hypothetically incoming talents. (Let me have this unwarranted optimism so I don't go insane...)
To bring it back to the question that I definitely didn't get sidetracked from and forget I was answering, McNair should not be allowed to wait any longer. He needs to make a "big" trade that the fanbase can crush on for Valentine's Day then proceed to demonstrate why cap space is valuable, despite the hindrance of the "Sacramento Tax".
Tim: I'll be as frank as possible. If Monte McNair doesn't make some miracle move at the deadline, and I'm not even sure what that miracle move looks like at this point in a lost season, he should be fired. Two years is more than enough time to accomplish...well...anything, and he has yet to do that. If he fails to complete a difference-making trade by February 10th, he's run out of time in my book.
I also wouldn't trust Monte McNair with a rebuild for a few reasons. First, aside from Tyrese Haliburton falling into his lap, his drafting has been okay at best. Davion Mitchell looks like a fine rotational player at 23-years old. The second round picks haven't hit. He's been about as average as possible, with me maybe unfairly dismissing the Haliburton pick a bit.
Secondly, you can't present a plan, try to execute that plan for multiple seasons, multiple drafts, multiple trade deadlines, and multiple offseasons, fail at that plan, and then ask for a restart. The NBA is a results-based business, and a year-and-a-half into Monte's tenure, those results have been terrible.
Finally, I don't trust Monte's player valuation skills. Assuming that no impressive move is made (again, this argument could fall apart if those moves are made, and I hope that those moves are made and Monte's proves my distrust to be foolish), he's missed out on big cashouts on veteran players like Bogdan Bogdanovic, Harrison Barnes, Richaun Holmes, and even Buddy Hield for multiple years. A rebuild requires patience, which to Will's point, Monte has an abundance of, but it also requires the ability to properly assess the value of current assets, and McNair has yet to demonstrate that skill thus far.
From Adamsite:
How do you all keep doing it? The writers on this site are amazing. You all continue to write outstanding previews, recaps, interviews, podcasts, etc., all while not falling into the pit of apathy many of us find ourselves in. How do you all keep doing it?
Will: I appreciate the love that you've given all of us here and the very kind assumption that we aren't in the pit of apathy along with you all. For me personally, I think part of continuing to put forth effort and good content comes from accepting that I am in the pit, that I do feel like quitting the NBA's equivalent to the Stanford Prison Experiment and that if I'm going to be here, if I'm going to dedicate my time to something miserable, that doesn't mean that something good, or at least entertaining, can't come from it. I'm blessed in a way that Tim and Brenden aren't. Sure I have to report certain facts and discuss different truths surrounding the Kings but... I can also talk shit about them, suggest movies and other things to do outside of our little world to do than watch the Kings. Tim and Brenden are good basketball minds and have futures larger than this if they wanted to and have to make sure their wheelhouse is tidy, intelligent, appropriate, even if critical. I can toss Peter Shilling lyrics and slow-mo youtube videos of toddlers complaining they smell like beef to let my frustration out. Even on the podcast, I've got two of the more optimistic, intelligent, kind basketball minds with me in Tony and Jerry. They've certainly kept me from going insane off AND on air with their reasonable takes and discussion. Having all of you here, my internet family and friends, to dance for makes it all a lot easier too.
Brenden: I just watch the Celtics, duh. Nah, jokes jokes jokes. I just try and annoy the players as efficiently as possible. This year, I quickly discovered the optimal method has been highlighting their weakness during public and recorded conversations with the coaches.
Jokes aside, I kinda don't know what else I would do with my life. I have always been a person that felt a need for my job to be something that I love spending time doing and basketball is one of the few things that I can comfortably say I love unconditionally. Maybe spending more time around this organization's somewhat impressively consistent level of dysfunction will eventually cause me to break and turn my energy towards starting an OnlyFranz.
But, until then, I'll remain obsessed with covering NBA basketball and chasing my dream of making that a full-time job. When I moved to Sacramento about three years ago with my family, it was the definition of a fresh start in a city where I knew absolutely nobody -- and, oh yeah, there was a frickin global pandemic taking place. I'm an extremely socially anxious, and therefore introverted person naturally, but, basketball settings supply me with rare feelings of comfort, bliss, friendship and (recently) accomplishment -- pretty confident that's the cheesiest thing I've ever written.
I've come to make more friends than I ever imagined possible, including all of the contributors (except a certain ex co-host who heartlessly abandoned me and somehow manipulated me into being an Austin Rivers stan) at the Kings Herald. I can't thank everyone on this site enough for being willing to overlook child labor laws and guide me to and through being credentialed media meber.
Sooooo, I've just truly loved the whole process and probably am just still new enough to the Kings where they haven't broken my spirits yet! But, I do happily imagine Sacramento being a long-term home for me in due time -- which will include an eventual full-time job covering the Kings while denying any idea how paintings of what appear to be giraffe spots keep appearing in the halls of the Golden 1 Center.
Damn you for having me write an appreciation and self-reflection journal entry in this mailbag. Thanks for reading it, though.
Tim: I think most of us on staff have never been more apathetic than right now, to be fair. I would guess that I've missed or half-watched more Kings games through 48 games this season than I ever have since I started writing for the site. They're just too miserable to watch at this point and I have too many other important things to do, especially with a 5-year old, 3-year old, 3-year old, and 2-year old currently in my home.
I keep doing what I'm doing for one reason. This community is the only real reason I'm still a Kings fan. If I had never found (redacted) and eventually started writing at that site, I'm not sure my fandom survives sixteen years of this bullshit. We're all in this together, so we may as well have some miserable fun while we're at it.
From AmateurNerd:
I will ask once again, and this time I expect an answer: Kangz or KANGZ?
Will: All KANGZ all the time, baby.
Brenden: You know what? I want to hear your answer, AmateurNerd: KANGZ or Kangz? I expect an answer in the comments and I'll gladly use your choice between the two from here on out.
Tim: Wow Brenden, way to cop-out of an answer, and an easy one at that. When the Kings are starting to blow a lead in the third quarter, it's Kangz. When the Kings pretend they're still a playoff team, it's KANGZ. When the Kings pass on Luke Doncic for the ghost of Derrick Favors, it's KANGZZZZZZ.
It's all about degrees of Kangziness.