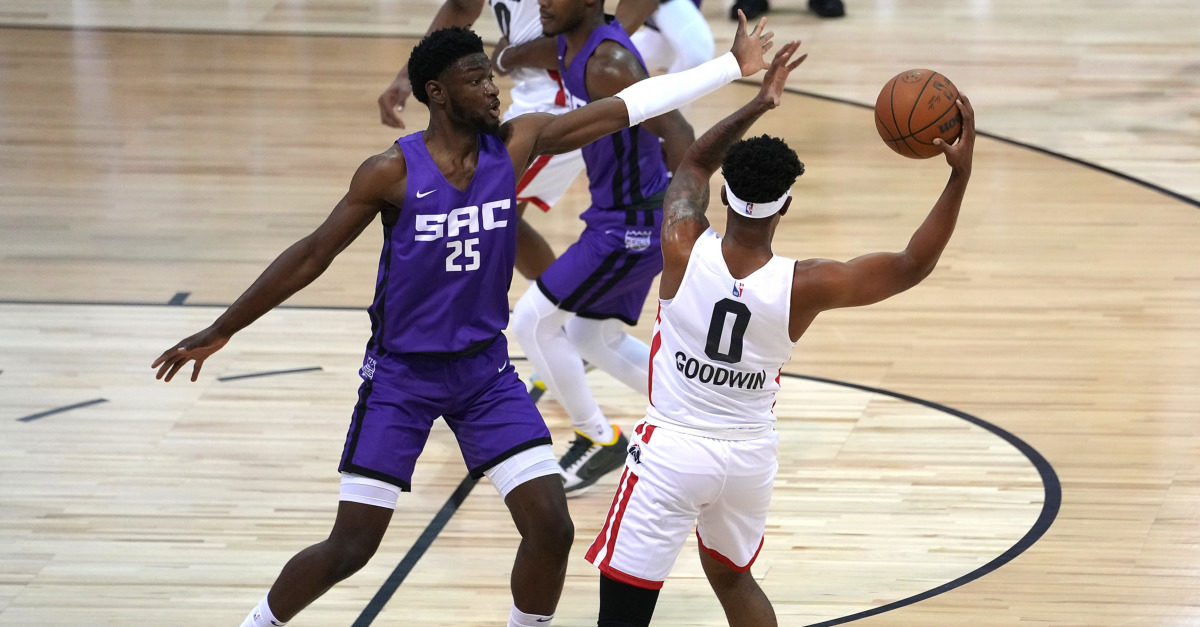 The Sacramento Kings were historically bad on defense last season and finished last in the NBA in defensive rating. And while the offensive promise of De'Aaron Fox and Tyrese Haliburton is exciting, the team will never improve enough to be a consistent playoff team without a substantial shift in how it approaches defense.
Retaining Richaun Holmes and adding Alex Len should help, but it is going to take a mixture of a completely different strategy in the way Luke Walton coaches defense; Fox and Haliburton placing an emphasis on stopping the ball; and hopefully Davion Mitchell's drive helps push the culture toward defense so all the players buy in. Every offseason in Sacramento we hear about the need for better defense. We hear about how there is going to be a renewed focus, and seemingly every subsequent regular season we see it slip away as quickly as the Buddy Hield-to-the-Lakers trade. And the cycle is continuing, just hopefully with a different outcome this time around.
In a new baby step toward trying to make the Kings a better defensive team, Sacramento Kings Summer League Head Coach Bobby Jackson has placed emphasis on defense in Las Vegas. And in the team's first two games it has shown. The Kings held the New Orleans Hornets to 70 points on Monday and then held the Wizards to 75 points on Tuesday. Jackson said it started in training camp and continued to build in the California Classic.
"Once we know we can get into you and rattle you and make things hard and difficult for you, it just allows us to play with a little more confidence and we started that in training camp. We worked on defense for the first 45 minutes, we didn't do any offense," Jackson said. "I just wanted to change the outlook of how people talk about us. So I came in saying we're going to only focus on defense for the first 30-45 minutes and the guys bought into it. The only way we're going to be really good is everybody has to accept that challenge and be really good and tough on the ball and off the ball."
Mitchell, the Baylor star whose calling card is defense, is a catalyst to this. Following the win over the Hornets in which Mitchell locked down fellow lottery pick and offensive standout James Bouknight, Jackson said, "You see why he is really special. He plays with pace, he can get everybody involved, he didn't have a turnover tonight and 9 assists. He was a floor general tonight, but he defended at a high level and made sure he was locked in defensively. And when we can do that it changes the scope of everything. It allows us to be just a different team."
Mitchell watched filmed on Bouknight the night before playing against him. Mitchell noticed Bouknight is good when in space and so he just tried to take away that space, but also repeatedly credited his teammates for the defensive stance against Bouknight (nice to see his team mentality). Bouknight finished with 11 points, with 5 turnovers and went 1-5 from three.
Chimezie Metu sees how Mitchell can impact the whole team.
"He is amazing on defense. And I had heard about him last year, but seeing him up close it's pretty insane. It gets boring sometimes on defense just standing there watching him hound whoever is dribbling. But he's great, man. Obviously that was something we were lacking last year. I feel like he's going to come in and be a really big spark for us. It's exciting having him around," Metu said.
And it isn't just Mitchell playing with a sense of purpose on defense. Metu and Louis King both tallied four steals against the Hornets. King also had two steals against the Wizards to go along with a nice stat line of 16 points, 4 rebounds, 3 assists and 0 turnovers. Neemias Queta also has been a nice interior presence.
As a team the Kings have played decent team defense and are maintaining a level of intensity on that side of the ball. They forced the Hornets into 22 turnovers and the Wizards into 21 turnovers and have 27 total steals. The Wizards shot 24 percent from three and the Hornets shot 25 percent from three against the Kings.
"When you get stops it just gives you a lot of confidence on the offensive end. It gets you out, it allows you to run, come up with turnovers and we're just trying to play aggressive, physical defense, communicate, talk, have each other's back and just be super explosive on the ball and off the ball and the guys are doing an amazing job and they're competing for me every single night," Jackson said.
Jackson also said that Mitchell, while a good on-ball defender and has shown promise scoring the ball, still needs to work on his off-ball defense.
"That's his bread and butter - his toughness, the way he approaches the game, how he defends. He's a really great on-ball defender, has to get better off the ball. We've talked about it, but he sets the tone at the top of the key offensively and defensively for us. Really crafty, still learning the game and I think his toughness allows us to be a tough team and it's just how we want to play," Jackson said.
Summer League is known for its hot takes and overreactions. The talent level isn't anywhere near what it is in the NBA, so everything must be taken with a grain of salt. Two games of good defense with a majority of players who won't be in the regular rotation this season in Vegas does not mean the Kings will be a good defensive team in the 2021-22 campaign, but you have to start somewhere.
Kudos to Jackson for setting the tone.