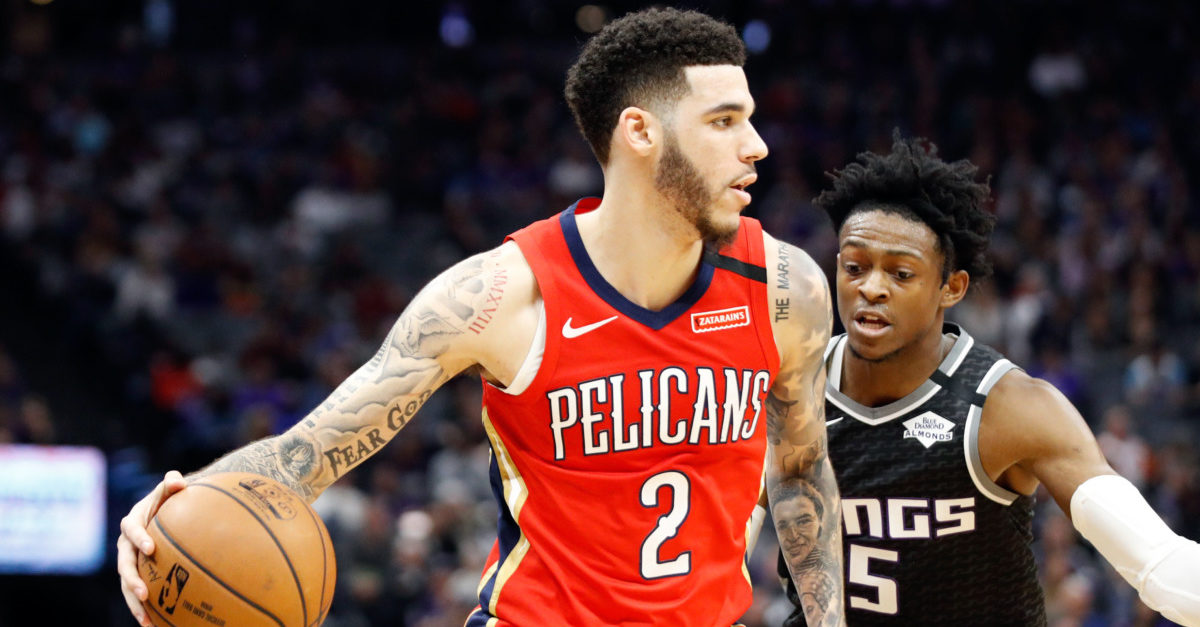 On Tuesday morning, Shams Charania of The Athletic dropped a barrel full of interesting tidbits for Sacramento Kings fans. He mentioned the continued availability of All-Star Ben Simmons and up-and-coming point guard Collin Sexton, but it was the revelation that the New Orleans Pelicans would not be matching a large offer sheet to Lonzo Ball that should pique Monte McNair's interest.
Perhaps more than any other non-Kings player, Lonzo Ball generates a tidal wave of controversial discourse within the Sacramento fan base. As an overhyped, LA-based collegiate star and draft rival of De'Aaron Fox, Ball's struggles with the Los Angeles Lakers were understandably celebrated. He couldn't shoot, struggled against more physical defenders, and was eventually included as one of the pieces in the Anthony Davis trade, despite being labeled a game-changer when he entered the league.
However, since joining the New Orleans Pelicans, Lonzo has completely reinvented major parts of his game. He's now a near-elite three-point shooter, having knocked down 38% of his 8.3 attempts per game last season, and Ball has also been showing off a revamped shooting form this summer. His base skillset, excellent court vision, is still very much in play, while he's also grown into a strong perimeter stopper. All of those wonderful things being said, Lonzo is far from perfect, especially with his struggles at the rim and in the mid-range, as well as his tendency to disappear for stretches. Yet, he's a 23-year old volume three-point marksman who can pass and defend, two elements that the Kings desperately need to add to this roster. Even if Ball himself isn't the exact player someone may desire, he represents the exact type of young, developing contributor that the Kings should consider targeting this offseason.
Assuming that Monte McNair is interested in adding Ball as a starting wing or as a perfect bench complement to De'Aaron Fox and Tyrese Haliburton, he has a bit of a complicated path toward adding his services. The Kings will likely operate above the cap this offseason, maxing their spending money at about $9 million with the non-taxpayer mid-level exception, far below Lonzo's expected payday. Sacramento's only realistic solution for that problem lies in a sign-and-trade.
Any sign-and-trade scenario, whether that's with Lonzo Ball, Lauri Markkanen, John Collins, or any other player, is not as easy as simply matching salaries for each team, as would be normal with a standard trade. That's due to Base Year Compensation.
In the event that a team over the cap wishes to execute a sign-and-trade, that player's salary will be counted differently for the two involved teams. For the team signing the player, in this case, the Kings, Ball's salary would count as whatever he was signed for, as would be expected. However, for the Pelicans, his salary would account for only 50% of his new salary, or his previous season's salary, whichever is greater. Those restrictions greatly complicate what would normally be a basic transaction.
In Lonzo's case, let's say that the Kings make him an offer with a starting salary of $18 million. On their books, Sacramento will have added $18 million straight up. For the Pelicans, Lonzo's exiting salary would be $11 million, his previous season's salary, as that's greater than half of his new salary. The two logical trade pieces that the Kings could send back would be either Buddy Hield or Marvin Bagley, but neither player works in a one-to-one deal. Bagley makes far too little to fall within the required $5 million, plus $100,000 threshold for the Kings, while Buddy's $23 million is far too much for New Orleans to take on. Both teams need to add a smattering of players to the deal to make the numbers work under the CBA. Here are a couple of trades that work financially.
Trade 1
Kings In: Lonzo Ball ($18M), Steven Adams ($17M), Wenyen Gabriel ($1.7M)
Kings Out: Buddy Hield ($23M), Marvin Bagley III ($11M)
Total Cash In: $34.7 million
Total Cash Out: $34 million
Pelicans In: Buddy Hield ($23M), Marvin Bagley III ($11M)
Pelicans Out: Lonzo Ball ($11M), Steven Adams ($17M), Wenyen Gabriel ($1.7M)
Total Cash In: $34 million
Total Cash Out: $29.7 million
Why the Kings do it: This is an interesting deal for Sacramento, although it may be a bit of a tough pill to swallow when considering Steven Adams' overpaid contract. However, if the Kings believe that Richaun Holmes is likely walking in free agency, which seems more likely by the day, Adams as a replacement isn't a worst-case scenario. Adding him alongside Lonzo would grant the Kings guard depth and a starting center, without forcing them to spend their MLE on a replacement big man for Holmes. They could instead use that cash on a backup wing or further center depth.
Why the Pelicans do it: With Zion Williamson leading the way as their young star, the Pelicans desperately need to surround him with shooting, and they weren't able to accomplish that in 2020. New Orleans ranked 27th in made three-pointers and 26th in three-point percentage. Hield would provide proven, high-volume marksmanship, while Marvin Bagley is a gamble that might pay off as another young piece in their Ingram-Williamson core. Frankly, New Orleans getting anything of value for a player they don't want to pay is a win.
Trade 2
Kings In: Lonzo Ball ($18M), Jaxson Hayes ($5.3M)
Kings Out: Marvin Bagley III ($11M), Delon Wright ($8.5M)
Total Cash In: $23.5 million
Total Cash Out: $19.5 million
Pelicans In: Marvin Bagley III ($11M), Delon Wright ($8.5M)
Pelicans Out: Lonzo Ball ($11M), Jaxson Hayes ($5.3M)
Total Cash In: $19.5 million
Total Cash Out: $16.3 million
Why the Kings do it: Sacramento sheds less salary in this deal, but they also don't have to take on Adams' large contract. Lonzo is the start of the deal, but swapping Hayes for Bagley gives Sacramento another big, young prospect who hasn't quite worked out. Losing Delon would cost the Kings a fan favorite, but replacing his minutes with Lonzo's contributions would be a significant upgrade for the roster.
Why the Pelicans do it: The Pelicans maybe don't get as much value in this deal, but they do get essentially a free look at Marvin Bagley, while Delon Wright provides solid point guard player off of the bench, a key ingredient for a team wanting to make the postseason next year.
Of course, there is one final element to consider in a Lonzo Ball sign-and-trade, and that's Lonzo himself. No matter what salaries or assets the Kings and the Pelicans could theoretically swap, Ball must want to come to Sacramento before any deal can take place. Other teams may offer more cash or a guaranteed starting spot, and even if not, the presence of Luke Walton may be enough to dissuade Lonzo from taking a Kings offer. It's certainly not impossible for the Kings to acquire Lonzo Ball, but it will be far more complicated than a typical one-to-one player swap.