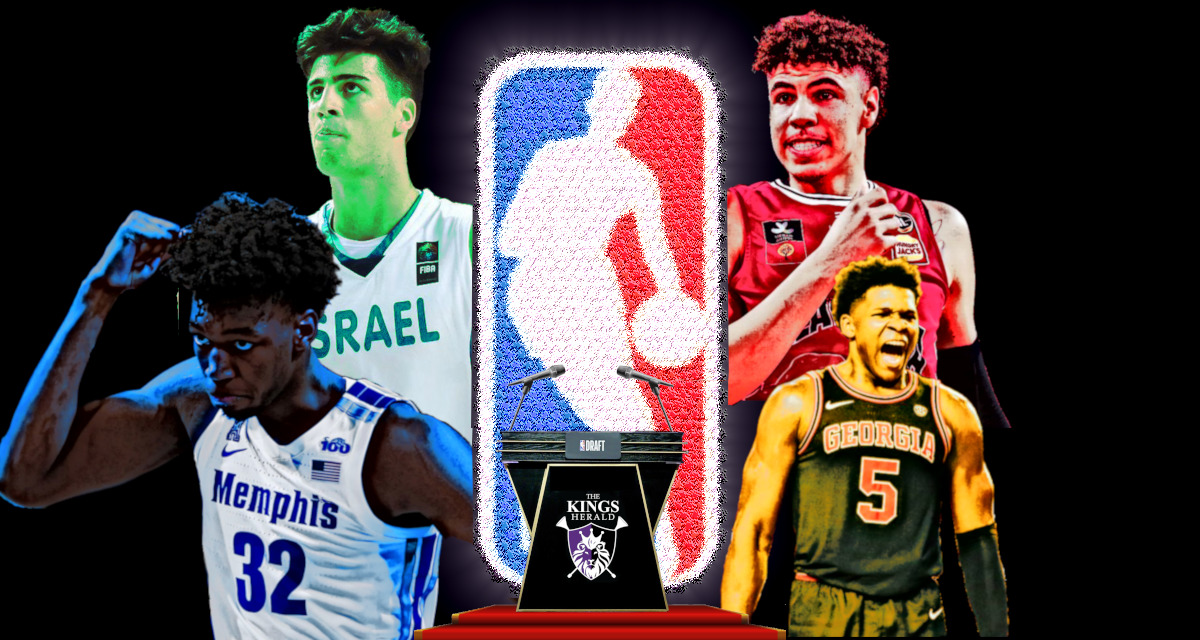 Welcome to The Kings Herald mock lottery (plus two), where everything's made up and the picks don't matter! Like the Avengers when they're avenging things that must be avenged, we've assembled the entire staff from the far corners of the universe to come together and make selections 1 - 16 in the 2020 NBA Draft. Each temporary General Manager will justify their pick with one or two paragraphs, no trades allowed.
1. Minnesota Timberwolves: Anthony Edwards
Tim: There's a clear top three in this draft, Anthony Edwards, LaMelo Ball, and James Wiseman (no matter what my insane coworkers may think) and with Karl-Anthony Towns already on the roster, Wiseman clearly isn't a smart pick. That leaves a choice between Ball and Edwards, two heavily flawed guards, but I'm giving the advantage to the Georgia product. Edwards can play off the ball, actually cares about defense on occasion, and can operate as the second or third best player for a team already sporting two stars. A core of Russell-Edwards-Towns certainly isn't a bad foundation for one of the bottom dwellers of the Western Conference. I'll leave the drama and shot selection of Ball to some other poor team.
2. Golden State Warriors: Onyeka Okongwu
Will: I can already hear the weeping and gnashing of teeth, so let me explain: before setting off into this we agreed that we should be doing a mock draft, without trades, and I happened to get the one team that nearly every writer in the nation is positive will end up trading out of this spot. Operating under the assumption that the Warriors would keep their pick, I think USC's Onyeka Okongwu fits into the Warriors schemes perfectly. Okongwu is a strong, springy athlete that rebounded well on both sides of the ball, boasted one of the best block rates in the country last year and is a great pick-and-roll guy and post scorer for a Warriors team looking to come back from their lost season with a vengeance - and in desperate need of a big man to boot.
While there are those that might lose their hair at this pick not being James Wiseman, I feel very strongly that questions surrounding the 7'1 Wiseman's lateral mobility, shaky team defense and sometimes questionable effort would dissuade the Warriors and point them closer to a guy like Okongwu, whose motor is always revved up as far as it can go. Wiseman is a beast physically and showed flashes of his massive potential in the few college games he was able to play, but I think the limited tape on Wiseman in college will hinder him a bit. For Okongwu, what the 6'9 center from USC loses in height, he more than makes up for in hustle, flashes of passing and ball handling abilities, and defensive instincts. Wiseman might be the flashier, higher upside pick but the Warriors are trying to win now and Oneyeka Okongwu fits their system like a glove.
3. Charlotte Hornets: James Wiseman
Greg: This was a toss up between Ball and Wiseman, but I think Wiseman makes more sense for Charlotte. The Hornets already have Devonte' Graham at point guard, and Miles Bridges and PJ Washington at the forward spots. Wiseman gives the Hornets a skilled big to join their young core. Addressing one of the biggest roster needs with one of the best prospects in this class is a no-brainer.
4. Chicago Bulls: Obi Toppin
Biegler: Does LaMelo make sense here, in so much as he's one of the 2-3 best players in the draft and makes sense pretty much anywhere? Yes. Do the Bulls already have a glut of forwards? Yes. But the Bulls drafted a pretty good point guard last year. And, and good God I may be channelling my inner-Vlade here, but LaMelo and LaVine aren't exactly complimentary players. So I'm giving them Toppin, product of a Mid West school, and a player whose range, athleticism and positional androgyny mirror much of what the Bulls appear to already be doing with their roster. I'm additionally handicapping for the fact that I think Obi would have had one of the better tournament runs of the players in this draft. Also he was born in Brooklyn. You know who else was born in Brooklyn and ended up in Chicago? Al Capone. And that worked out pretty well.
5. Cleveland Cavaliers: Tyrese Haliburton
TJ: Sigh. I'm not going to lie. Did I see Onyeka Okungwu fitting in with the Cavs as a 4-5 hybrid? Yes. Did detective Dick Griffith shatter those very brief dreams? Yes, and will get over it €" mainly because I can picture a munificent Sexton-Haliburton backcourt which is just goddamn delightful. You've got the ball-dominant Sexton and the off-ball Haliburton feeding off each other without stepping on the other's toes. This thought soothes me. And so does the thought of Will getting a pineapple catheter inserted but that's a story for another day.
6. Atlanta Hawks: LaMelo Ball
Bryant: The strangest pick of the mock by far, and one my fellow writers can mock me for endlessly; the complex and crazy fit in Atlanta makes this one an eye raiser. But LaMelo won't last this long come real draft night, and he's clearly the best player available on the board. While my gut said to take one of the wings or Killian Hayes, there's no denying that a LaMelo/Trae pairing could be nuclear game-breakingly awesome on offense, as long as Lloyd Pierce can sell LaMelo on a significantly less ball-dominant Ball role.. On defense, it would probably be the worst guard pairing in NBA history, but let's let Pierce worry about that one. In all honesty, I've done too much hypothetical contemplation about where it made sense for Sacramento to gamble on a De'Aaron Fox/LaMelo pairing, and on my board, this is about that spot.
7. Detroit Pistons: Devin Vassell
Sanjesh: Detroit has more questions than answers with their current roster construction and ideally need a point guard to build around for the future. But with Ball and Haliburton off the board, the Pistons should take one of the better wings available to accumulate better depth. Derrick Rose is still under contract for one more season and he is coming off a bounce back campaign. Because of the uncertainty surrounding Blake Griffin's health, Detroit is likely looking at another lottery situation next year. If things swing their way in the lottery, they could draft Cade Cunningham and have a core of Cunningham, Vassell, Sekou Doumbouya and Christian Wood, who they need to secure long-term this offseason.
8. New York Knicks: Cole Anthony
Rich: The Knicks need a fresh new face to lead the franchise to seven more years without the playoffs. Cole Anthony fits the bill. High usage, huge hype out of high school, possibly not very good at basketball €" he's everything New York is looking for. In all seriousness, I am higher on Anthony than most after his plummet among consensus ranks. A big swing on a high ceiling guy isn't a bad move in a weak draft class. His jerseys will sell fast, at least.
9. Washington Wizards: Isaac Okoro
Blake: The Wizards are ranked near the bottom of the league in defense. In fact, they were record-setting bad defensively earlier this season. This draft seems to have a lot of guys who could turn out to be good wing defenders, but Okoro might end up being the best. At 9, you never know what you are going to get, go with the guy who projects to be sound defensively. He also appears to be NBA-ready with a solid understanding of positioning, and he can score in the paint and rebound.
10. Phoenix Suns: Killian Hayes
Tony: As a Kings fan, I will be very annoyed if Killian Hayes falls to the Phoenix Suns at 10. Hayes represents a perfect long-term backcourt partner for Devin Booker. He's one of the youngest players in the draft, so he'll need some time to develop, but his eventual emergence should line up perfectly with Ricky Rubio's assumed decline as he ages out of usefulness.
Hayes does everything you want in a complement to Booker. Killian has excellent court vision, great size for his skill set, enough defensive potential, and a developing spot up jumper with good understanding of his strengths, weaknesses, and shot selection, so he won't be challenging Booker or Deandre Ayton for offensive opportunities anytime soon. Booker, Hayes, and Ayton could be a formidable big three in the Western Conference for the next decade.
11. San Antonio Spurs: Deni Avdija
Akis: I have purposely done very little draft research this year because after 2018, I don't want to get my hopes dashed again. The Kings will draft who they draft and they'll either be good or bad but either way I'll be rooting for them to do well. Now for the purposes of this exercise, I have heard of Deni Avdija and from everything I've read and seen it seems very unlikely that he would drop this far in real life. Our own Bryant West has Avdija 3rd on his Draft Big Board and describes him as a €œhigh IQ wing with a non-stop motor on both ends€. That sounds like a Spurs player to me. In fact the last time a high-IQ wing with a non-stop motor that couldn't shoot went to the Spurs, they taught him how to shoot and won another Championship.
12. Sacramento Kings: Patrick Williams
Kevin: I don't know how Deni fell as far as he did but I was ready to pull the trigger out of obligation if Akis let him pass by. With Deni off the board, I was basically picking between Patrick Williams and Saddiq Bey, and I think you can expect the Kings to be wrestling with that same decision. I feel like I could make a really compelling argument for either. Bey is the safer pick in my mind but I REALLY REALLY like Patrick Williams' upside.
With the Kings likely to lose Giles and possibly Bazemore and Len as well, Sac will have quite a few holes to plug and not a ton of wiggle room to do it in, when you factor in Bogi's restricted free agency and Fox's potential extension. An easy way for the new GM to free up a bit of cash, is to opt out of the final year of Bjelica's contract and that's where Williams' versatility (potentially on both ends of the floor) begins to make a ton of sense for a Kings team who should be looking to get a lot done in the most cost-effective way. Williams was fully off my radar but I fell in love with the idea of him while watching Devin Vassell tape, and haven't looked back. He projects as a 3-and-D combo forward and while his stats don't jump off the screen, I think the upside potential makes him a steal at number 12 and maybe the sleeper of the draft.
I should take a moment to say, if the new GM pulls the trigger on Nesmith here, you can probably assume Buddy is being dealt. So keep your eyes peeled for that should the opportunity arise. BTW€¦ if the Kings somehow pick up a late first in a trade, I'm also taking Jalen Smith. Send me your hate, it fuels me!!
13. New Orleans Pelicans: Aaron Nesmith
Omer: Pelicans take, in my opinion, the best player available here. It works out well because Nesmith can play SG next to Ingram and basically be JJ Redick's successor. Nesmith won't have any playmaking responsibilities on the team; with Holiday and Ingram the ball-dominant forces on the squad, he can focus on moving off the val land stretching defenses with his jumper. With his size, length, and strong frame, he is potentially a switchable defender 2-4, and the Pelicans can terrorize the league with lineups that feature Zion at center surrounded by interchangeable wings.
14. Boston Celtics: Kira Lewis Jr
Brenden: The Boston Celtics in the rare position of succeeding in the present while also having an extremely bright future. Kemba Walker is the point guard of now, but he does not fit the timeline of Tatum and Brown. Kira Lewis has shown a capability to create for himself with De'Aaron Fox like speed while also excelling knocking down shots off the catch. He can learn from behind Walker until he is ready to take the reigns once Kemba's contact is up. For now, Lewis will be a valuable rotation piece for a Boston roster that lacks creators off the bench.
15. Orlando Magic: Trevelin Queen
Brad: Young and sweet, picked him at 15
You can pass, you can drive,
Give him a contract for life
See that pick, watch this team,
You are the Trevelin Queen
16. Portland Trail Blazers: Jaden McDaniels
Kimani: This is exactly who Portland is taking in real life. I don't have inside info, just photographic clairvoyance.
How did we do? Who was absolutely atrocious? Did anyone find out who exactly Trevelin Queen is in real life? Let us know below!