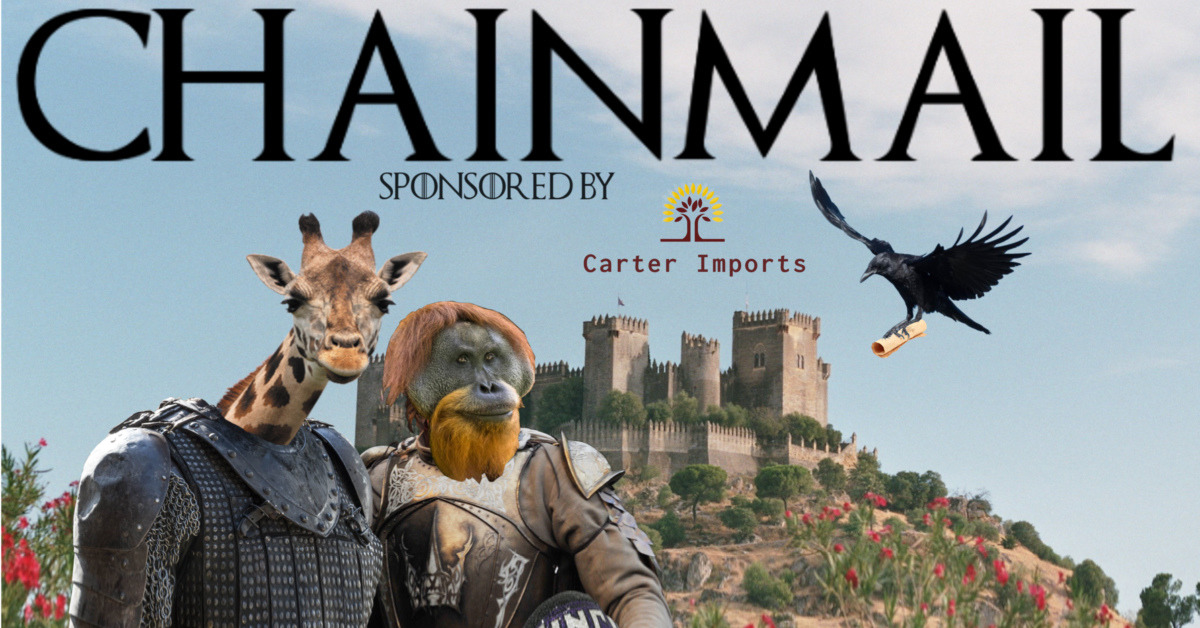 Welcome back to Chainmail! We had a plethora of wonderful questions this week, as Will and I discussed our biggest and best takeaways from the four game start, Marvin Bagley's development, season-long expectations, and much, much more!
As always, want to thank our sponsor for the mailbag, Carter Imports! Carter Imports is a Sacramento-based company that imports some of the very best Extra Virgin Olive Oil and Cretan Thyme Honey available in the world today. There has never been a better time to support one of our own than right now!
Let's dive in, shall we?
From: SMF-PDXConnection
What would you say is your biggest positive surprise and your biggest negative surprise so far this season?
Tim: I don't know if this is my biggest "surprise" because I was always super high on him, but Tyrese Haliburton's stellar play has been such an encouraging sign. He's passing well (21 assists), while not coughing up the ball (3 turnovers), while also shooting incredibly efficiently from the floor: 56% on field goals and 50% from deep. Oh, and he's already the most naturally talented guard/wing defender that the Kings have at the moment. This. Kid. Can. Play.
Will: Tim answered the positive, so I'll answer the negative here. The Kings, by most measures, are a fairly bad basketball team and their luck is going to run out at some point. If the Kings weren't currently cycling through Managers and various coaches like the waxing and waning of the moon, I might accuse the franchise of deliberately gaslighting the fanbase in regards to what they hype up vs. what gets put out on the court. This year the Kings brought in Alvin Gentry and Rex Kalamian as offensive and defensive coordinators to help their famously friendly, player-centric head coach and new general manager Monte McNair and others hyped the return to a quicker pace and a new focus on three point shooting. Well, the Kings are currently in the bottom five in pace, bottom three in three point attempts and this wasn't due to any sort of injury or sudden change in reasoning. They're just, not doing it... again. Now, to be fair to the other side of this coin, they're 9th in points per game and 11th in three point percentage. Christmas promised a fast new toy with lots of excitement and shooting and all we got was 3 unexpected wins and early national praise for the team. Boohoo, right?!
From: Kosta
Some athletes can be superstitious. Maybe they wear lucky shorts underneath their uniforms, refuse sex from their spouse all throughout training camp until after a boxing match, or cut their nails on the sidelines, or rub another player's knee on the bench.

Are any of you superstitious? Or even a little stitious? What are some things you might do during a game to help the Kings win?
Tim: My watching experience has evolved quite a bit over the years as kids and a wife have been added to the picture, so I don't have any particular superstitions right now. However, things were much different in childhood. I can recall one night in which my parents were jawing away after a Sunday night church service, so my brothers and I went out to the car to listen to the Kings game on the radio. The Kings were up big when we turned on the game, but they immediately started coughing up the lead as soon as we started listening. Of course, we shut off the radio and the Kings ended up squeaking out a close victory.
Will: I haven't been, of late, but that's not to say it wasn't always this way. When I lived at home and watched the games with my pops, the Kings would find a way to send him to bed early every once and awhile. Without fail, some time in the third or early fourth they'd let their opponents go on a run and he'd just stand up and say "well, they don't have it tonight". Once in awhile it was I who left early for social calls etc. but without fail, whenever one of us left... The Kings would come roaring back in grand fashion and win it with dramatics. So, whenever the worm turned and either one of us could hear everyone else in the living room get excited or start yelling down the hallway telling others to watch, it became tradition that we weren't allowed back into the living room to watch. If you gave up, you had to stay gone or ruin the good fortune of the Kings. Some of the longest winning streaks the Kings have had in recent years started with us leaving the game early and games later ended with us getting curious about another game we'd left and came back in to watch. Even for little things, like going to the restroom. If you left and the Kings started on a run, you stayed gone.
From rc50cal
What record on say 2/28/21 has front office thinking playoffs instead of draft position?
Tim: They probably need to be above .500, and more importantly, the kids need to be carrying them to that record. If they're two or three games above that mark, I could see the Kings cautiously pursuing roster upgrades, although I don't believe they'll do anything crazy or take on any long-term contracts. If there's a solid, expiring player who could help the team, that may be a possibility.
Will: Yeah I think the Kings will have to firmly be in the playoff hunt at that point. I mean a 6th or 7th seed where they feel comfortable knowing that even if they slide a bit, they're still going to end up with a great shot at the playoffs. I would also have to assume at that point that Tyrese Haliburton continued to ascend to where he is knocking on the door as a starter and that they feel the entire timeline for their revamp has been moved up quite a bit. The alternative is too tempting otherwise. If they're in 9th or 10th and just barely on that bubble, they could send out the veterans they wanted to for assets, flounder in the second half to a mid-lotto pick and still praise the season as a success by attributing the run to the core of young players they still had. There wouldn't be any significant backlash because it's what most fans expected prior to the season and they'd be able to hype up their next draft pick as their capstone piece to the rebuild. To abandon a deep draft and their previously discussed strategies would take a really remarkable run from Sacramento.
From Melmoth
Can you give some hope to those of us who are bearish on Marvin Bagley? Is there a stat line to to take solace in? I get that he's rusty from the injuries, so what would indicate this season that he's taking that step towards becoming a solid NBA center (or stretch 4)?
Tim: Despite his 2/5 shooting from deep against the Nuggets a few days ago, I don't really foresee Marvin Bagley becoming a stretch-four. Sure, there may be games in which he knocks down a couple of treys, but teams frankly don't need to respect his shot at this point, nor do I believe they ever will need to respect his shot. He's a slightly-too-skinny center right now.
Okay, some good for you. Marvin Bagley has been excellent on the glass this season. He ranks 23rd in defensive rebounding percentage, 27th in offensive rebounding percentage, and 21st in total rebounding percentage. That's impressive for a guy who hasn't played meaningful basketball in more than a year, as well as someone who's playing next to another center in Richaun Holmes, who also ranks pretty highly in those categories. From a non-statistical standpoint, I think Marvin has looked a lot more comfortable playing within the offense than simply taking a turn with the ball and forcing everyone else to stand around twiddling their thumbs. Do I think he's a future multi-time All-Star? No, but I do believe he can be a quality starter in this league if he can stay healthy.
Will: Man, you asked the wrong man on this one. I guess I could point to his second quarter the other night against the Nuggets where he scored 14+ points and played within himself. That was the first thing I'd seen in literal years from him where I thought "Kid might be onto something right now" and it was a welcome sight for those of us still hoping to find hope. Everything is still "too early to tell" with this team and so I'm really setting my bar low with Bagley, especially in these first 15-20 games. Stay healthy, get a feel for NBA basketball again, show flashes on the offensive and defensive end if you can. That's all I have for him right now and it's all I think we should expect of the kid.
From eurostep
Would you agree or disagree the Kings finally have the right mix of veterans, youth and depth and can finish this season at least .500?
Tim: No. The team is better than I expected them to be early in the season, but I would be pretty surprised if they won more than 30 or so games, especially as I still expect Monte McNair to deal some veterans at the deadline.
Will: I, hmm, I disagree. BUT I will say I disagree with this less today than I did a week ago. I still think this team is due a crashing back to Earth and think that many of these big teams that are struggling right now will get it together with their new personnel, coaching staff etc. very, very soon. This early part of the season masks the flaws on most bad teams and exposes them on good teams with new pieces and I think the West just has a lot of those teams that reshuffled key personnel this season. The Kings caught the Nuggets with their pants down the first night, got overlooked by Phoenix their very next game and then battled against a Nuggets team without their second most important player. Those are all W's and should be commended as such. I just don't see them getting many more chances for wins like that once they're past the initial ten or so games.
From ManilaBayCleanerCrew
With the 2nd Phoenix game exposing our flaws (lack of PF, shot-creator and initiator) who do you think we should target to bolster our squad so we can contend in the future?
Tim: I don't particularly want to target anyone outside of rookie-scale players or 2021 draft picks. If Lauri Markkanen or John Collins or someone along those lines becomes available, sign me up, depending on the price, but there's no desire in my mind to add a veteran to fill that role. I don't want to give up assets for those types of short-term solutions.
Will: Cade Cunningham. The man literally solves all three of your issues. Short of that, I think the Kings should hold off on anyone that isn't named Ben Simmons. Smaller pieces or unexpected members of the core will still show up on their own when vets like Buddy Hield and Harrison Barnes get sent away and those will help bolster the Kings glaring issues. Its easy to see a Philly trade now where the Kings could get a young great wing defender in Matisse Thybulle (who is now buried on the bench) and/or a young scorer like Maxey in a trade that sends Hield out East but the things the Kings lack are going to come in the next draft or in a trade somewhere down the line, I just can't put my finger on who exactly.
From Klam
What's your New Year's resolution?
Tim: I don't really do New Year's resolutions, but I would like to get back to consistently working out at some point in the coming months, grow the Watching the Tape podcast with Sanjesh, and continue to build the coolest Kings website to have ever existed. Other than that, I'm pretty chill!
Will: I punted all my incomplete resolutions from last year to this. They aren't original. Pandemic eating had me gaining back the 20 lbs I was down, so I want to drop that and then try to drop it again. I want to get something I've been working on published to share with you all, though that may just end up being bits and pieces. Last year, I made it a resolution to get through therapy and get a promotion so that I could start truly living life. I accomplished both of those things and the day after my last day of therapy and the week after my promotion, the pandemic hit and I was dropped from the company I thought would be my forever home.
So... also, I'm being careful what I wish for: I don't want to end up as a character in Stephen King's Thinner or Misery.