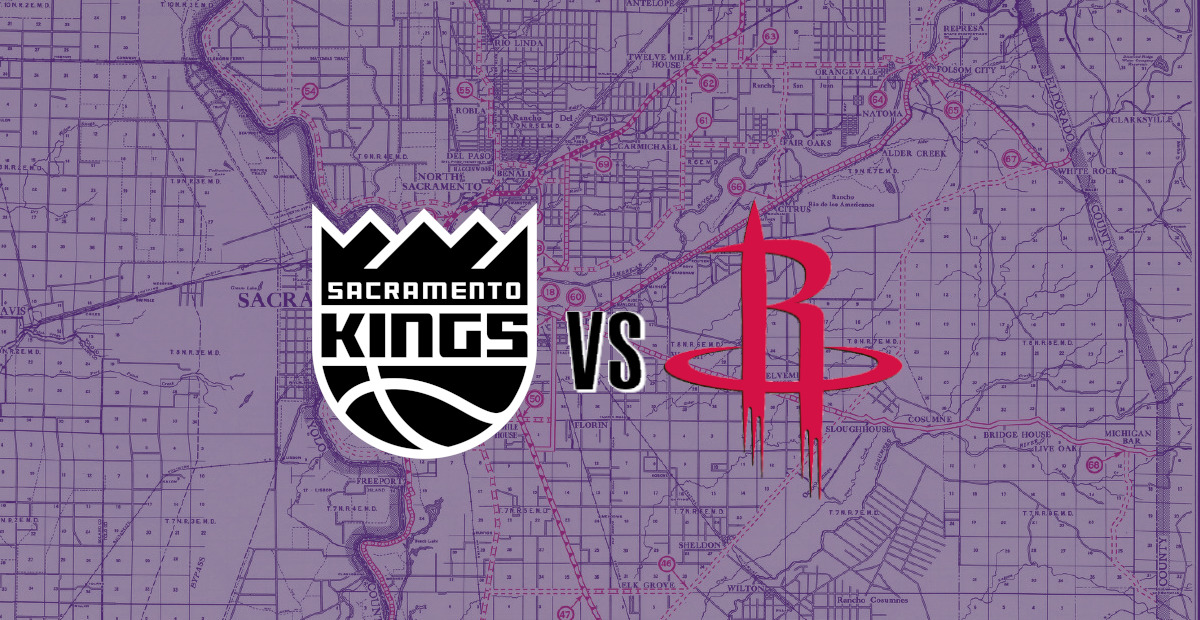 Well, here we are at the end of all things. One final basketball game between us and the worst year since... well, probably 2019. The Kings are in Houston today, hoping to light a fire under a few very thick and sputtering Rockets to celebrate the turning of the calendar. Say goodbye to Tiger King, murder hornets, and James Harden's last shred of dignity. We're leaving all that behind in 2020, baby.
Let's talk Kings basketball.
When: Thursday, December 31st, 4:00 PM PST
Where: Toyota Center, Houston, TX
TV: NBCSCA, Kyle Draper on the call.
Radio: KHTK Sports 1140 AM
For Your Consideration
Distant Cousins: There are two things I could say I'm looking forward to Thursday night - one rhymes with "My niece, have a bourbon" and the other is watching DeMarcus Cousins finally healthy enough to go up against the Kings. Sure, there isn't a single guy on this squad that Boogie got to actually play with, but there is an heir apparent to his "best player in Sacramento" and that kid did get a max extension where DeMarcus did not. Obviously slightly different timelines and very different general managers, but the fact remains, DeMarcus could and should still feel slighted by the actions the Kings franchise took in his final days with them. Despite his surly disposition and ability to tear asunder various fan elements in Sacramento, DeMarcus spent the longest and best years of his career in purple and is always someone I look forward to seeing compete against the Kings. There's very few people I root for to in their attempts to beat my team - Harry Giles was a rare example in preseason. But despite all of those flaws, I did support DeMarcus wholeheartedly and wanted him to find success and make Vlade Divac regret his decisions later on. It genuine hurt to see him go down in New Orleans, and go down again in Golden State and get pushed away in Los Angeles. The further he slips from what should have been the best years of his career, the harder I root for him to do anything that proves he's still got it. Tonight will be his first regular season game after he had to quarantine due to an exposure to someone with COVID-19 on the Rockets staff somewhere. He's seemingly healthy, he's had a fairly decent preseason and I guarantee he's a little extra motivated to put on a good show against the Kings. I'm really hoping he beats up on the Sacramento frontline tonight, if just for old time's sake. The league was more interesting with a dominant Boogie Cousins causing havoc all over the country. If we can't have it full-time, I'll take hit to my fan credibility and hope it's tonight.
The Rockets in general are a mess. New head coach Stephen Silas had his hands full already having to follow-up legendary coach Mike D'Antoni and make his own mark on a team that's just never been able to crest the hill to a Finals appearance. Toss in trading Russell Westbrook for John Wall and James Harden breaking NBA protocols and touring strip clubs around the country like he was attempting a Guy Fieri style television program called Chicken Strips, Strip Clubs and Fines, and you might start to see how whatever Coach Silas is getting paid... it ain't enough. Now, please remember that the Kings had lost 10 straight in Houston before last December's one point victory. By the time this gets published we might know who is playing in the game and who still has to hold back due to COVID precautions but one thing is for certain: if James Harden is playing, the Kings are going to have a rough time trying to win this game. The man could pack on another 20 pounds and I wouldn't care one bit. If he can run between the three point arcs for 30 minutes, the Rockets have a good shot of winning this game. Last thing, please check out Christian Wood and how well he's playing to start the season. The kid was a fantastic pickup for Houston and I wish the Kings could have found a way to snatch him up.
Finally, I want to close the book on 2020 by looking back for a moment on this time last year - before we knew The Kings Herald would be a success, before we knew that our world would be plunged into despair over Coronavirus and issues of racial and social injustice, before I knew I would lose my career, half way lose my mind, grow my hair to my shoulders, have a couple of COVID scares, and move away from it all to clear my head. This year was unlike any other we may ever experience again, and if I can say one thing outside of the normal sermonizing, it's that I hope all that we've seen this terrible year inspires an active pursuit for change in every walk of your life on scales national, local and personal. This collection of people started 2020 determined to start something of our own - I speak not just of these writers but this community as a whole. You tweeted and plead and kept pressure on us to stay the course and build this site, then you crashed the servers minutes after launch and you've stuck around for every wild twist and turn after it. You've bought our merch, argued in our comments, listened to us argue amongst each other on every possible communication medium. Outside of keeping my home and being blessed to see my family's health through this year, all my major successes of this cursed year I share with you and the staff here at The Kings Herald. Whether publicly or privately, you all pushed me to continue, to keep improving, to challenge who I could be as a member of this community. I close 2020 proud of who I've become during these times and I thank you all for being a part of it.
To your health and happiness in the New Year.
Prediction
De'Aaron Fox loves playing in Houston so I'm betting he goes for 40 points tonight to close out the year strong. Marvin Bagley tries to prove himself against the oldhead Boogie and Boogie finds his was into a technical for old times sake. The Kings finally pick up their three point attempts and take over 40 for the first time this season.
Kings: 123, Rockets: 119