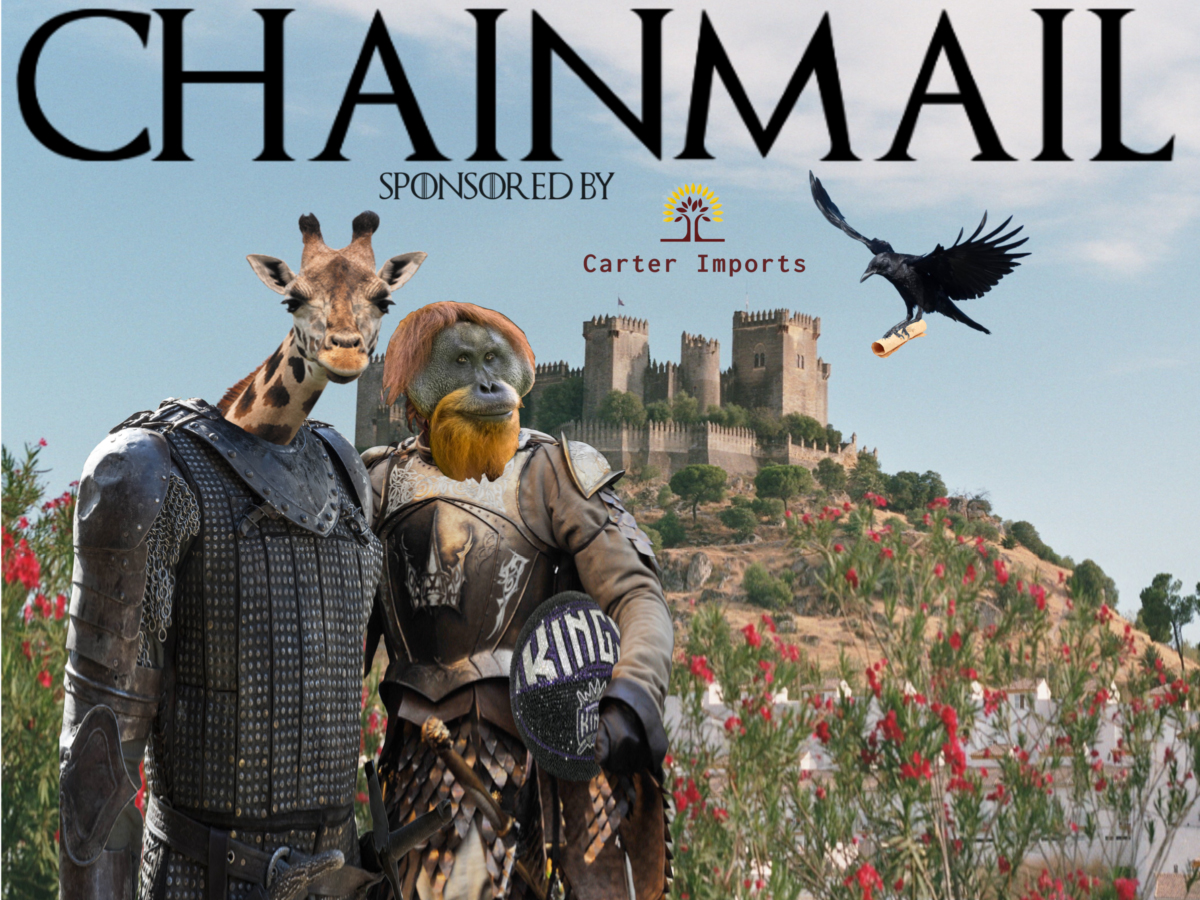 Welcome back to Chainmail!
Before we get to the answers, want to thank our sponsor for the mailbag, Carter Imports! Carter Imports is a Sacramento-based company that imports some of the very best Extra Virgin Olive Oil and Cretan Thyme Honey available in the world today. There has never been a better time to support one of our own than right now!
Let's dive right in!
From kingsforaday:
What would you say are the chances that Fox's level of play will be worth his max contract? What would he and the team have to accomplish to feel that his contract is justified?
Tim: The key to Fox's max deal is not his play, to be frank. A player's value is not set by production; it's set by what he would be paid in the open market, and in Fox's case, that's a max deal. Now, if we're debating whether or not the Kings should have maxed De'Aaron, or if they should have traded him, we should be looking at the playoffs in the next two years and a deep playoff run within the next three. If the Kings haven't accomplished those two things in that time frame, the Fox contract won't be looking to appetizing in a few years.
Will: The way max contracts are handled in the NBA today, you've got to pretty much hit an All-NBA to really be seen as worthy of that money. Do I see Fox as an All-NBA player at this juncture? No. Does he have the potential to reach that by the end of that contract? Absolutely. In basketball they say to pass the ball to where the guy is going, not where he his and I think this contract is similar. If everything goes well, five years down the road management can tell Fox, "hey, we maxed you before you truly took form, we've taken care of you from Day 1 with no hesitation" which could help with the next big deal he expects. I also think it's a decent way to temper any early frustrations he might have at waiting another few years for a playoff berth while the Kings attempt to do it right this time.
The contract will be justified if Fox fully becomes the leader the Kings have said he's becoming and if the Kings find themselves looking at a future of contention with him as one of the core pieces of that future.
From Adamsite:
Now what?
Tim: Now, we wait. Folks that believe McNair has done a terrible job because of the Bogdanovic contract situation, the lack of impressive free agency signings, and the lack of trades have a legitimate argument for their position. The segment of the population who like the flexibility of letting Bogdanovic, didn't want to sign overpaid veterans, and who are still celebrating the draft also have a legitimate argument for their position. Personally, I'm in wait-and-see mode. I have no idea if McNair is good. I have no idea if McNair is bad. I'm going to wait for the Hield situation, the Barnes situation, and the Walton situation to be resolved before I start to feel strongly one way or the other.
Will: Now, the season starts! The Kings had a great draft, they've signaled they understand they're headed for the lottery and have leaned into that and they're attempting to get assets where they can. The Bogdanovic Bait and Switch was a disappointment, but I also am patient enough to understand that this is a brand new front office that had their one big move blown up at the last possible instant. The Bucks and Bogi had been a rumor for months and trying to recover from that deal to get value from teams with their own plans PLUS trying to get Bogi and his agent to agree on such a tight time frame was impossible. It reads to me like the front office has a sequence of events that it's mapped out and those events involved Bogi being gone. Rather than rewrite their whole book in that 48 hour window, they decided to do the hard thing, let him go without assets and maintain whatever it is they've decided to do. I give them leeway on this first off-season with this being a tighter than usually turn around time to the new season as well as these guys are getting to know one another and the assets they do have. I'm at peace with this right now and I'm actually looking forward to see these young guys play and the value these vets have.
From Klam:
I'm curious to know how you guys were able to land Jerry Reynolds to become part of the Kings Herald family. Was it easier/harder than you thought it was going to be? Were there other people you had in mind if Jerry didn't work out?
Tim: Landing Jerry probably came about in a different way than most folks think. We (and by we, I mean Blake) had lightly spoken to Jerry about doing some sort of show for months, but COVID-19 obviously made things difficult. During that time period, we had our temporary/permanent hiatus of the Jester's Court, which created a pretty huge gap in our production goals. From there, we continued to talk to Jerry to gauge his interest, but to be honest, he was always interested in doing something for the site, simply because he loves our community here. It wasn't a situation of trying to land some sort of star free agent podcast guest. It was a Kings legend wanting to add to our site, and us wanting him here, of course. The only other things we had in mind were internally produced shows by our staff here at TKH.
Will: Yeah honestly, Jerry has been open for quite some time to working with us at some capacity. He offered to do ads for us when we launched, he was willing to shout us out on The Jerry Reynolds Show if we wanted. He's always been a huge supporter of this site AND the commenters and so he was more than happy to help out in anyway he could. Personally, I'm very thankful for Jerry being willing to do The Kings Herald Show as he's the only man on Earth that they can put me with that I refuse to be embarrassing around. I have very little shame but I'll be damned if my childhood hero is going to see me as a goober.
There were other people we had in mind and we still want to do with with those individuals in the future, but I don't want to say who for the sake of those people. Their availability has been a question mark though so nothing past exploratory convos.
From RikSmits:
Are we tanking or aren't we tanking?
Tim: I think we're resetting. Tanking would have seen us trade De'Aaron Fox and hurtle toward 19 wins and the worst record in the NBA. My guess is that McNair will use this season to shed contracts and get younger around Fox, and he's perfectly okay that a plan like that will cost us wins and grant us a great draft position in such a deep class of recruits. I don't belive this will be a long-term, multi-season rebuild.
Will: Yeah this is closer to a soft reboot than a full on remake. We're going to carry over whatever's left of the fan favorites, kill off the older characters and slide in more age appropriate versions of them over time. This certainly isn't The Process where the franchise valued young assets playing all their minutes and would have to do so for 3+ years. Sure, they'll give the young guys more time and their will be a good share of dealing away vets for assets, but less extreme, less intensity and intentionality.
From FarmerGuy
Given how McNair has handled the draft and free agency, what further moves or strategy would qualify McNair as successful in his first year as GM(in your opinion)?
Tim: If the Kings can move Buddy and Barnes for positive returns without taking back horrific contracts, that would be a huge accomplishment for me. Outside of that, firing Luke Walton would be a huge plus as well. My standards are about as low as they can go.
Will: Positive assets for the Killer B's: Buddy, Barnes and Bjelica or swapping/taking on heavy contracts for draft goodies. Emphasizing they want to play to their max contract player's strengths, bringing in young players, G-League players, trying various young hopefuls out for fit in a system like that. Empowering whatever version of a G-League team we see this season to really streamline the system so that it fits with what their NBA team is doing.
From Hobby916
What potential trades do you see for guys like Buddy, Barnes, CoJo, Bjelica?
Tim: I won't go into specific trades, as I do that enough and embarrass myself enough. Here's the return I would look for in each transaction:
Buddy - Nice young player and late first round pick or late lotto/teens pick.
Barnes - Expiring contract and minor asset
CoJo - Expiring contract
BJelica - Late, late, late first round pick from a guaranteed contender (27 - 30) or a pair of second rounders
Will: The dream is picks for any and all of these guys. Picks first, young guys with some upside second, expiring contracts and second round picks tied for third. I think Buddy can be held hostage for two firsts from the right team, three if there's injuries and that team is desperate to save their championship aspirations. Barnes could net a young player that might play themselves into a core position... but I assume it's more second round picks or heavily protected firsts. Joseph can be had for a second or two. Bjelica could get a protected first from the right team, but I think he'll end up as a throw in with one of the other names above to get an extra second or less protections on a first round draft pick.
From SMF-PDXConnection
What are you thankful for in 2020, after everything that's happened and is still happening?
Tim: I'm first and foremost thankful for my wonderful family. I have a beautiful, caring wife of eight years (although we've been together since high school), a smart, handsome, and stubborn almost-five-year-old son, and my cuter than a button, hilarious daughter will turn two in just a couple of weeks. They're my world. They're my everything. They're why I wake up every morning. They make me the man that I am.
Will: I'm incredibly thankful that the ones I love most have been spared from the Coronavirus. My parents are in their 70's and 80's now and I have a sibling who works in a medical clinic for underserved communities in Redding. Their resilience through this year has been such a relief for me.
I'm thankful that through savings and government assistance I've been able to keep a roof over my head. This virus took away my career in a permanent way all while I'm attending courses at Sac State. I'm very fortunate to be able to get by still with what I have and I couldn't have without help and understanding from family and friends.
Finally, I'm thankful for this group of writers I have the pleasure to work along side and for this community as a whole. I only got into writing at the other site because someone I cared about had a dream, and I wanted them to see that dream fulfilled. Each preview I got to write for you all over there was a dream and the day we all got told the dream was over, I'm not ashamed to say I took some time to cry, took deep breaths and shut down for a few days while I tried to process what it would be like waking up everyday without my crazy second family. You all ARE my family. Whether its been losing that long time relationship, or losing four people close to me in a year, or losing my former future career and two of my best friends in that departure.... The best part of most of these shit years have always been you all. This team has celebrated my personal highs and been a cushion for my lows and you all have been right there with me, accepting my rants on gold jerseys, Sam Hinkie and Kobe Bryant's death, giving me a chance to truly be me in a world that forces just about everyone to be something else. My life is better because of Tim's terrible puns, Brad's genre mashing, Klam and LaBradford fueling my beef with Greta Gergag. Shit, I don't even mind Eddie41 trying to sell everyone on Lamine Diane for the #12 pick for a few weeks. I'm thankful for each and everyone of you and the subtle impacts you make every day on this weary heart. I truly wouldn't be who I am today without you.
From AirmaxPG
A.) What is the exact amount of cap space that was secured by not matching Bogi's offer?

B.) What do you see as possible uses of that cap space (i.e. bad contract with pick/prospect; free agent haha).
Tim: The answer to the first question is probably $0, at least for this year. As of the writing of this mailbag (11/26), the Kings have a decision ahead of them regarding cap space. They can choose to operate over the cap and retain the MLE (about $9.5 million) and the BAE ($3.6 million), which can only be used to sign free agents, or they can renounce those exceptions and operate under the cap, by about $7 million. Operating under the cap would afford them a little less cash for free agents, but it would offer more flexibility in trades.
B) Whatever cap space we end up gaining through letting Bogdanovic walk, whether that's this season or in the next couple, will likely be used to facilitate trades. The Kings have two massive contracts that they need to move (Barnes and Buddy), so having a little wiggle room when it comes to salary matching will certainly help to move those deals along. They can also use current or future space to take on bad contracts for assets. In fact, the Hornets are currently looking for a team to facilitate a Batum trade in order to save themselves from having to stretch his contract, and the Kings could do some finagling to make that happen.
Will: I hope the Giraffe did the numbers up there for you because I am not your man for that. As for what I see that cap space being used for? It's certainly going to be used for one of the flurry of trades we'll see from the Kings in the next season or so. Tim mentioned Batum which would be something I'd like to see with a pick or so coming back. With this team in such a flux and the season beginning in a month I don't see the space being used until at least the trade deadline.
From ArcoThunder
Monty has made several bad decisions in my estimation. Most notably letting 2 players that were the collective fan favorites walk for absolutely nothing. What hurts some of us even more is they were both easy contracts to keep on the roster and retain quality assets. They're both outstanding teammates, high IQ, high character guys that could have both potentially been starters on this team as soon as game 1, December 2020 and they returned zero compensation with their departure. Can you find us any silver lining in these decisions that could help us keep the faith in Monty?
Tim: This may come across as a little harsh, and I don't mean it to sound that way, but I'm thrilled that Monte McNair doesn't give two shits about retaining fan favorites from a previous regime. His job is not to please the fan base or Kings Twitter. His job is to improve the team by the best means he has in front of him.
Looking at each player's situation, we have no idea if Harry Giles wanted to return to Sacramento. It's entirely possible that he told the team he hand no desire to be back and not to waste their time with a contract offer. It's also plausible that McNair had no desire to keep a project big who is probably the least effective rim protector in the league. Harry may have been fun to root for, but his production on the court was poor at best. Now, I wouldn't have minded keeping him as a young asset who could turn into a rotation player, but I'm not particularly upset if Monte wanted to move on either.
The Bogdanovic situation is a different one. McNair had to choose between retaining an asset in Bogdanovic and taking on the risk of poor play or injury in a devalued contract, or in moving on, avoiding all risk altogether, and obtaining some flexbility moving forward. He chose flexibility, and I don't blame him. Trying to push out three highly-paid, long-term deals for average players was going to be a tough ask, especially if the Kings wanted to accomplish all of that in the coming season. Let's not forget that he had an impressive trade lined up for Bogdanovic until the rug got pulled out from under him.
So, my very long answer to your question about silver lining is this - Monte McNair doesn't and shouldn't care about the whims of the fan base. He's doing everything in his power to get this franchise back to the playoffs. Do we know if he made the right decisions? Absolutely not!
Will: I think the silver lining here is that McNair doesn't give a rats ass what you or I think. I love Giles and Bogi. They're probably my two favorite players in the post-Boogie era, but McNair seems to have an idea of what he wants to do and improvising/altering that plan because of that Bucks deal falling apart wasn't going to happen. Am I confused or in the dark as to what that plan is? Sure. Am I glad he stuck to his guns and whatever their playbook is saying flexibility wise? Yes. Giles needed a new team after Vlade left a sour taste in his mouth by not picking up his option. I'm glad he got that opportunity. Bogi I'm more miffed at, but as I answered in another question here, I can excuse the tough choice of letting him walk. I'm not going to praise it either though.