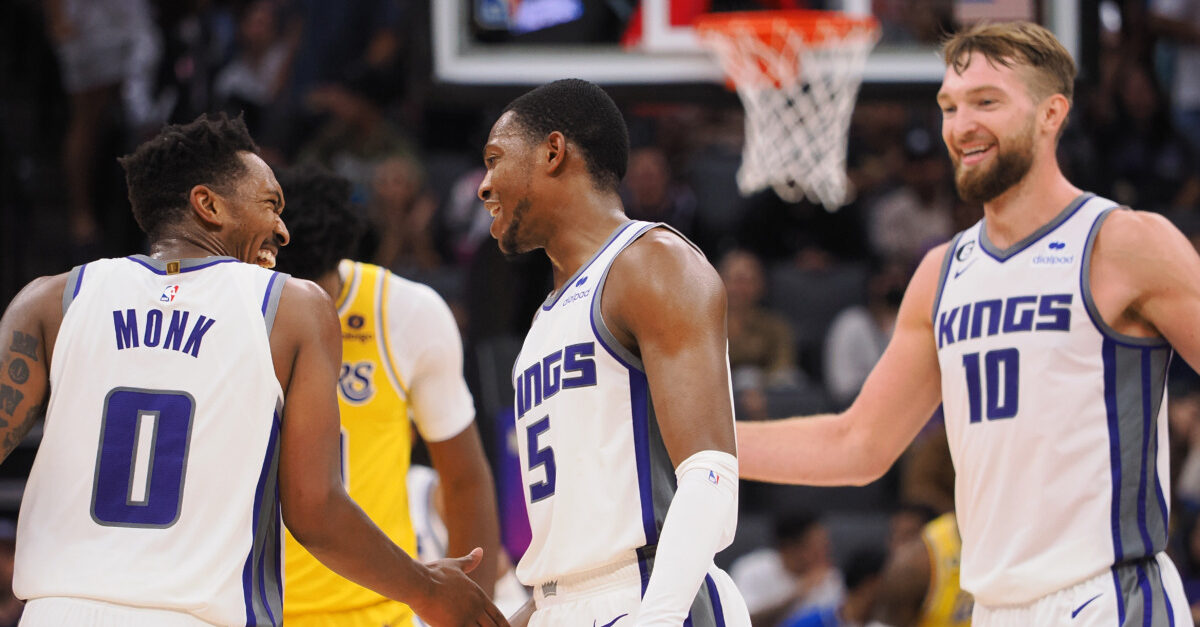 The Sacramento Kings are a good team.
Right now, they are a good team.
I know we must say that cautiously because Kangz are omnipresent, but right now, on Nov. 15, 2022, the Sacramento Kings are not a disjointed mess that can't figure out the concept of team basketball. Speaking of a disjointed team, let's briefly take a trip down memory lane of what we have witnessed in Sacramento for years:
Lack of consistency
Lack of effort on defense
Mental breakdowns
Not playing with a sense of urgency
Giving in when things get tough
Playing casually
Putting too much on the star player
Getting out-toughed by opponents
Third quarter breakdowns
Not playing the right way for a full 48 minutes
Go on down the list – these things are not happening right now.
Aside from the fact the Kings are now .500 at 6-6 and have gone 6-2 since an 0-4 start (could be 8-4 right now without the Miami Heat and Golden State Warriors bringing their refs), the numbers support the improvements being made by this team when compared to last season.
2022-23
FG% - 48%
3P% - 37%
2021-22
FG% - 46%
3P% - 34%
Those are minimal improvements, but combined they have made a difference.
Where you really start to see improvements are in the following.
2022-23
Offensive Rating: Tied for 6th
Net Rating: 16th
2021-22
Offensive Rating: 24th
Net Rating: 25th
The offense is functioning far better this season and even though they are 27th in defensive rating, dive a little deeper and you find that the Kings are 6th in opponent second chance points and 2nd in opponent fast break points. And the team's net rating is showing the Kings might be on the verge of becoming one of the more respectable teams in the league. One of the reasons the offense is clicking so well is because the team is sharing and protecting the ball. They are 6th in the league in assists at 27.3 per game. They were 22nd last season at 23.7 per game. They are 12th in turnovers at 14.5 per game. Last season, they were 19th in the league.
Sacramento's Assist % is good for 6th in the league with an Assist/Turnover ratio that is 4th best in the league. Last season, they were 22nd. They are shooting the ball well as a whole and using space correctly using Mike Brown's system, as Brenden detailed here.
The offense is flowing through Domantas Sabonis (se-bon-usss ♫), which naturally increases the number of assists. He is averaging 6.3 assists per game, good for third highest among all centers and power forwards in the NBA behind only Nikola Jokic and Draymond Green. This also is helping De'Aaron Fox. Fox's assisted rate on threes made (which he has improved on) is 85%, meaning 85% of his threes came off assists from his teammates, the highest of his career, according to Cleaning The Glass. Fox is also converting 88% of his shots at the rim, which is in the 100th percentile in the NBA. (Fox is so fast, yeah ♫). And converting 59% of his short midrange shots, which also puts him in the 100th percentile.
In term of turnovers, the top 5 players in minutes this season (Fox, Sabonis, Harrison Barnes, Kevin Hurter and Keegan Murray) combine for 9.6 turnovers per game this season, while the top 5 players in minutes last season averaged 11.7 turnovers per game.
Additionally, the whole rotation is contributing, as Huerter pointed out after Saturday's practice.
"We're moving the ball, we're sharing it. I think the great thing about us is it feels like it's a lot of different guys that contributed over the last couple of games," he said. "Obviously, Fox really took us home last game [against the Los Angeles Lakers], but I thought TD [Terence Davis] and Trey Lyles at home against the Cavs, Chimezie [Metu] coming in, there's been a lot of different guys that have contributed really good minutes for us."
Plus, the team's Def/Reb% is good for 5th in the league so they are playing with aggression as well. They also are shooting the 10th most free throws in the league (they were actually 8th last season there).
The Kings are doing all of this while maintaining Pace. This season they are 10th in Pace, last season they were 9th.
Outside of the stats, most fans can use the eyeball test to see that this version of the Kings simply knows what they are doing more than the teams of Kangz past. They are not getting knocked off their game by opponent runs; they are able to adjust to what the other team is doing; and they can actually close out games if the other team doesn't bring their refs. Fox should get a lot of credit for this early season progress, but also should his new coach Mike Brown (Coach Mike is so smart, yeah ♫).
"You can talk and teach until you are blue in the face and if you don't have results, and results doesn't always mean that you've got to win, a win every once in a while helps out, helps with the belief, but if they see results on how the game can be easier for them as individuals and for us collectively as a group, then the buy-in just continues to get higher and higher," Brown said after Saturday's practice. "So, I am impressed that they've taken on a lot of the characteristics that we have asked them to this early in the season."
And his relationship with Fox is certainly a driving force. He spoke about how Fox is allowing him to coach him hard, something he is modeling after Gregg Popovich's coaching relationship with Tim Duncan.
"I'm on him. I'm stomping my feet sometimes and yelling and I'm going right at him in timeouts, and he doesn't waver," Brown said about Fox. "I'm extremely impressed with that. He looks me dead in the eye, and then 99 percent of the time he goes and responds the right way. That's hard to do, especially when you have a guy like me that's just, 'Ahhh! Ahhh!,' but I have a lot of respect for him to be able to handle that. When he does that, it allows me to coach as hard as I want the rest of the group."
You have to wonder if Fox has ever been coached like this in his NBA career. He recently spoke to ESPN a little about Brown's coaching style when it comes to his defense, which he has also improved on.
"I can have almost a picture-perfect defensive possession and then timeout he'll be like, 'You could have done this, you could have done this better. You kept him in front you the whole time, maybe you jumped a split second too early.' They always teach us second guy off the ground. So, it's like little things like that that just continues to make me a better player and a better defender," Fox said.
I do remember Luke Walton talking about how the team needed to make decisions quickly on offense and move the ball side to side. So, part of what Walton was attempting to do could have been rooted in what Brown is doing with his "Point Five" system from under the Steve Kerr tree, but Brown is actually executing it and the team is believing in him. (Shocking right? Brown is a better coach than Walton.)
Whether it is Brown, his work in the offseason, the players he now has around him, or all of the above, Fox is playing like an All-Star this season. Combine that with smarter, team basketball, more shooters and incremental improvements on defense and the Sacramento Kings, as of Nov. 15, 2022, are playing like a team that has a real shot at the playoffs.
Oh, and speaking of Fox, make sure you check out the new trailer for Star Fox – All Star, and subscribe to our YouTube channel.