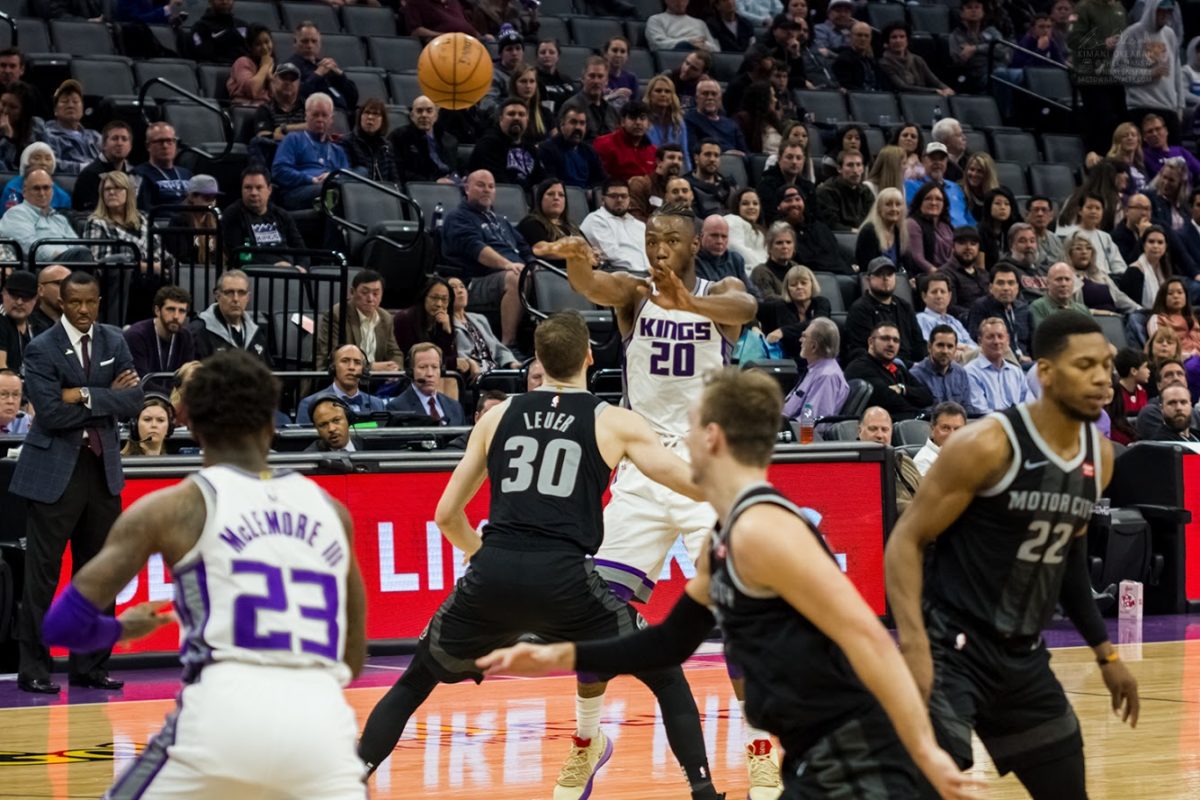 The Sacramento Kings have an interesting frontcourt full of unique personalities: Richaun Holmes is the athletic role player, Alex Len is the defender, Nemanja Bjelica is the sharpshooter, Marvin Bagley III is the big question mark and Jabari Parker is on the roster.
Harry Giles, the 20th overall pick in the 2017 NBA Draft, is the clever passer. You can argue that Giles still has a question mark label too, though not as visible as Bagley. We still haven't seen Giles at his best and there's the lingering possibility that his best may never be in Sacramento due to his option not being picked up.
Nonetheless, Giles' passing ability sets him apart from the other bigs on the roster and though his assist numbers don't look appealing on paper, the tape definitely says otherwise.
Games and minutes played are major factors in the low assist numbers. Giles didn't make his season debut until mid-November and even then, playing time was extremely limited. Then Giles would go more than a month from late November to late December before seeing the court and that eventually drew frustration and confusion from fans.
The 6'11€ big man finally featured against the Denver Nuggets on Dec. 29 where in 17 minutes, he put up 11 points (4-7 shooting), three rebounds, three assists, one steal and one block. From then, Giles saw minutes ranging from 12 a game to 17 and eventually Walton inserted him into the starting lineup.
Let's watch the tape on Giles' ability to find cutters heading to the basket, split defenders and take advantage of off-ball movement for easy buckets.
Giles excels at finding his teammates when operating in the high post and that's what he does here. I'm still anticipating Giles to develop a respectable mid-range game when in the high post because at times, defenders leave him plenty of room to take a shot.
Most times, Giles looks away from the rim and eyes potential cutters instead. In this play, he never once looks at the basket even when he has some space after Bogdan Bogdanovic passes by him. But when Bogi clogs up the right corner, Kent Bazemore fools his defender by faking a potential dribble hand-off (DHO). Bazemore cuts back inside and Giles picks him off with ease with a one-handed leader.
This play's success relies on the development of Bazemore getting open once Bogi comes in. If Bazemore can't create separation, Giles likely has to look the other way to Anthony Tolliver and Cory Joseph who aren't in ideal positions for a good look. Bazemore schooled rookie Sekou Doumbouya but it all starts with Doumbouya's lateral stance.
The player's chest can tell everything about where the body will go and Doumbouya's backside pivot is exposed the moment he begins to chase Bazemore on the potential DHO. Bazemore caught the rookie in a bad position, took advantage of the exposed position for Giles to easily find him.
Off-ball movement is everything if you want Giles to feed you going into the paint. It's an interesting comparison so that of a NFL wide receiver matched up to a cornerback. What are you going to do to create separation? If your defender presses you, can you use your body to wiggle away for room? The smallest inch of separation could be the biggest reason a play succeeds. If your defender gives you room to work with, how will you deceive the defender?
Chemistry factors into the success of creative playmaking too. Knowing how your teammate will move in a given situation when you have the ball can lead to success compared to a teammate you don't mesh with. Bogi and Giles have linked up countless times before and they do so here.
Giles is able to get in the post against Brook Lopez with 13 seconds left on the shot clock. If you pause at the six second mark, the only one moving off the ball is Bogi and he's trying to split the defense down the middle. Why is he going there? The positioning of the other four Kings removes all defenders from the paint - it's an open field. As long as Bogi can separate from Wesley Matthews, he should have an easy look unless a defender reads it and slides into the paint.
Bogi sees Matthews' chest going to the left, so Bogi fakes that way and cuts into his right. Matthews can't pivot fast enough, nobody else slides into the paint for help defense and Giles leads Bogi with a perfect bounce pass, right where it needs to be. If you try a chest pass here, Lopez can deflect it with his long arms.
It's good IQ from Bogi and Giles that leads to someone on Milwaukee dropping the f-bomb at the end of the clip.
This play ends up finishing in the same style as the first clip. However, the Kings have to work harder in this set for the points rather than Bazemore easily duping Doumbouya.
Giles has the ball in the high post and again, he doesn't look towards the left side of the court. Nemanja Bjelica wouldn't mind shooting from his distance but both Bjelica and Cory Joseph are utilized to remove two defenders from the play. Buddy Hield attempts to run around the opposite side of Giles to gain separation and possibly an easy layup, but Nerlens Noel sees it and covers it. Noel's move backwards gives Giles a straightforward attempt with all that space, but he doesn't take it.
When Hield's cut to the basket is neutralized, he comes to clog up the right corner where Chris Paul and Harrison Barnes are. Notice the difference between Paul's stance versus Doumbouya's stance from earlier? Paul is giving himself a chance to stick with Barnes whether he goes left or right. Barnes takes one step with his left foot in that direction and quickly changes course. That alone gets Barnes the separation he needed, which is just enough for Giles to slice a pass to him.
A bounce pass from Giles would not be feasible here. It could easily be deflected by one of Noel or Paul. Giles places the pass to only where Barnes can catch it, which he does. The cut to the rim brings Shai Gilgeous-Alexander as the sliding defender who contests well, but it isn't enough.
Giles isn't in a stationary high post position here, but he will still find you with a good pass as long as you move well off the ball. This time the right side of the court is left alone to isolate the defenders, but Eric Paschall puts enough distance between himself and Barnes that would allow him to slide if necessary. Paschall sees the pass come late and that's the difference of Bogi making this basket or not.
Damion Lee already lost his battle with Bogi the moment he let Bogi get in front of him. Lee has no leverage once Bogi gains separation and Paschall slides late. Giles gets off the left-handed pass quickly and Bogi capitalizes on poor defense.
Obviously not every Giles pass resulted in a magical outcome. It's impossible to have a 100% success rate in the types of passes Giles dished out. For every couple of passes that wow you, there's some that will make you slap your hands in frustration.
Here you have Giles in the low block against the Warriors. Giles isn't looking to go one-on-one with his man, he wants to find a cutter. You can tell because he gets rid of the ball fast. The only teammate moving off-ball is Hield, so there's really just one option on the table and Giles took it.
Hield jogs along the baseline until he finds a lane to cut into. However, Ky Bowman switches and sees the pass coming just in time to get a hand in there. That's the difference between getting a desired result versus rushing back to defend. Just like it was Paschall in the previous play who slid in a second late, it was Bowman who switched on time to cause a turnover.
The former Duke big man receives the ball in the high post here against Washington. This play comes off as suspicious from the moment I saw three Kings on one side of the floor. If you want Giles to find a cutter among three defenders, you have to separate much better than what the Kings did.
The big fault on this play is having Bjelica be where he is. If you want De'Aaron Fox to be the cutter, you can't have Rui Hachimura be in prime position to make a play if the ball comes to Fox. As we saw in previous successful plays, you remove another defender by isolating him. Where Bjelica is, you're inviting Hachimura to be involved and he does.
Fox's man doesn't turn fast enough to jump the pass. It's also a great pass by Giles to lead Fox to the rim, but it's a better defensive play made by the Wizards youngster to disrupt the pass. This play has a better chance of resulting in points if Bjelica is on the opposite side of the court, because Bogi's call for a fake screen is enough for Fox to gain separation from his man.
The raw numbers won't make Giles appear as an effective passer. The tape says otherwise but if there's anything to be taken away from here, Giles needs more minutes to show what he brings to the offense. Just like the numbers, Giles is still a raw product. He's not there yet defensively, but he brings a fresh vibe to the offense that other bigs can't replicate and a high post game that Walton should use more in half-court sets.