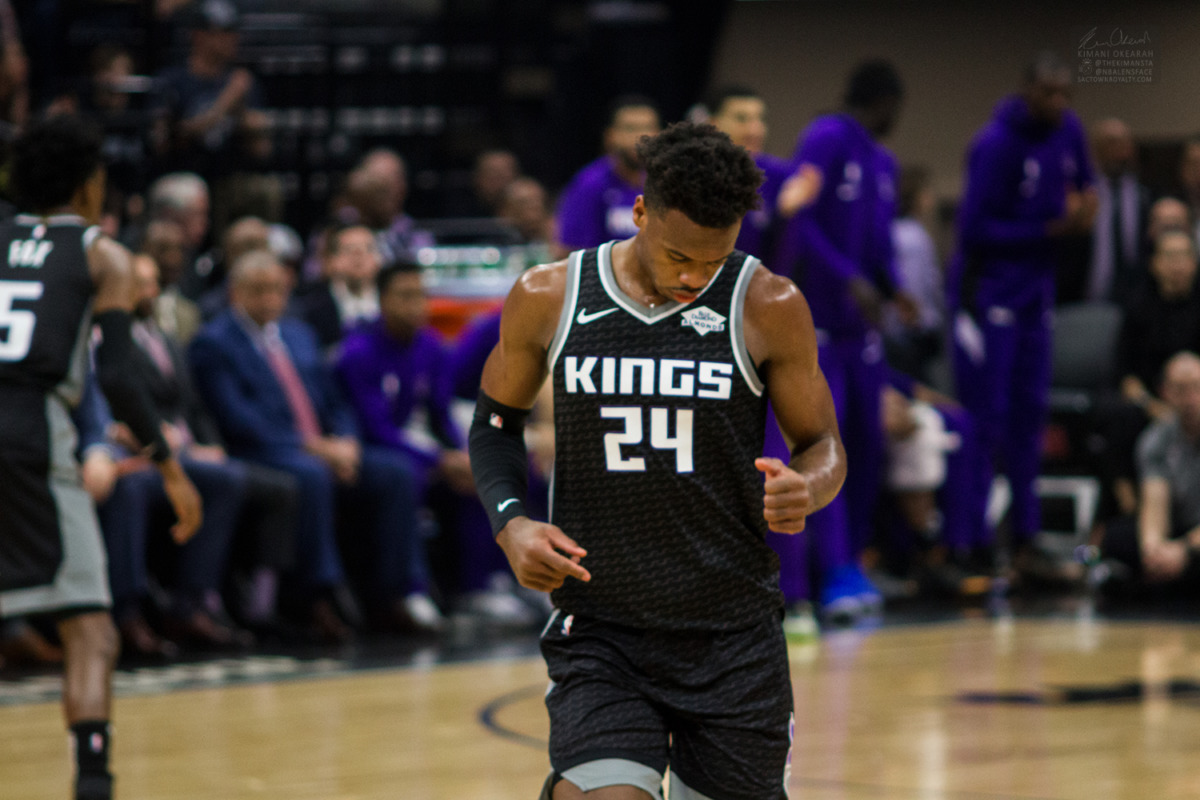 The 2019 season wasn't exactly kind to Buddy Hield. After earning his way to fringe All-Star status under Dave Joerger, Hield struggled mightily last year, as just about every single one of his stats, both basic and advanced, tanked to rookie-year levels.
| | | | |
| --- | --- | --- | --- |
| Metric | 18-19 | 19-20 | Diff |
| PPG | 20.7 | 19.2 | -1.5 |
| RPG | 5 | 4.6 | -0.4 |
| APG | 3 | 2.5 | 0.5 |
| FG% | 45.8% | 42.9% | -2.9% |
| 3P% | 42.7% | 39.4% | -3.3% |
| eFG% | 56% | 54.5% | -1.5% |
| TS% | 58.7% | 56.6% | -2.1% |
| Win Shares | 5.9 | 3 | -2.9 |
| Plus/Minus | 0 | -106 | -106 |
Those decreases don't seem all that insane at first glance - a 1.5 point per game differential isn't cause for panic on its own, but Hield's performance gap was far worse than raw numbers indicate. He didn't play at the same level or offer the same level of impact on either end of the floor.
One of the primary factors that influenced Buddy's drop in production was his offensive role in Luke Walton's scheme. It's difficult to determine who was at fault for Hield's transition from JJ Redick copycat to Zach LaVine wannabe, as Buddy has always wanted to do more with the ball and Walton seemed to push him toward that assignment, but the result was poor regardless of who was to blame.
Although Hield can operate as a one-on-one scorer in the midrange on occasion, his miscasting as a primary initiator hurt not only his individual numbers, but also the team's performance as a whole last year. During the 2018-2019 campaign, Buddy served as the ball-handler in the pick-and-roll just 16.4% of the time, in line with other combo guard such as Eric Gordon (17.1%), Gary Harris (16.1%), and Tim Hardaway Jr. (15.6%) His usage was just enough to give him a taste of point guard duties without compromising the integrity of the team's offensive game plan.
Under Luke Walton, Hield was tasked to run the offense far more often, as he ran the pick-and-roll over 26% of the time, an increase of about two possesions per game. That skyrocketing usage pushed him into an entirely new category of ball-handlers, putting him next to players like LeBron James (27.3%), Devin Booker (27.2%), Lonzo Ball (26.4%), and Jayson Tatum (25.5%). And although Hield wasn't terrible in the pick-and-roll from a league-wide, points per possesion perspective, landing in the 63rd percentile, he was turnover prone, losing the ball almost 15% of the time. Even more importantly, he was frequently removed from his most efficient position: a sniper from long range, an area in which he placed in the 93rd percentile. The adjustment was akin to throwing De'Aaron Fox out on the court as a catch-and-shoot three-point specialist, rather than allowing him to penetrate the paint and attack opposing defenses.
Of course, those increased pick-and-roll possesions had to come from somewhere, as neither Hield's minutes nor overall usage changed dramatically, and this is where Luke Walton's issues evolve from player-centric to team-wide. Last year, the Kings ran in transition 15.3% of the time, a reduction of almost 5% from the previous season. In an unsurprising twist, Hield's numbers are reflective of that change, as over 26% of his possessions came in transition in 2018, with that number plumetting to 18% in 2019, an almost exact reversal of his pick-and-roll usage from season to season. Buddy is at his best when sprinting down the court and launching three-pointers in the open court, rather than being confined to a plodding half-court game.
Outside of Luke Walton's foolishness with Hield's role, the other important factor in Buddy's return to positive play is his own, individual performance. That may seem like an extremely basic solution for a complex problem, but the truth of the matter is that there were many nights in which Hield simply didn't perform at an acceptable level, regardless of role. When De'Aaron Fox went down, Hield didn't exactly step up.
The entire reason that the Kings signed Buddy to such a massive contract extension was his otherworldly shot-making, and his jumper wasn't as on point last season. Overall, his three-point percentage dipped by 3%, shifting from world class to above-average, and the biggest decrease was found in his catch-and-shoot marksmanship, a facet of his game not at all affected by his changed role. In 2019, he sunk only 41% of his attempts, compared to 46% in the previous season, decreasing his effective field goal from 67% to 60.5%. The Kings can't afford to pay Hield to be pretty good; his shooting must be the elite of the elite.
Many factors will play into whether or not Buddy Heild will be able to return to his 2019 from next season, but it's beyond important that Luke Walton shifts Hield's role back to that of a supporting character and shooter, rather than that of a primary intiatior. From Buddy's perspective, he must execute on a higher level, especially as Sacramento's primary threat from beyond the arc. If those two factors can come together, there's no reason that Hield can't return to some form of his 2018-2019 self.