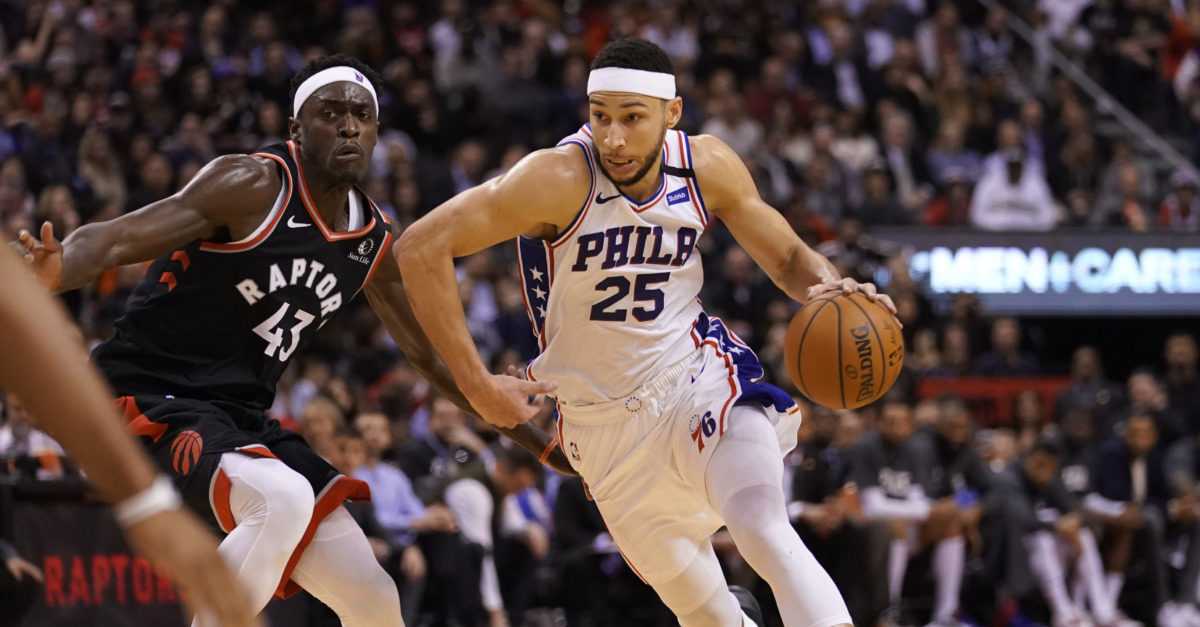 Bleacher Report's Jake Fischer provided a Ben Simmons update this morning, saying it seems less and less likely that Simmons is traded this offseason.
Each of Minnesota, Golden State, Sacramento and San Antonio has been consistently linked as a top Simmons destination, yet the overwhelming sense among league insiders continues to be that Simmons, for now, is expected to remain a Sixer once training camp opens on September 28—barring a change of temperature with Damian Lillard in Portland.
Fischer goes on to explain that Philly has their sights set on Damian Lillard, and is unlikely to trade Simmons for a package unless it helps them eventually get Lillard.
Fischer adds that the Kings can't meet Philly's current asking price unless they include De'Aaron Fox:
Sacramento has no real avenue to land Simmons without sacrificing De'Aaron Fox. The Kings' star guard has drawn varying evaluations during B/R conversations around the league, but his value certainly appears higher than Simmons' at the moment.
As Fischer notes, it seems quite unlikely that the Kings would include Fox. It's at least encouraging to hear that Fox is being properly valued around the league.
This report comes on the heels of yesterday's report from The Athletic's Sam Amick that the Toronto Raptors are unlikely to trade Pascal Siakam this offseason.
It's no secret that the Kings want to make a big move this offseason. They've been linked to trade talks with Simmons and Siakam, and could be in talks for other big names that simply haven't leaked. But as the pool of available stars dries up, we're left to wonder where the Kings go from here.
There are few notable names remaining in free agency, and it seems unlikely the Kings are going to be adding any other free agents on any sort of sizeable contracts. We learned yesterday from ESPN's Bobby Marks that the Kings no longer have the full Mid-Level Exception at their disposal after using part of it to sign Alex Len:
Details on the Alex Len contract in Sacramento:

21/22- $3.7M
22/23- $3.9M

Year 1 came out of the $9.5M midlevel exception

Fully guaranteed for both seasons

Sacramento is $6.5M below the tax

— Bobby Marks (@BobbyMarks42) August 17, 2021
The value of the contract is identical to the amount allotted for the Bi-Annual Exception, so choosing to use the MLE instead suggests the Kings aren't planning any other notable FA signings. Using the MLE keeps the BAE available for next summer (as the name suggests, the Bi-Annual Exception can't be used two years in a row), but otherwise doesn't help the Kings this year.
The Kings still have plenty of time to shake up the roster. Training camp won't open until late September, and the first game of the new season is a full two months away. It's assumed the Kings will continue to shop Buddy Hield and Marvin Bagley, and will continue to look for ways to improve the roster to finally end the team's 15-year playoff drought.
If you're worried that the current roster is going to be the opening day roster, I'd say that concern is warranted. I'm not hitting the panic button just yet, but from what we know of the NBA landscape, it's getting harder and harder to see how the Kings could pull off a big change.