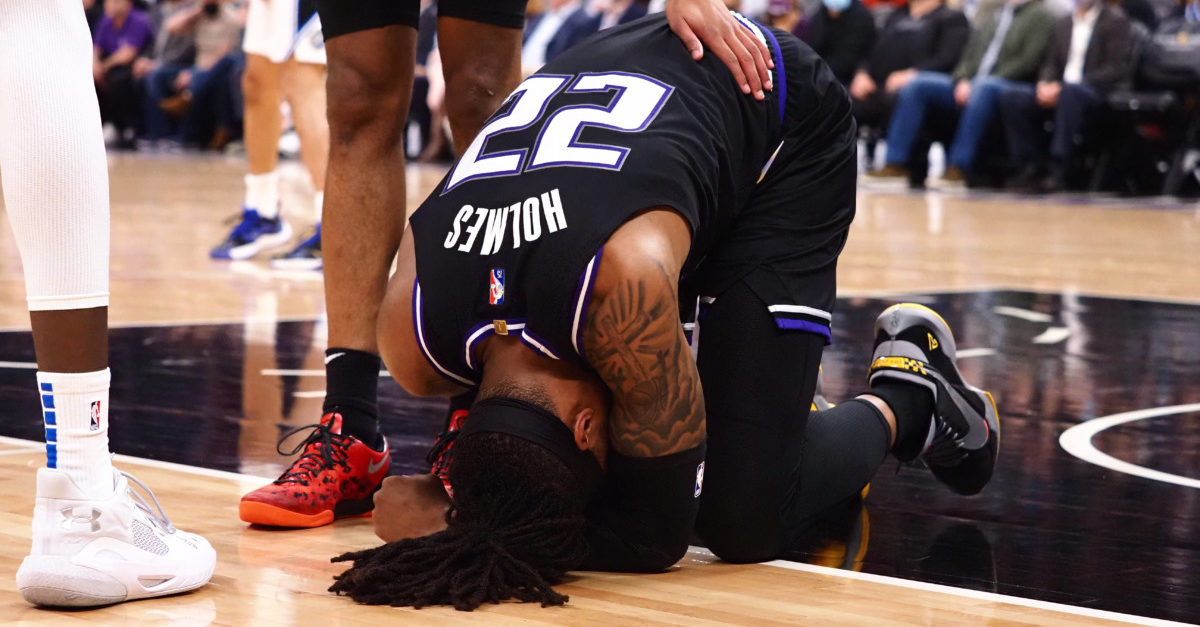 The Sacramento Kings announced Thursday that Richaun Holmes underwent a successful procedure to repair and eye laceration suffered in Wednesday's game against the Charlotte Hornets. Holmes was also reviewed for a possible concussion but was cleared. As a result of the injury, Holmes will miss at least the next two games.
The statement from the Kings:
Today, Sacramento Kings center Richaun Holmes underwent a successful procedure at Kaiser Permanente to repair a right eye laceration. The injury was sustained during the second quarter of Wednesday night's contest versus Orlando. Additionally, Holmes underwent concussion screening and was subsequently cleared of any concussive event. He is expected to make a full recovery.
Mid way through the second quarter Holmes was caught across the eye by Mo Bamba as Bamba followed through on a blocked shot. Holmes immediately went to the floor, and when he eventually stood up he had blood dripping from his eye.
The Kings have back-to-back road games facing the Hornets on Friday and the Cavaliers on Saturday.
The Hornets will also be shorthanded for Friday's game, as several players are currently in health and safety protocols.
INJURY UPDATE: @hornets 12/10 vs. SAC
LaMelo Ball, Jalen McDaniels, Mason Plumlee, Terry Rozier, Ish Smith are all listed as OUT for the game in the NBA's Health and Safety Protocols #AllFly

— Charlotte Hornets PR (@HornetsPR) December 9, 2021