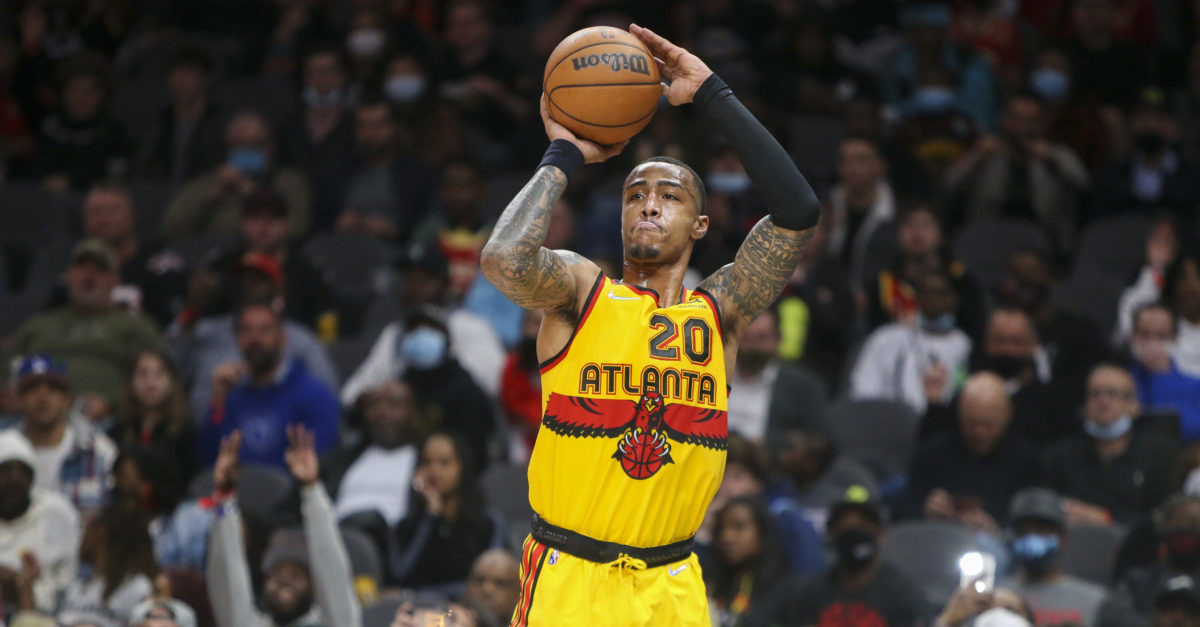 According to Shams Charania of The Athletic, the Sacramento Kings are leaning toward keeping the 4th overall pick, as no teams have been willing to meet their steep asking price.
Of course, this is the season of smokescreens and blatant lies to help oneself, so this information may or may not be true, but this rumor shows the Kings are playing things exactly as they should. With Jaden Ivey viewed as the final guaranteed prize in what many consider to be a four-player draft, Monte McNair should be demanding a ridiculously high price to see if a team massively overreaches, and if not, Ivey is a good enough player to draft even with his minor-to-major fit concerns. For the first time in a long time, the Kings seem to be operating with a front office staff that understands the intricacy of the league.
While Sacramento's manipulation of the draft pick trade market should be considered the most important piece of news, Charania also reported that the Kings have engaged in talks with the Atlanta Hawks around power forward John Collins. In what should be a massive relief for Kings fans, Charania added the tidbit that Monte McNair has not included the 4th overall pick in conversations with the Hawks, meaning a trade back to 16 would be unlikely.
From a talent upgrade and fit perspective, Collins makes quite a bit of sense for Sacramento, a team lacking in both starter quality players and a sensible front court partner for Domantas Sabonis. Sabonis' unique set of skills and weaknesses are best supported by a floor-spacing, weakside rim protector, and while Collins is by no means the next coming of Rudy Gobert, he's a much more vertical threat at the rim than Harrison Barnes. Last season, Barnes averaged just 0.2 blocks per game, the lowest mark of any rotational player on the roster. Meanwhile, Collins rejected one shot per game, a much higher volume. Collins also held his opponents to 60.6% shooting at the rim, 3.5% worse than their average, good enough for the 60th percentile among forwards, while Barnes allowed his opponents to make 64.5% of their shots in the paint, 0.6% better than average, ranking in just the 26th percentile. A Collins acquisition wouldn't solve all of Sacramento's defensive issues or act as a fix-all salve for Sabonis' troubles as a rim protector, but it would allow the Kings to upgrade from awful to average in that regard.
Offensively, Collins would shift Sacramento's game plan dramatically. He's not quite as good from deep as Barnes, although his 36% from deep last year is respectable as a big man, and he also doesn't have the self-creator bag that Harrison occasionally dips into when the Kings are in a scoring drought. Instead, the Atlanta big man would give the Kings a weapon they haven't seen since Richaun Holmes went down last season: a force in the pick-and-roll and transition. In 2021-2022, Collins scored 1.44 points per possession in the screen game, ranking in the 95th percentile. Similarly, he put up 1.2 points per possession in transition, sitting in the 67th percentile. Collins would offer the Kings a Holmes-esque target in both the open and half-court, a key component of De'Aaron Fox's passing game, without having to take the awkward path of starting a second center next to Domantas Sabonis.
The cost of Collins may or may not be prohibitive for Sacramento. His age (24) and length of contract (4 additional seasons) are right along the Fox-Sabonis timeline, although some would consider his average annual salary of $26 million to be a bit overpaid. The Hawks will likely seek a package somewhere in the range of a starting caliber player and a first round pick, or a corresponding young player worth the same value, meaning the Kings could build a package around Harrison Barnes, who would be redundant with Collins in-house, and either Davion Mitchell or a protected future first round pick.
Between the report that the Kings are refusing to part with the 4th pick without a godfather offer coming their way, and their rumored interest in John Collins, it's clear that Monte McNair and his team are determined to walk out draft night with an improved roster and better long-term situation for both De'Aaron Fox and Domantas Sabonis.