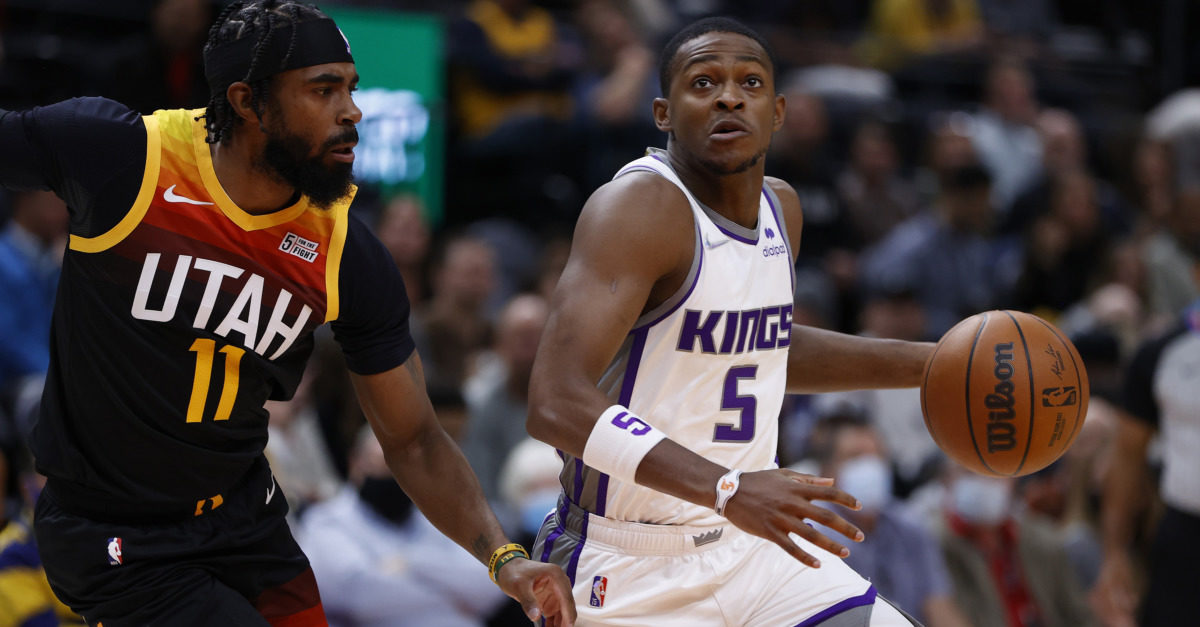 De'Aaron Fox's scoring struggles continued Tuesday night in the loss to the Utah Jazz. He finished with 13 points, 9 assists, 3 steals and 1 block and was a +5 for the night, so he had a good game overall, but the 13 points is what everyone is going to focus on.
Fox averaged 25 points a game last season and 21 the season before that. He is currently averaging 17.7 points a game.
Following the game, Luke Walton, Tyrese Haliburton and Davion Mitchell spoke to the media and Fox was a topic brought up.
Haliburton said Fox's struggles are being made out to be a larger problem than they are.
"He's fine, he's missing some shots, but that's part of it, we all go through these little slumps – it happens to everybody. I think it's being made a bigger deal than it is, so I'm not concerned by any means. It's just a slump right now and we're his teammates, we're going to help him get out of it," Haliburton said. "We come here [Utah] and he doesn't play very well, and we still almost beat one of the best teams in the west. So, it's blown out of proportion in my eyes, and he'll be just fine."
Walton offered his support as well.
"De'Aaron is a very talented player. He knows how important he is to us and when you're struggling, the best way out of it is work harder, grind more, fight through it, believe in what you are doing, believe in your teammates and I have all the faith in the world that De'Aaron will do that," Walton said.
When asked if Fox is taking too difficult of shots, Walton elaborated a little more.
"We dove into the numbers on it, a lot of it looks very similar to past years." "Until he starts making some shots every team that we play, they're going to go under every pick and roll, the bigs are going to be walled up because of his speed, they're already going to wall up in transition. So, we trust him and at the end of the day, we have a good team, but we need De'Aaron to make some of those shots so we're not going to tell him to stop taking them. We're going to encourage him, but we need him to get to rim, we need him to draw two, we need him to create and when they go under, he's got to be able to open up the floor for us and he's capable of it, he knows he is, and he'll get to it," Walton said. "I love everything about De'Aaron Fox."
On The Kings Troubles
Luke Walton: "We're learning these hard lessons, and I hope we figure it out soon, but the details of the game is what's costing us right now. Tonight, it was defensive rebounding and not from their bigs, it was our guards not boxing out. It just killed us. We didn't knock down free throws, they did knock down free throws. We missed open looks, they hit open looks, but the fight of our group is great, and I love coaching these guys, but we're going to have to keep taking tough losses until we can clean up some of the details, what people would call the little things of the game."
"When you play as hard as they are playing, you should win games and when you don't give yourself the best chance you feel for the group. As a coach and from the outside, you can see it more. You can see it happening as the game is going," Walton said. "They're doing an incredible job of playing the roles we need them to play. They're doing an incredible job of playing together, and they're playing incredibly hard every single night and that's a really good foundation. We just have to continue to clean up things along the way."
Davion Mitchell: "It came down to the wire and they played harder than us. They made plays, they got 50-50 balls, they hit big shots and that's a really good team."
A Few Takeaways
We all know how important Fox is to the offense, but you see based on Walton's response about his shooting how much the offense is lacking when Fox isn't scoring. The team is built around what Fox can do offensively.
Tyrese's comment about Fox is a great response from a teammate, and is true about this just being a slump. I think the challenge everyone is having right now is trying to determine the reason why the slump is happening and grappling with the fact it is happening at the beginning of the season.
It's not really a surprise the Jazz outplayed the Kings down the stretch, especially in Utah, but the Kings got out-rebounded 59-38 and that has to be better even when facing Rudy Gobert. And the guards definitely need to play their part there by boxing out. Nice to see Buddy Hield get 5 rebounds and Davion Mitchell get 4.
The Kings face the 1-7 New Orleans Pelicans tonight in Sacramento.