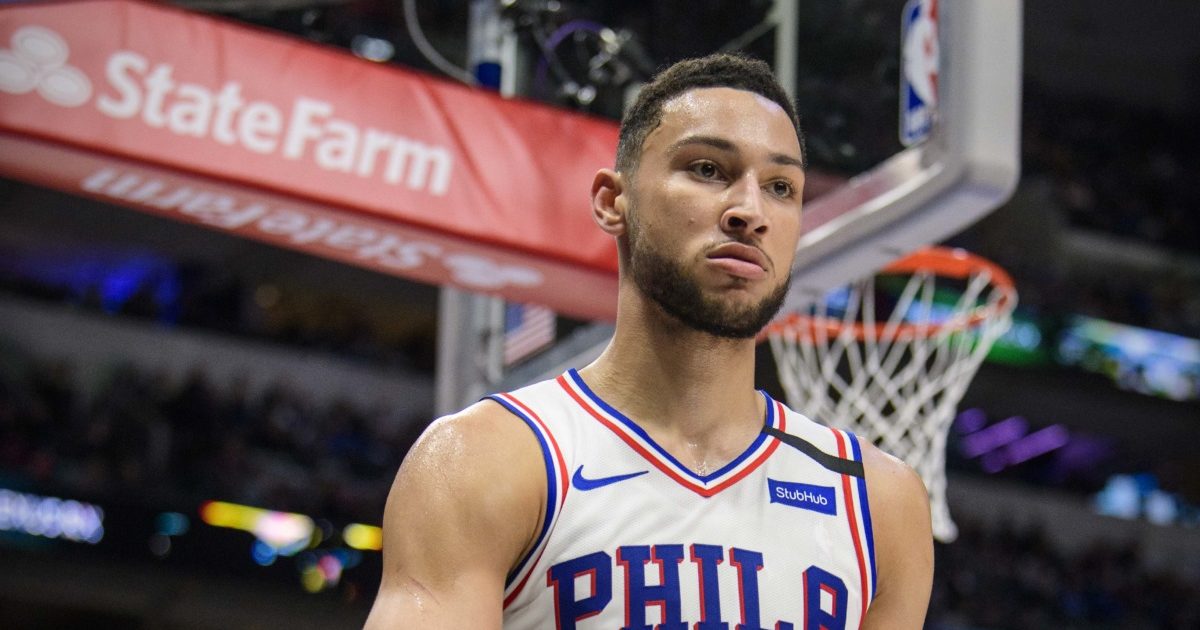 October 1st was supposed to mark a significant date in the ongoing Ben Simmons-Philadephia 76ers standoff that has been escalating for months. As a part of his rookie extension, Simmons' contract dictated that he would be paid 25% of his contract at the close of business on Friday afternoon; however, as reported by Jake Fischer of Bleacher Report and confirmed by Shams Charania of The Athletic, the Sixers are withholding that $8.25 million payment today.
Sources: The 76ers are not paying Ben Simmons his $8.25 million payment due today as the three-time All-Star awaits a trade. Simmons still is not showing up to Philadelphia and has understood the ramifications of his holdout.

— Shams Charania (@ShamsCharania) October 1, 2021
While that sort of decision would seem to go beyond the bounds of the Collective Bargaining Agreement, according to Fischer, NBA and union officials are reportedly on board with the Sixers' plan, as Simmons is not currently fulfilling the terms of his contract:
"Philadelphia views Simmons' refusal to report to training camp as not fulfilling the terms of his contract. In dialogue with league-office personnel and players union officials, the Sixers appear to be within their rights to withhold that lucrative check."
Of course, that's not the final shot that's been fired in today's salvo between Simmons' camp and Sixers General Manager Daryl Morey. With that huge payday at risk, as well as additional fines undoubtedly on the horizon, the former All-Star may choose to report to camp, albeit with a myriad of mysterious back and knee injuries from previous surgeries. And if he chooses to simply sit at home, Simmons' agent, Rich Paul, has made it clear that his client is more than willing to eat whatever paychecks are necessary to get him out of Philly.
Simmons has told them team he understood the ramifications of not reporting—that his salary could be withheld. A source close to him said "we're in it for the long haul." https://t.co/QKohJOK8bp

— Ramona Shelburne (@ramonashelburne) October 1, 2021
It seems as though this situation will continue to devolve until the Sixers capitulate and find a new home and a new jersey for Simmons.
From a league-wide, future-thinking perspective, the antics of both Simmons and the Sixers will likely have repercussions this season and beyond. If Simmons continues to hold out, he may very well file a grievance to get the cash from his October 1st payday, miring the league, the union, and the Sixers in a mediator-run debate. And when the NBA's CBA expires in a couple of years, both the players' union and team owners will want to protect themselves from this sort of mess in the future, which could become a sticking point in negotiations.
The good news for the Sacramento Kings, and any other team interested in Simmons' services, is that the uglier things get, the more urgent a trade becomes, even if Daryl Morey is still pretending otherwise. Philadelphia cannot afford to waste a quarter or half of a season of Joel Embiid's healthy prime, and getting in players and assets before the start of the regular season is undoubtedly on the mind of Sixers management. An All-Star and Defensive Player of the Year candidate like Simmons still won't come at clearance-level prices, but his cost does continue to lower little by little as things become more desperate in Philadelphia.