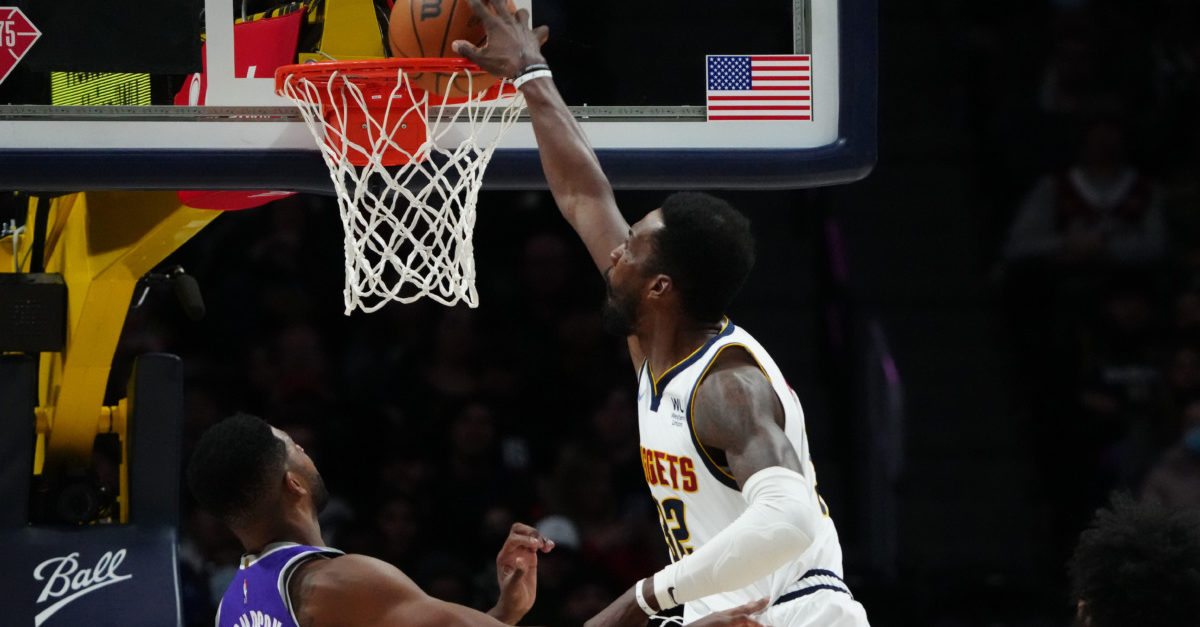 Welcome to Game #41, you maniacs! That's right, we officially made it to the halfway mark of this season. If you are still here, *fist bump*. We are made of the same cloth. That is the cloth of loyalty, pain, and masochism, stained a uniquely dark-hued color that is the combination of purple and blood red. The Sacramento Kings traveled to Denver tonight to take on the perfectly average (18-18) Nuggets, one of the few teams riddled with plain old injuries rather than covid protocols. Denver was missing two of their three best players in Jamal Murray and Michael Porter Jr., but still had Nikola Jokic, reigning MVP. So, naturally, with Denver having only 1/3 of their usual star firepower, this really was anybody's game. Let's see how the Kings did:
Quick Stats
Outcome: Kings lose, 121-111
Sacramento Kings: 111 pts, 43.5% fg, 37.9% 3 pt, 83.3% ft, 21 ast, 47 reb, 12 to
Denver Nuggets: 121 pts, 55.3% fg, 35.3% 3 pt, 62.5% ft, 32 ast, 41 reb, 8 to
Was I surprised that the Kings lost to another depleted roster? No. Was I surprised that one of the worst defenses in the league let the Denver Nuggets score +15 points over their season average? No. Was I surprised that this Kings team, forever preaching their focus on pace, got beat down the floor by Nikola Jokic?
Jokic is too fast for the Kings defense pic.twitter.com/dirnF8njOs

— Tony Xypteras (@TonyXypteras) January 8, 2022
Only for a second. Then I remembered who this team is and realized that nothing surprises me anymore. The Kings have been trying to sell themselves as having an identity of pace and quick scoring for what feels like one thousand years now. Tonight, the 26th ranked team in pace outscored the Kings 16-10 in fast break points and 70-44 in paint points. I'm done buying the snake oil.
The Good, The Bad, & The Ugly
The Good
7 Minutes of Len: Alex Len gave Kings fans a respite from the third quarter horror show we are all so accustomed to when he had himself a moment to start the second half. Proving to be the only center on the Kings who could provide any resistance to Nikola Jokic, Len quickly earned his second half start over Damian Jones. Len provided physicality on the defensive end and scored 10 of his season-high 18 points in this seven-minute stint. At one point during the quarter, his hard work brought the Kings within four points.
The Bad
41 Minutes of Kangz Basketball: It's the same old story. The Kings consistently struggle on both ends of the floor, while their opponent consistently capitalizes on their endless defensive breakdowns. Nikola Jokic led his team with 33 points, 10 rebounds, and seven assists, while Jeff Green followed with 18 points of his own. It was glaringly noticeable that the Nuggets were playing on a cerebral level, creating intentional looks for themselves that often ended in easy buckets in the paint, while the Kings were playing on a survival level, simply taking whatever shots they could muster and battle their way into. On the defensive end, the Kings showed no recognition to their consistent breakdowns and therefore no attempts to correct them. I'm pretty sure Jeff Green scored all 18 of his points in a row off of pick & roll actions with Facundo Campazzo.
The Nuggets targeted Buddy Hield and Marvin Bagley III on switches on their last three possessions. They all ended with Jeff Green dunks. Nuggets lead the Kings 96-85 to start the fourth quarter.

— Jason Anderson (@JandersonSacBee) January 8, 2022
The Ugly
My Face: Aside from the effects of being sick for the past week, and aside from the natural (though unintentional) glare that emanates from it, there now lies a new layer of disgust across my face as a result of that performance. To think 2022 would be different...
The King of Kings
De'Aaron Fox led the Kings with 30 points tonight to go along with seven rebounds and five assists. He also got to the line 10 times and cashed in on eight of those attempts.
Up Next
Sunday, January 9th @ Portland Trail Blazers - 6:00 P.M. (PT)