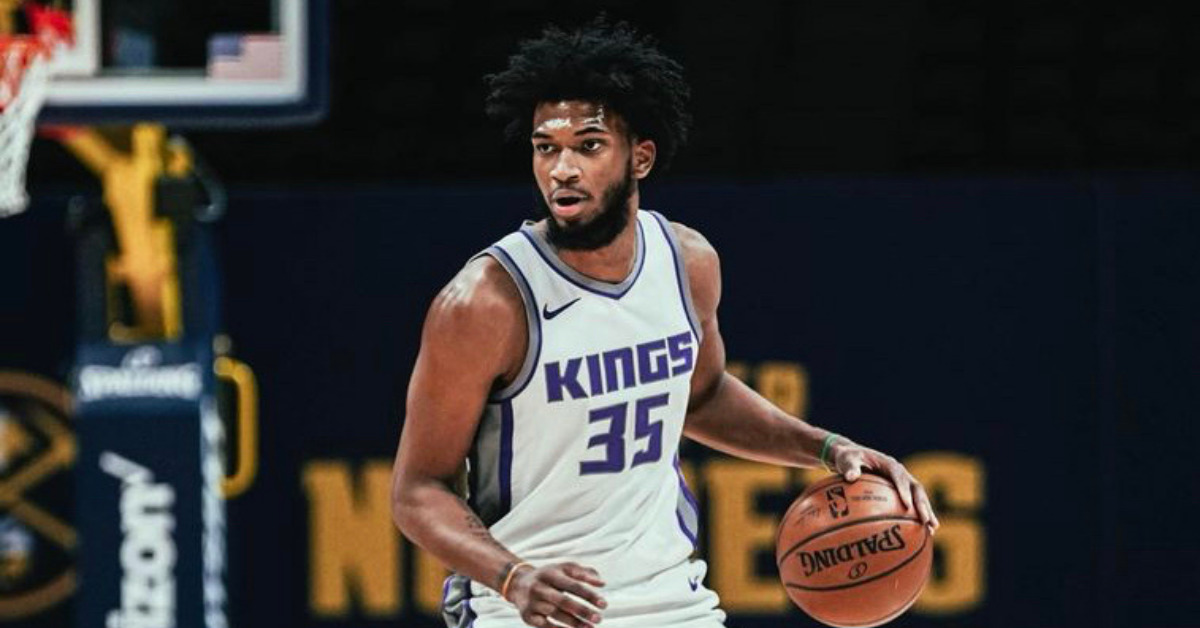 The Athletic's Sam Amick and Jason Jones dropped a must-read report on the Sacramento Kings Friday morning. Amick and Jones addressed everything from Monte McNair's long-term plan to Luke Walton's job security, and which players on the roster could be available as the March 25 trade deadline approaches.
A lot of Amick and Jones' extensive report was confirmation on speculation we've been talking about for the last several weeks. Amick and Jones confirmed that it is unlikely that Luke Walton will be fired over the All-Star break, for example.
What we didn't know is that, according to rival executives, Mavin Bagley is "up for discussion" in trade talks, and how that factors into Nemanja Bjelica's bizarre benching earlier this season.
Bagley, who has one season remaining on his rookie contract ($11.3 million in 2021-22), has progressed in his first season starting (14.1 points, 7.6 rebounds per game) while making modest improvements on the defensive end. This has taken place, of course, amid his father, Marvin Bagley Jr., complaining about Walton on social media (just like he did Dave Joerger before him) and publicly asking the organization to trade him in early January. Rival executives say Bagley III is up for discussion in trade talks, but the interest in him is widely seen as minimal because of his struggles these past two seasons.

The Bagley component, perhaps more than any other, is a reminder of how challenging rebuilding can be on the players themselves. When the Kings made it a priority to start Bagley at the start of this season, sources say the veteran who lost his starting spot — 32-year-old forward Nemanja Bjelica — was incensed at the idea that he'd been supplanted simply because he wasn't part of the long-term plan. Sources say Bjelica chose not to play from Jan. 9 until his return to the rotation on Feb. 12, in large part, because of his strong disagreement with the decision and the reasons behind it. On the official record, the reasons given for Bjelica's absences ranged from "DNP-CD" to "back spasms" to "personal reasons." He is likely to be traded before the March 25 trade deadline.
Although not terribly surprising considering Bagley's rocky tenure in Sacramento, this report is certainly news. It's important to note here that the source for Bagley's apparent availability is "rival executives" so take that for as many grains of salt as you wish. Amick and Jones are as reliable as it gets in Sacramento, though, so if they're willing to print it, I'm willing to believe it.
This also doesn't mean the Kings are actively shopping Marvin Bagley. It means he's on the table if the right offer comes along. I happen to think the Kings won't find an offer worth pulling the trigger on, but time will tell.
Bagley is a difficult player to trade at this moment in time. I imagine the return package won't significantly move the needle because Bagley's value just isn't that high, and the risk makes me uncomfortable.
Marvin Bagley is still just 21 years old, and finally healthy for the first time in nearly two years. While I haven't been floored by his play considering the high expectations that come with being drafted 2nd overall, we don't have a clear image of what Bagley will become two or three years down the line. If I'm the Kings, I'm not sure risking Bagley's potential is worth the underwhelming return you're probably looking at right now. The best move might be no move at all. Let Marvin Bagley play the year out, see what you have for a little while longer, and make a more educated decision on his future in the offseason.
Maybe Bagley shows no additional signs of development and his value sinks even further. Maybe he continues his recent stretch of decent offensive production and you keep him, or trade him when his value improves, but right now doesn't seem like the optimal time to make this move. I'm sure others will disagree with me on that, but those are my feelings on the Marvin Bagley situation as of today.
If Bagley's value is higher than I'm anticipating, I might feel differently on this. But as of March 5th, I'd consider a Marvin Bagley trade unlikely despite what rival executives are whispering. It's a fascinating report though, I'll give them that.
Monte McNair has exactly 20 days left to figure it out.