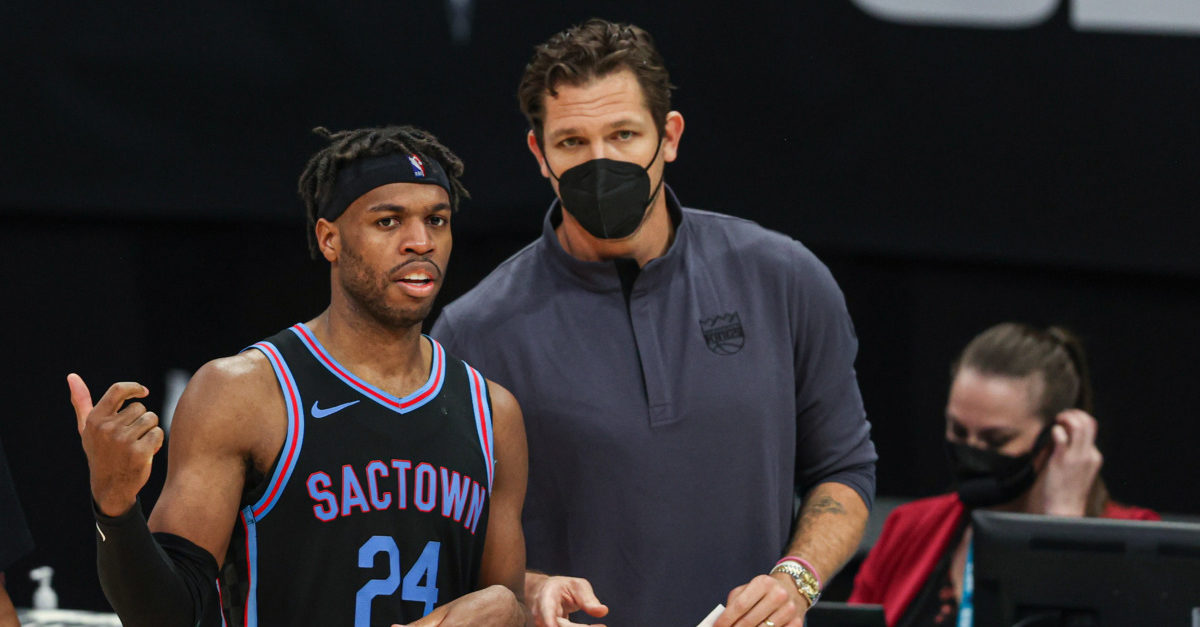 For the last 15 years, the Sacramento Kings have had one goal in mind: make the playoffs, and for the last 15 years, they've failed. A myriad of factors can shoulder some of the blame for the last decade-and-a-half, from a lack of on-court talent to bad coaches to blown draft picks, but only one common thread has wound its way through each of the last 15 seasons. The Kings don't play defense. No matter who has coached or who has worn the jersey or who has owned the franchise, any team walking into any Sacramento arena has known they're going to get theirs on offense that night. It should come as no surprise that the last time the Kings posted an above-average defensive rating, the 2005-2006 season, was also the last time they celebrated a postseason appearance.
Last season was no exception for Sacramento. The Kings posted the worst defensive rating, not only over the last 15 years, and not only in franchise history but in the 75 years in which the NBA has existed. They were somehow less effective than a 17-win squad which saw Jason Thompson and Spencer Hawes combine for almost 60 minutes per game. They were that bad.
Sacramento's lack of defensive effort last year was even more discouraging than usual because the Kings were actually pretty good everywhere else on the court - almost good enough to sort of compete. They ranked 12th in offensive rating, and if they had tied the Washington Wizards for 20th in defensive rating, they would have finished the year with a slightly positive net rating. That would have put them ahead of the 10th-seeded San Antonio Spurs and right in line with the 9th-seeded Golden State Warriors and the play-in tournament, exactly where the Kings wished to be at the close of the season.
If the Kings want to make that wish come true in 2021, they're going to need to make wholesale changes on the defensive end of the hardwood. Luke Walton and his staff must start game-planning for the roster they have, rather than forcing their rotation into an ill-fitting plan, while the players must take responsibility for their effort on defense. This team can be average or better defensively if they allow themselves that chance.
The first and most obvious adjustment is a complete change to the coaching staff's defensive philosophy. Last season, the Kings switched just about every pick-and-roll and dribble hand-off, and they were murdered, raised from the dead, and murdered again every time a weak perimeter-minded big man, also known as every player outside of Richaun Holmes, was switched onto a guard. That sort of plan may work with highly adaptable forwards and centers with a passion for stopping opposing guard and wings, but those players don't really exist within this group. Hopefully, that strategy is dead before training camp begins.
Outside of the general mayhem of switching everything and hoping for the best, the coaching staff also needs to reconsider their deployment of weaker defensive players, namely Buddy Hield and Marvin Bagley. In 2020, Hield defended the most field goal attempts of any guard in the league, and while that's partially a compliment to his otherworldly game-to-game availability, it also serves as evidence as to how often teams targeted him in one-on-one situations. Last year, Hield recorded the fourth-worst overall defensive field goal percentage differential in the league, allowing his opponents to increase their accuracy by 4.3%. And when things moved closer to the hoop, his effectiveness grew worse. Buddy also ranked first among guards in field goals defended at the rim, and he placed last in the NBA in field goal percentage differential in the paint, as his opponents knocked down 69.3% of their shots, an increase of 8.5% on average.
Similar to Hield, Marvin Bagley was also ineffective across the board defensively, but his rim protection numbers were the most concerning of all. Despite his 6'11" frame, Bagley's opponents were almost as successful in the paint as when they were guarded by the 6'4" Hield, sinking 67.2% of their attempts at the rim, the second-worst mark among any forward or center in the NBA.
That sort of weak rim protection isn't exactly ideal when Marvin is operating at the four-spot, but it becomes devastating when he's the only big on the floor. Sacramento's most-used lineup with Bagley at center, Fox-Haliburton-Hield-Barnes-Bagley, posted the second-highest defensive rating of any of the 216 lineups played between the 30 NBA teams last season, allowing a staggering 138 points per 48 minutes. Overall, the eight most commonly utilized Bagley-at-center lineups were outscored by a combined 67 points in 187 minutes of play.
Of course, every team features multiple players who are more prone to scoring than defending, but Luke Walton and his staff have consistently failed to hide Bagley's and Hield's defensive warts over the last two years. Instead, most of their strategies have actually highlighted their struggles and made it far easier for opposing teams to feast when they enter the game. Switching everything hurts both players, as Marvin struggles to cover perimeter-oriented players and Buddy can't stop a rim attack to save his life. Playing Bagley at center has also proved to be ineffective defensively, especially when he's paired with a three-guard lineup. Switching everything, while playing Bagley at center, with a three-guard lineup, with Buddy as one of those guards, is just asking for disaster. And that's exactly what happened last season. Buddy Hield and Marvin Bagley should not be counted as immune from criticism for their poor defensive performances, but simple, logical adjustments by the coaches can also work to de-emphasize those struggles.
The Sacramento Kings may have been the worst statistical team in NBA history last season, but they were by no means the worst defensive roster in NBA history, nor will they be in 2021. In order to escape that hellhole of defensive incompetence, and in order to break the 15-year playoff drought, the Kings must make major adjustments heading into next season. Luke Walton needs to ensure that he's not exacerbating his worst defensive players' issues by playing them together and with undersized groups, the coaching staff must stop insisting on switching everything on defense, and the team as a whole must begin to take responsibility for their performance on the court. If all of those things come together, the Kings may very well find themselves not only in the top-10 or 15 of defenses next season, but in the playoff picture as well.