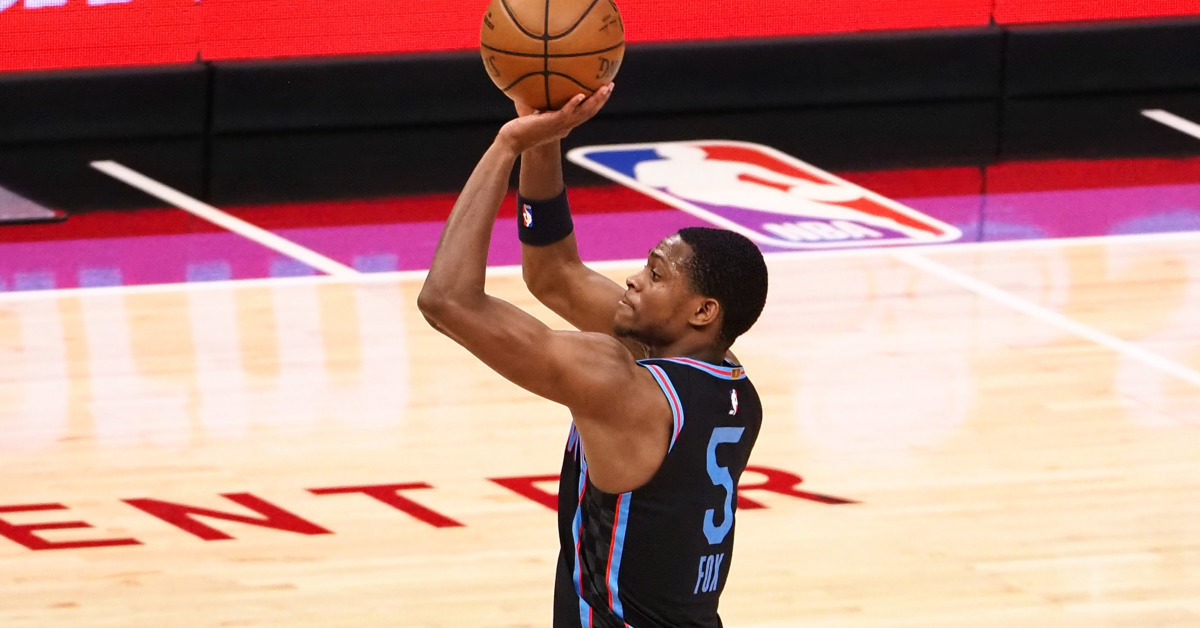 Over the last four years, De'Aaron Fox's growth as a scorer has been nearly unprecedented. As a rookie in 2017, he ranked 143rd in the NBA in scoring, averaging 11.6 points per game. Last year, he skyrocketed all the way to 16th in the league, more than doubling his scoring average to 25.2 per game. And that increase hasn't simply come as a result of starting games and playing additional minutes. His points per-36 minutes have seen a similar climb, from 15 to 19.8 to 23.8 to 25.8.
De'Aaron's scoring prowess mostly finds its genesis in his ability to attack the rim and either score, draw a foul, or both. In 2020, he placed second among all point guards in frequency of shooting fouls drawn, earning free throws on 17.1% of his shooting attempts, including over 22% of the time when he attacked the paint. Unfortunately for Fox and the Kings, he was unable to consistently convert his shots from the charity stripe, a major area of concern heading into the 2021 campaign.
As one of the league leaders in free throw attempts, Fox must do a better job of converting at the line. Last year, he sunk just 71.9% of his attempts, ranking in the 18th percentile among point guards. Of the 20 players who averaged at least six free throw attempts per game in 2020, De'Aaron placed 16th. Those percentages have to come up if Fox wishes to join the truly elite scorers in the league. In fact, if he had sunk 85% of his attempts, league-average for a lead ball-handler last season, his scoring output would have jumped by about one point per game, pushing him to 13th in the league in scoring.
As much as converting a higher percentage of free throws would have helped Fox last season, his three-point shooting is truly the area in which his scoring game can evolve from pretty good to league-elite. Similar to his free throw shooting, De'Aaron's percentage from beyond the arc was incredibly low for a point guard, ranking in just the 12th percentile. If Fox was able to work his way to merely average from deep, 36.4% to be exact, his scoring would increase again increase by about a point per game, and more importantly, the other areas of his offensive attack would open up as defenses adapted to his new and improved shooting. However, unlike free throw shooting, which is nothing more than repeated muscle memory, improving three-point accuracy often has just as much to do with shot selection as it does shooting form, and De'Aaron Fox is no exception to that rule.
Last season, Fox shot a discouraging 32% from deep, but that was mostly due to the fact that the vast majority of his attempts, 91% of them, came from his weakest spot on the floor, the top of the arc. Fox sank just 31.6% of his three-pointers from that spot, while he made 36.8% of his shots from the left corner and an astounding 41.7% of his attempts from the right-hand side of the court. It would behoove both the Kings and Fox to find ways to increase his attempts from either corner, as that would not only increase his overall effectiveness from beyond the arc, but the cumulative effect of regularly seeing the ball snap the nets would undoubtedly help Fox at the top of the key as well.
De'Aaron would also be better served if he decreased the frequency of his pull-up three-point attempts, which often come at the top of the key. Last year, he attempted 3.8 pull-ups per game, nearly doubling his frequency from 2019, in which he took two on average. Unfortunately, Fox was awful in that situation, converting 30% of his attempts, the worst mark of any player who attempted at least 3.5 per game. Conversely, De'Aaron was fantastic in catch-and-shoot situations, sinking 39.3% of his shots. While it's absolutely true that a rim-oriented player such as Fox needs to occasionally take a pull-up jumper to keep opposing defenses honest, his radical increase in the toughest sort of three-pointer did him not a bit of good last season. Better shot selection and execution, from Fox, his teammates, and the coaching staff, would go quite far in helping De'Aaron to become a consistent threat from beyond the arc.
Anyone who has watched the Sacramento Kings over the last few years has recognized De'Aaron Fox's potential as a top scorer in the league. Throughout his career, he's improved his areas of strength tremendously, developing into one of the NBA's most devastating rim attackers, but it's now time for Fox to shift from strengthening strengths to shoring up weaknesses. If De'Aaron truly wants to join the league's elite scorers, his consistency from the free throw line and accuracy and shot selection from beyond the arc must improve dramatically.