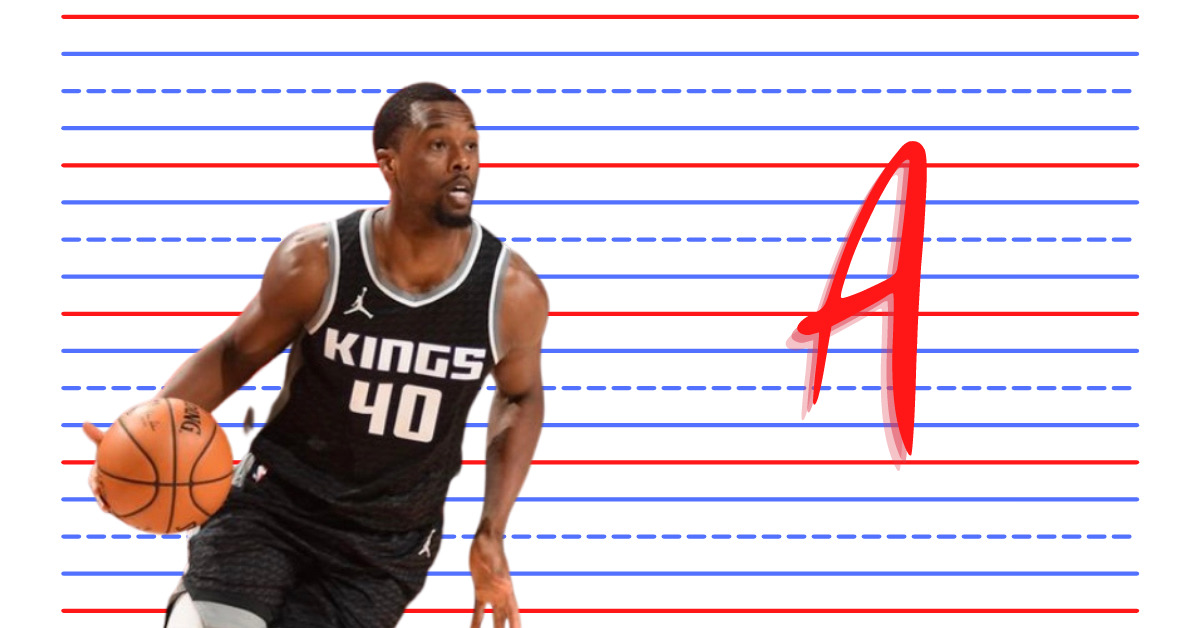 The Sacramento Kings are halfway through their rollercoaster of a season, and we've gathered the crew together to go through some player and coaching staff grades. Yesterday, we covered the guards, today, we'll be taking a look at the forwards, and tomorrow's piece will take on the centers and the coaching staff. Let's dive right in!
Harrison Barnes

Tim: B+
Harrison Barnes has played a pretty satisfying season of basketball, even for a guy who's clearly overpaid. He's averaging the most points per game since the 2017-2018 season, and his shooting has been on point as well, as the veteran wing is knocking down 39.2% of his long-balls on over four attempts per game. I've also enjoyed the new ways in which Luke Walton has used Barnes (I know, shocking). Harrison is driving more than last year, increasing his dives into the paint from 6.1 per game in 2019 to 8.2 this year, and that's led to a more effective overall offensive game. Defensively, HB isn't necessarily going to win you games or completely shutdown an opposing player, but he's also not going to kill you on that end of the floor either. He's been solid, as always.
Brenden: A-
Last season, Harrison Barnes' contract was looked at as a negative asset by most people, even though I thought it was only a slightly reasonable overpay at the time. Now, it seems like the Barnes deal is considered fair as he is in the midst of his best season as a pro. He is posting a career-high in eFG% (56.7 percent), rebounds (6.1), and assists (3.6) along with 16.7 points while averaging the most minutes per night (35.7) on Sacramento's roster.
On top of that, most of what he is doing feels sustainable. While the shot has gone cold at times this season, he remains able to get to the rim, post-up or run a pick-and-roll in a pinch, and has hit clutch shots for this team. Not to mention that he is one of the few good defenders on this roster and especially valuable that he is 6'8€. While his effort level on that end of the floor has varied at times, he is far from alone in that and there is good reason that playoff teams are looking at Barnes to be a difference maker on their roster this trade deadline.
Tony: A
This grade may seem high, but I'm grading Harrison Barnes based off my expectations heading into the season. I was a non-believer. I didn't love the Barnes contract when Vlade re-signed him. I thought it was an overpay. I thought the Kings negotiated against themselves. I thought they were going to be stuck with a bad contract for a lot of years. Barnes has proven me quite wrong this season, and I'm thrilled. He's been fantastic in a lot of areas, but I want to point out the progress he's made as a passer this season. Barnes is averaging a career-high 3.6 assists-per-game in 2020-21. His previous career-high was 2.2 APG.
Barnes graded below average in assist-to-usage ratio for his entire career until this season where he now ranks in the 74th percentile among NBA forwards. Simply put, Harrison Barnes is having the best year of his career. He went from having neutral or potentially negative trade value this past offseason to a real asset for the Kings in just a few months as we approach the March 25 trade deadline. My only hope from here is that Monte McNair takes advantage of Barnes' all-time value high, and the Kings land a few nice young assets for him while he goes and helps a real playoff contender for his remaining prime years.
Greg: A
Harrison Barnes is having the best season of his career. He doesn't need to be the focal point of an offense to be productive, he's a solid-if-unspectacular defender, he's a great veteran leader, and doesn't have a major weakness in his game. There's a reason he's being pursued by playoff teams at the deadline.
Marvin Bagley

Tim: C-
Of all of the players we're going to grade or have graded, Bagley probably presents the largest challenge for must of us. Let's start with the good. His three-point shot seems to be the real deal, as he's up to 37% on almost three attempts per game on the season, a development not many saw coming, at least this quickly. Bagley's also a pretty good rebounder. He ranks in the 90th percentile in offensive rebounding percentage, defensive rebounding percentage, and overall defensive rebounding percentage - not too shabby.
Then, there's the bad. Outside of his three-point shooting, Bagley has been horrific in scoring efficiency this season. According to Cleaning the Glass, he ranks in the 33rd percentile in effective field goal percentage, 48th in shooting at the rim, and 36th in midrange effectiveness among bigs. For those who are a fan of his post game, Marvin is scoring just 0.74 points per possession, which puts wayyy at the bottom of the league among players who still operate down low.
The defense is also bad, and although it's theoretically improving, going from the worst in the league to one of the worst in the league isn't enough progress for this infantile giraffe. Bagley ranks bottom-5 in the league in overall defensive field goal percentage differential, while he's the second-worst in the NBA in rim defense, as his opponents shoot over 70% at the rim, 9% better than their typical average.
Marvin Bagley is improving, but I don't know if it's quick or substantial enough to make him a part of this team's future.
Brenden: C+
The main positive for Marvin Bagley is that he has been able to stay healthy after only playing 13 games in his second season. His offensive numbers appear shockingly impressive with shooting splits of 50.0/37.0/52.9 - outside of the atrocious free-throw shooting. Coming into the season, I was unsure if Bagley would be able to perform as a cog in the offense rather than having everything run through him and he has shown a clear ability to do just that. I wish that we were able to see him as the roll-man on offense paired alongside De'Aaron Fox or Tyrese Haliburton, but still.
Yet, I still feel like Marvin Bagley is a negative during nearly all of his minutes on the floor because of just how horrible he is defensively. With his improved shooting, Luke Walton and Sacramento's coaching staff seems comfortable playing the big man alongside Richaun Holmes or even Hassan Whiteside but recently have played him at the five. There has been minimal growth at either position, and he has a real case for being the worst defender on the worst defense of all time. Harrison Barnes has been visibly frustrated with him. De'Aaron Fox talked about the team needing to box out which seemed directed towards Bagley along with others.
My goodness... pic.twitter.com/Athoi4VYo1

— John Schuhmann (@johnschuhmann) February 26, 2021
Tony: C+
If you asked me for a Marvin Bagley grade a month ago I would have been far more harsh, but I think we're maybe (hopefully) starting to see some offensive progress here. Let's go over his last 12 games. I'm choosing the last 12 because he's played more than 20 MPG in all of them. Ok:
Over the last 12 games Marvin Bagley is playing 27.9 MPG and averaging 17 PPG, 8.1 REB, 1.1 AST, 0.6 STL, 0.4 BLK, 1.0 TOV, and 2.0 PF while shooting .548 FG% from the field and .387 3P% from three, with 60% free throw shooting on 3.3 FTA.
Bagley's defense is still a mess, but I'm seeing some efficient scoring and a developing outside shot. From the eye test, he looks more confident in his scoring, too. We're seeing less thinking, less 5 second post-ups, and more quick decision making. I still don't know what Bagley's NBA career looks like, but this is as optimistic as I've been on him in a while. Admittedly, that's not saying much, but I'm encouraged about his recent play.
Greg: C
If we were grading just on the offensive side of the ball, I'd consider a high B for Bagley. The development of his three point shot has been a welcome surprise, and Marvin scores and rebounds in bunches when he's on the floor. He's also managed to be on the floor, missing minimal time to injuries. His defense, however, keeps my excitement in check. He's abysmal on defense, and lacks some basic fundamentals necessary to ever be serviceable.
Nemanja Bjelica

Tim: C
Nemanja Bjelica's per-game numbers haven't exactly been awe-inspiring this season. He's sitting at just 8.5 points and 4.2 boards per game, while only knocking down 33% of his attempts from deep, but Bjelly has also never been given the chance to establish any sort of rhythm. According to an interview with Sam Amick on The Drive with Carmichael Dave, Bjelica was benched early in the season because the team wanted to develop Marvin Bagley. And despite going from team starter to a DNP-CD almost every night, Bjelica stayed ready over the last few months, as evidenced by his play during the Kings recent injury-riddled stretch. Nemanja may not have played terrifically in his time on the floor, but his professionalism and readiness have earned my respect over the first half of the season.
Brenden: Incomplete
The recent reporting revolving around Nemanja Bjelica clarified the reasoning for mixed reporting on why he did not play a large majority of the first half of the season but his on-court play has still remained spotty. He seems to be the same player as last season, and that should lead to Sacramento getting a small return for him at the trade deadline but he has been a non-impact player for the Kings this season.
Tony: D
Nemanja Bjelica is having one of the more bizarre seasons I can remember, but I think we've got enough playing time here to grade, and I don't think it's been very good. He's playing under uncomfortable and inconsistent circumstances, but the numbers are what they are. You need Bjelica to space the floor with efficiency and he hasn't done that this year. His defense isn't good, and the Kings probably regret not trading him in the offseason when he may have had some value.
Greg: D
I disagree with giving Bjelica an Incomplete grade, as he's appeared in 19 of 36 games and is averaging 18 minutes per game in those appearances. I think that's plenty of time to evaluate the season so far, and it's hard to be anything but disappointed. Bjelica is still scoring for the Kings, averaging 16.9 points per 36 minutes (a career high), but Bjelica's primary value is his three point shooting. Bjelly is shooting just 33% from 3, which isn't good enough for your stretch four. His defense remains a liability as it always has, but the offensive production hasn't been enough to balance it out for me.
DaQuan Jeffries

Tim: Incomplete
The fanbase was quite excited that Monte McNair decided to keep DaQuan Jeffries around this fall, but an early-season injury really derailed his first full year in the league, leading to an incomplete grade from me. Jeffries is a defense-first wing, of which the Kings have seen very few of over the years, and his three-point shot has been solid, if unspectacular, at 33%. If DaQuan can continue to develop that outside shot, he's got a real shot at evolving into a legitimate NBA bench contributor for Sacramento.
Brenden: C+
A grade three ankle sprain kept DaQuan Jeffires sidelined for the first 24 games of Sacramento's season and he has only seen about 12 minutes a night since then aside from an outlier 39 minute night. In that game, he sank 6/7 from beyond the arc and I think that is the one area that I skeptically say you can see improvement in his game. The shot looks more comfortable and smooth from DQJ and his energy on defense remains as usual.
I look forward to him getting more run in the second half of the season with Glenn Robinson III gone and the potential trades involving Buddy Hield or Harrison Barnes. Side note: I just learned that DaQuan Jeffries was the 2019 NCAA dunk champion and he 100% should join the contest at some point in the future.
Tony: C
I'm intrigued by DaQuan Jeffries but I'd be lying if I didn't wish his production was a bit better. I want to see more, though, because I like his athleticism, I like his competitiveness, I like his strength, and I like his potential as a role player. We just haven't seen enough good basketball yet.
Greg: Incomplete
There are flashes that make me excited about DQJ's game, particularly on defense. He's been up and down on offense in limited minutes and limited games. I considered a C grade, but I don't think we've seen enough to fully evaluate Jeffries yet for this year.