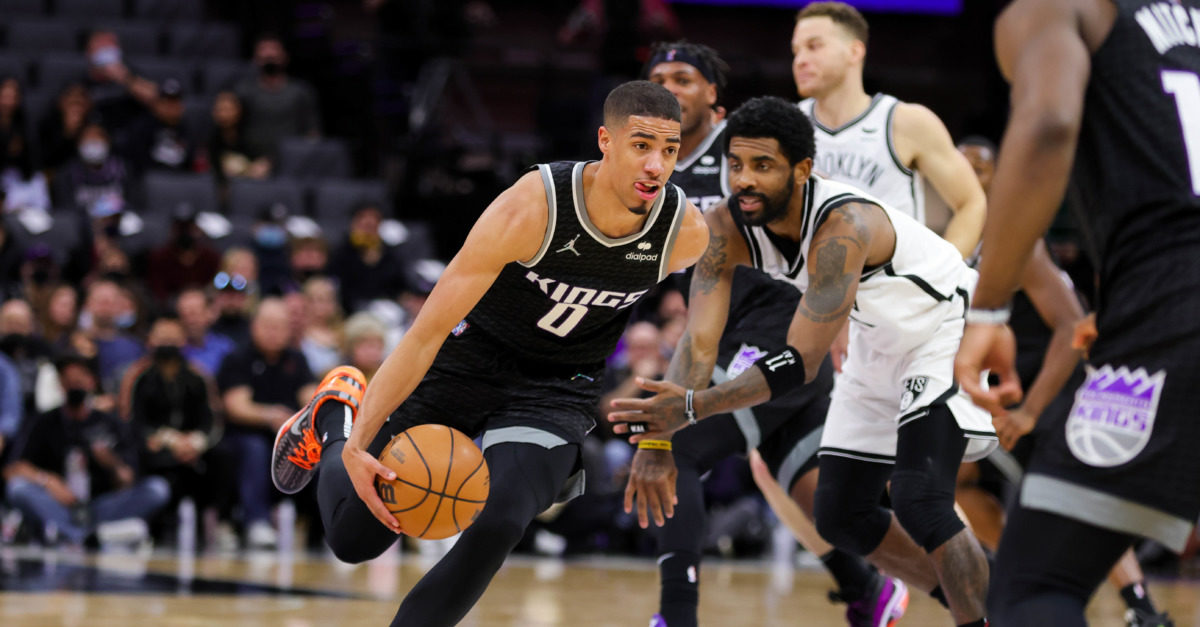 Between my apathy and general disinterest in analyzing why this team is so bad unless I have to, I truly couldn't remember the last time the Sacramento Kings won a basketball game. In the long view of things, and whether it is intentional or not, the losses have been working in favor of the Kings future for now. So in that sense, I guess, good job? I don't know, my brain is on the brink of explosion from trying to find silver linings at this point. The Kings came into tonight's game against the Brooklyn Nets with a seven-game losing streak. Shall we go for eight? Let's see how they did:
Quick Stats
Outcome: Kings win, 112-101
Sacramento Kings: 112 pts, 44.1% fg, 33.3% 3 pt, 88.9% ft, 23 ast, 48 reb, 14 to
Brooklyn Nets: 101 pts, 48.8% fg, 32.0% 3 pt, 78.6% ft, 22 ast, 40 reb, 13 to
I'm... trying... not... to... feel... things. Despite missing De'Aaron Fox, the Kings had one of their best team performances tonight and rallied from a 12-point deficit to extend the Nets' losing streak to six games. The burned part of my psyche is screaming at me not to get excited about how fun this team just looked - "remember those two nine-game losing streaks of yesteryear?" - but, to hell with it, let's allow ourselves to feel good for one night and pretend like the previous 52 games never happened!
The Good, The Better, & The Best
The Good
Hard Night for Harden: As to be expected, at least one player on the opposing team had a career night when playing against the Sacramento Kings. Luckily, however, it was Nic Claxton who logged a career-high 23 points and was the Nets' leading scorer. Meanwhile, James Harden suffered a poor scoring night. Harden racked up 12 assists, but only scored four points on 2-11 from the field and 0-5 from the 3-point line. He also committed six turnovers. A lot of this can be attributed to the Kings' defensive effort, often led by Davion Mitchell, who pestered Harden on the ball and wasn't afraid to body up to him.
The Better
Selfless Basketball: Although the Kings finished with an exactly average 23 assists tonight, this doesn't accurately reflect how well they moved the ball. I can recall two plays, both which ended in free throws for the Kings, and both which will be playing on an endless loop whenever I feel sad from here on out, where the ball moved to three or more players within seconds. Each player gave up a good look to find a better one for a teammate as the ball whipped around the perimeter, inside the paint, back out, and finally back towards the rim for a chance at more points. The Kings also had seven players finish in double digits, led by Harrison Barnes' 19 points and helped by Buddy Hield (18 points) and Moe Harkless (10 points). This kind of basketball exudes teamwork, togetherness, and provided the energy and momentum the Kings needed to seal tonight's win.
The best
The Fight: The game started out slowly, with both teams playing at a controlled and methodical pace. The Nets ultimately benefitted from this, as they took advantage of their size inside and gained a 12-point lead. It wasn't until Tyrese Haliburton began to push the issue that the pace sped up and turned the game into one that the Kings could successfully operate in. But what really got the Kings over the hump and into the end zone was their fight. There were a number of possessions where the Kings failed to execute any recognizable offense, but they were still able to earn their points the hard way by getting gritty and doing the dirty work. Damian Jones and Chimezie Metu were almost fighting each other on every rebounding opportunity and they both also finished with two blocks a piece. The energy from this squad was palpable and it was this fight and willingness to outwork the Nets that swung the momentum in the Kings' favor and allowed them to comfortably close out the game.
The King of Kings
There's a reason they call him "Off Night". Davion Mitchell had one of his best performances tonight and did it on both sides of the ball. Not only did he provide extremely solid primary coverage on both Kyrie Irving and James Harden throughout the game, he also stayed in attack mode on the offensive end. Mitchell looked comfortable and confident in taking and making big shots all night long and finished with 18 points on eight made field goals.
Up Next
Thursday, February 3rd @ Golden State Warriors - 7:00 P.M. (PT)