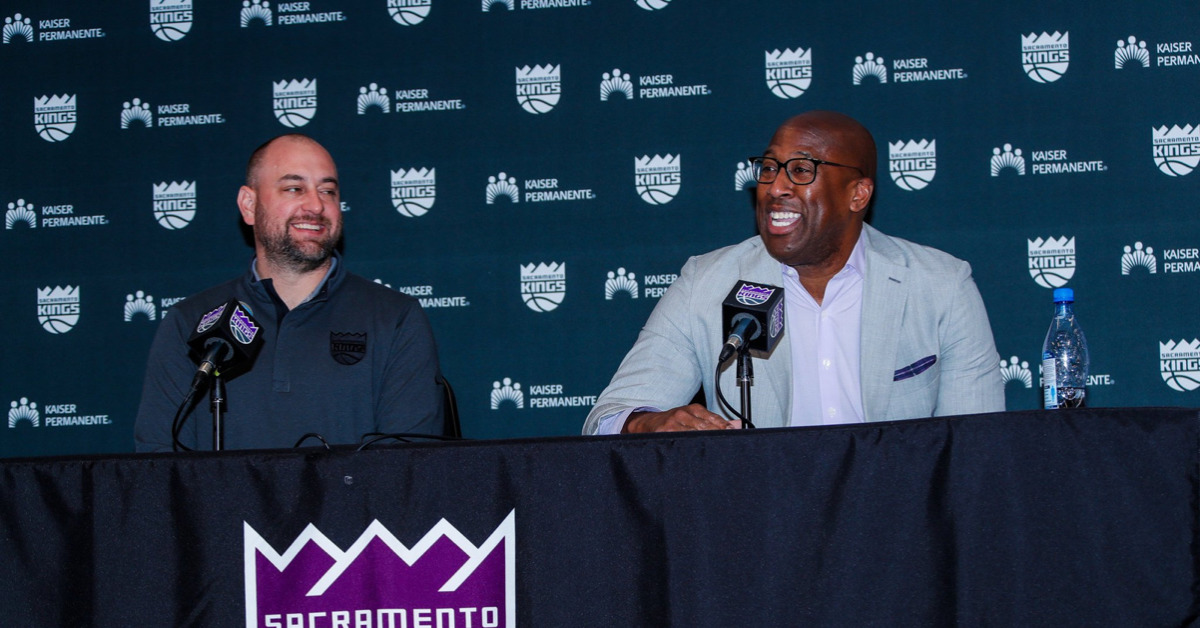 The Sacramento Kings introduced new head coach Mike Brown Tuesday at a press conference. General manager Monte McNair said the coaching search boiled down to three things: experience as a successful head coach; the ability to build relationships across the organization; and leadership as a head coach "for everything that we're trying to do here."
Brown followed that up by acknowledging that he was brought in for leadership and pointed to his goal of working to build a "strong soul" within the organization that can lead to a winning culture:
"Every organization out there, in my opinion, has a soul and the stronger that soul is the better that organization will be. A strong soul in my opinion equates to a winning culture. And there's three areas I'm going to really focus on to get that right...

"There has to be a vertical and horizontal alignment of trust within all the units of an organization. It's not just about basketball, it's the business side, it's the medical side, it's the players, it's the coaching staff – there's got to be a level of trust."
"There has to be a set of values on the table that are led and upheld by the leadership of this organization, starting with me. Eventually, it will get to the internal part of the group, which is our players too, the leaders within our group of players too."
"Then thirdly, there has to be an embracement of your role. Everybody will understand what their role is. I'm not just talking about our 15 or 17 players, everybody in the organization, from the business side, to the front office, again will know what their role is and they'll embrace it."

"If those three elements come together, and come together at a high level, we'll have a winning culture here that is sustainable and long-lasting."
Everyone has been talking about what is "missing" with the Kings for what seems like forever now. Brown really laid out a plan there that makes sense for what is needed with this team in terms of trust and values. Later on in the presser, he detailed what he has seen in his experience with the good teams he has been a part of.
"The organizations that I have been with that were great in the past, there's always a competitive spirit that everybody has within the organization that you want to make sure exists here or that you can bring about on a daily basis here. There was always a connectivity within the organization," Brown said. "When you hit tough times that connectivity would help you sustain. There was always a level of appreciation of the journey that it takes to be great. There's an appreciation of the process, or the steps and there was an understanding that you don't want to skip any steps along the way. Then, lastly, there's a level of focus throughout the course of the year, starting right now in the summer and then carrying over to training camp, carrying over to the beginning of the season, the middle of the season, after All-Star break. There was a level of focus that all those groups, or teams, or organizations had that was unmatched."
We've heard a lot of coaches walk through the door and say a lot of the right things only for nothing to come fruition, but this was good to hear. And it didn't stop there. His response about defense also was interesting. De'Aaron Fox, Davion Mitchell, Richaun Holmes and Terence Davis all were in attendance at the press conference. When Brown was asked about the team's lack of poor defense over the years, Brown had this to say:
"I'm going to preach from day 1, they have to have communication, they have to give effort, and they've got to trust one another. On top of that, you throw out a defensive system that fits for this group and you have a chance to be pretty good," he said. "I had that young man over there Foxy [De'Aaron Fox] when he was in high school at an Adidas Nation camp and obviously, I walked away impressed with his speed, but I thought he was a dog defensively, and he is who is because he earned it. So, there is going to be a lot of pressure on him, coming from me not anybody else, to get back to what I know he can do on this level night in and night out. So, I'm excited about all of this. Then, we've got the young fella right there [Davion Mitchell] that's going to do his thing too. So, I'm excited about all this, but it starts at the head of the snake and those two guys up there for me, great to have."
It would seem that Brown, through a compliment, called out Fox in person as one of his first statements in Sacramento to get back to the level of defense he saw him in play in high school.
Again, like we have said many times; talk is cheap. We have heard it all before. That being said, Brown's approach here from the standpoint of getting the "soul" of the team right and being able to address Fox, the franchise player, directly about defense is a strong start.