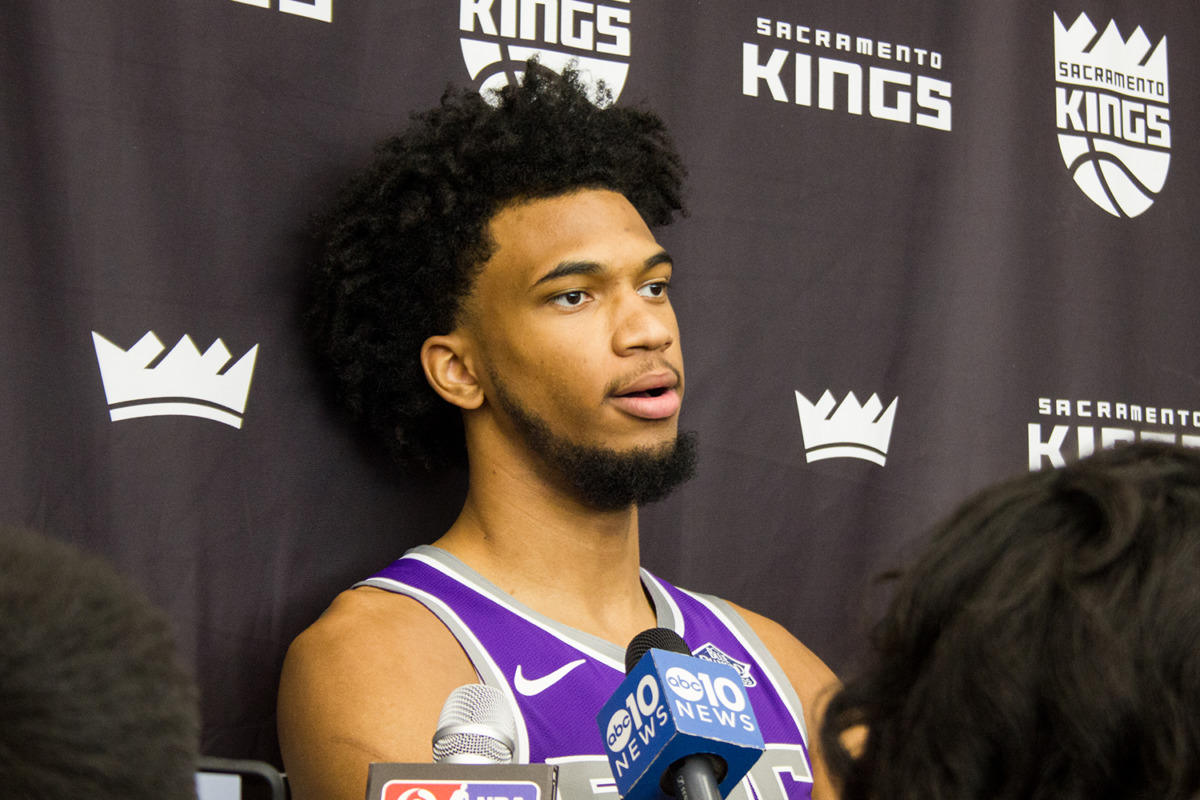 Marvin Bagley got his opportunity this afternoon to address the rumors that began Saturday when the Team Bagley Twitter account requested that the Kings trade him.
Instead, he began his media session Sunday afternoon by saying the following:
€œI just want to say if there's no questions about the game tomorrow, or what we're going to do tomorrow, please don't ask,€ Bagley said. €œIf you don't have any questions about the team and tomorrow's game just hold off on those.€
He was still asked questions related to the tweet, however. First, he was asked if last night was a distraction for him and the team. He responded by saying, €œI'm excited about tomorrow man, we've got a big game ahead, a great team we're about to play. We had a great practice today. So I'm excited about going into tomorrow's game and trying to get another one.€
He was then asked if he wanted to take the opportunity to dispel any thoughts about whether he wants to be traded. He responded by saying, €œLike I said, tomorrow is going to be a big game for us, I'm excited about that. Just excited to get on the court and play tomorrow.€
Bagley said he has an open line of communication with head coach Luke Walton.
€œWe have conversations, but like I said, that's not for ya'll to know. We have an open line of communication. I call him and talk about stuff, he calls me. So, we have those conversations, but like I've said I'm ready to come every day, ready to work no matter what happens, control what I can control and just keep moving and keep pushing forward," he said.
Walton also addressed the media and reiterated that he has an open line of communication with Bagley and that they are €œgood talks and about honest things.€
€œAs a coach, my belief is never let a little thing turn into a big thing so you don't have to overreact too much, but you've got to address and communicate things out just to make sure. And normally, a quick conversation is enough to keep the group moving,€ Walton said. €œI just have to have a pulse on the whole thing to make sure that something that is out there isn't affecting the group.€
Bagley has seen his minutes cut rather drastically in the second half of games recently, despite starting. Walton was asked how he balances going for wins and playing young players:
€œWe need to play a certain way, and it's a very interesting balancing act. We also believe that we're going into every game with expectations of playing a certain way and trying to win. If guys are playing that way then they're going to continue to play. As the game goes on if we feel like we have a better chance of winning, changing that plan up a little bit, then we'll make adjustments in the game. But a lot of it comes down to at the end, guys that have proven, that have been there and done it, and have shown us that they're making winning plays. A lot of times you look at guys like Richaun [Holmes] and Harrison [Barnes] and the experience that they've gone through already, there's a trust and a chemistry built there so those guys are normally going to get the first crack at it. And then as other players are having big games, like Tyrese [Haliburton] has had a couple big games where I was planning on getting him out as a young player and then he makes a corner three with two minutes to go and then as a coaching staff you're like alright well, this guy, he's got to be out there as well and then we make more adjustments. It's part of kind of growing as a group and getting familiar with it, and then there's a balancing part of who do we normally trust and then whose having a good game.€
It didn't take long, but we have arrived at our first piece of Kangz drama. We will of course keep you updated as any other news related to this comes out.