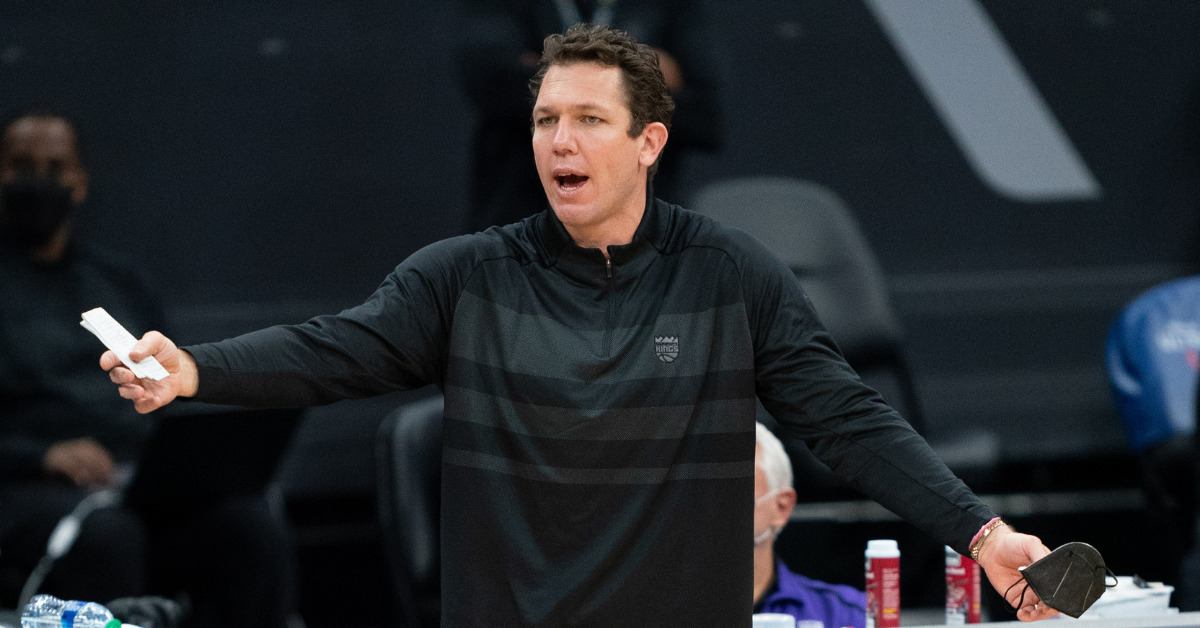 For the last two years we've heard nothing but excuses for Luke Walton.
It started with the India trip last season. That trip was such a distraction, and didn't allow Luke Walton time to implement his system. We were told THAT was why the Kings had such a disappointing start last season. That excuse ignored the fact that several other teams had international games in preseason and those teams weren't impacted like the Kings were. Well anyway, the Kings had no such trip this preseason, and yet nothing changed.
Last season injuries were blamed for the team's struggles. And there's no question that the Kings had some unfortunate injuries last year, but that's life in the NBA. This season the Kings have been overwhelmingly healthy, with Marvin Bagley being the team's only major injury. Yet last night the Kings lost to a 15-win team that was missing its best player to injuries.
This season the early excuse was Covid. Of course, that has impacted every team this season. Everyone is living under the same disrupted conditions, and the Kings have lost far fewer players than most teams due to contact tracing or quarantines. So we can cross that excuse off the list.
"But there's been no practice time this season!" Well, once again this is the case for every team in the league, and yet plenty of teams are playing well. This includes teams with first-year coaches. And, of course, the Kings actually had a practice day before this Pistons game. Extra practice didn't seem to help.
Let's see, what other excuses have we heard? Ah yes, roster construction. Monte McNair got rid of the bench from last year, so we couldn't blame Walton for the results when the bench unit was so bad. And yet after the trade deadline we all agreed that McNair's moves improved the bench. McNair brought in Delon Wright, Terence Davis and Maurice Harkless. Since they arrived, the bench has been better. Not a championship bench, but that's not the standard of success for a bench that just wants to pretend it can make the 10 seed. Walton got a better bench, and the team still struggles. Walton even went so far as to move Tyrese Haliburton back to the bench to strengthen it, and yet the team looked as lifeless as ever last night.
De'Aaron Fox, Tyrese Haliburton, Delon Wirght, Terence Davis, Buddy Hield, Harrison Barnes, Richaun Holmes, Hassan Whiteside, Chimezie Metu, and Damian Jones. That's 10 players on the roster who have shown themselves capable of being rotation NBA players. As a third string point guard I'd argue you could also add Kyle Guy to that conversion. Luke Walton can't claim he doesn't have NBA players. So let's cross off the "lack of bench" excuse off the list.
So what's left? Some of the local media is now blaming the players. I'm not going to say the players are blameless, nor am I arguing that a player like De'Aaron Fox is above being questioned. But the team has made a lot of changes to the roster over the last year and a half. De'Aaron Fox, Buddy Hield, Harrison Barnes, Marvin Bagley and Richaun Holmes are the only players who have been here for Walton's entire tenure. Nobody has ever questioned the effort of Richaun Holmes, so that excuse it out. Nobody questions Barnes' professionalism or effort. Buddy's performance is inconsistent but his effort is never in question. Bagley isn't with the team. So now we're seeing fingers pointed at Fox because he's the last one left. Every single other player is new. Some came in the offseason, some came at the deadline, but the team has gotten rid of starters and bench players and yet we still see a team that is unmotivated and unprepared for their opponent.
We keep hearing a list of excuses for Luke Walton. And every time one excuse gets invalidated a new excuse pops up. How much longer before we accept the simplest answer is likely the correct one?