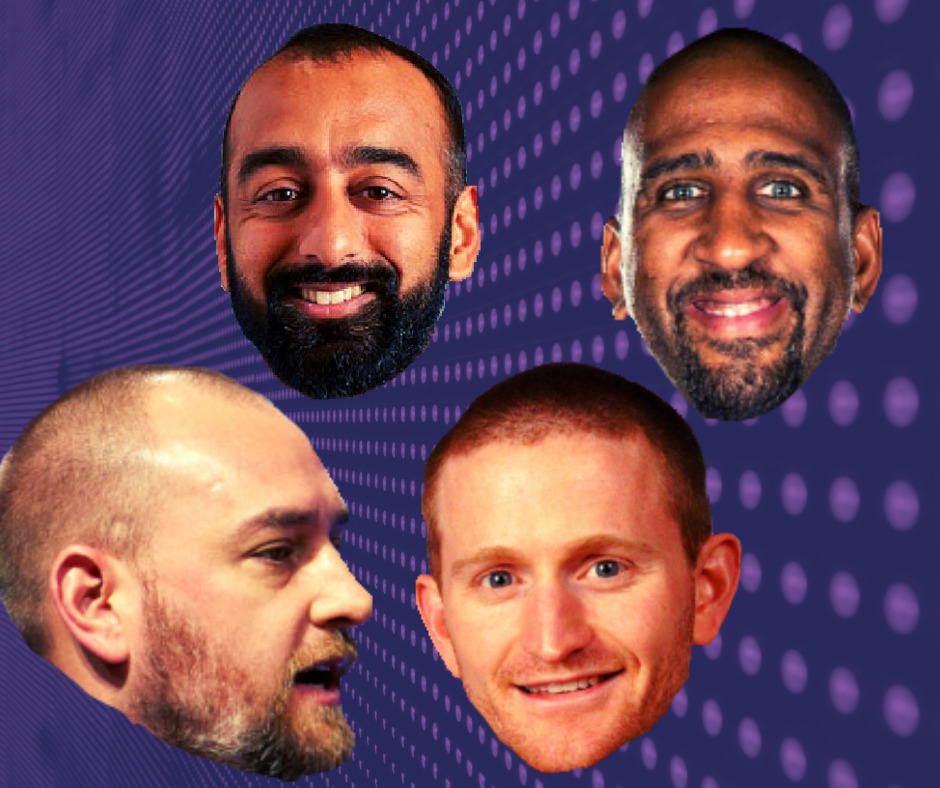 The Sacramento Kings are knee-deep in the search for their next General Manager and long-term head of Basketball Operations. According to ESPN's Adrian Wojnarowski, three candidates, Sachin Gupta, Monte McNair, and Wes Wilcox, will be arriving to Sacramento shortly for a second round of interviews, and according to The Undefeated's Marc Spears, Calvin Booth interviewed for the top basketball executive position on Sunday. It sure feels like we're getting closer to a decision.
We've highlighted all the known candidates individually over the last several weeks, and in that process of reading and discussing the merits of each person, it finally hit me - all four of these guys, Gupta, McNair, Wilcox, and Booth, were involved (to varying degrees) in one massive trade back at the trade deadline in February. The details:
Minnesota Timberwolves (Sachin Gupta) Receive:
G Malik Beasley (from Nuggets)
G/F Evan Turner (from Hawks)
F Juancho Hernangomez (from Nuggets)
F Jarred Vanderbilt (from Nuggets)
2020 first-round pick (from Hawks via Nets)
Houston Rockets (Monte McNair) Receive:
F Jordan Bell (from Wolves)
F Robert Covington (from Wolves)
2024 second-round pick (from Hawks via Warriors)
Atlanta Hawks (Wes Wilcox) Receive:
C Clint Capela (from Rockets)
C Nene (from Rockets); player then waived
Denver Nuggets (Calvin Booth) Receive:
G Shabazz Napier (from Wolves)
F Keita Bates-Diop (from Wolves)
F Gerald Green (from Rockets); player then waived
C/F Noah Vonleh (from Wolves)
2020 first-round pick (from Rockets)
It's essential to note that none of the Kings general manager candidates involved in this mega-transaction had decision-making power at the time. Gupta was the Vice President of Basketball Operations for the Minnesota Timberwolves. McNair was the Assistant General Manager for the Houston Rockets. Booth was the Assistant General Manager for the Denver Nuggets. Wilcox was a 'special advisor' for the Atlanta Hawks.
This is really nothing but a fun footnote in the Kings general manager search, but if we want to attribute more value to it than it's worth, I'm happy to provide that analysis.
You have to like what Gupta and the Timberwovles did here. The trade appeared like a win for Minnesota at the time, and it only looks better with age after the emergence of Malik Beasley, and to a lesser-but-still-notable extent, Juancho Hernangomez. The Timberwolves knew the Nuggets were facing serious cap issues this summer, and would likely be unable to retain both Beasley and Hernangomez. Gersson Rosas and Gupta gladly took advantage of the situation. Losing Robert Covington hurts, but he had already aged out of their timeline.
This was a perfect example of a rebuilding team moving aging veterans to gain younger assets. The Kings would be wise deploy a similar strategy this summer - move on from some of the veterans if you can, and retool younger around De'Aaron Fox.
I would consider the Timberwolves the big winners here, but it was a unique trade where each organization accomplished what they set out to do.
Beasley and Hernangomez were no longer part of Booth and Denver's long-term plan (we can argue if they should have been) and they essentially landed a first round pick to move players they were likely losing for nothing in a few months anyway.
McNair and the Rockets clearly wanted to push small ball to its limits, and while that big picture strategy hasn't exactly worked, moving your traditional, paint-locked center for a 3-and-D switching, role-playing wing is a decent way to do it.
Wilcox and the Hawks added a low-usage, defensive-minded center that fits their timeline with the Trae Young - John Collins core, and that could be enough to push them into the playoffs in the Eastern Conference next season. It was a clear talent upgrade for an organization that doesn't have the easiest time attracting free agents.
In the end, some teams may have won bigger than others here, but nobody got Vlade Divac'd.