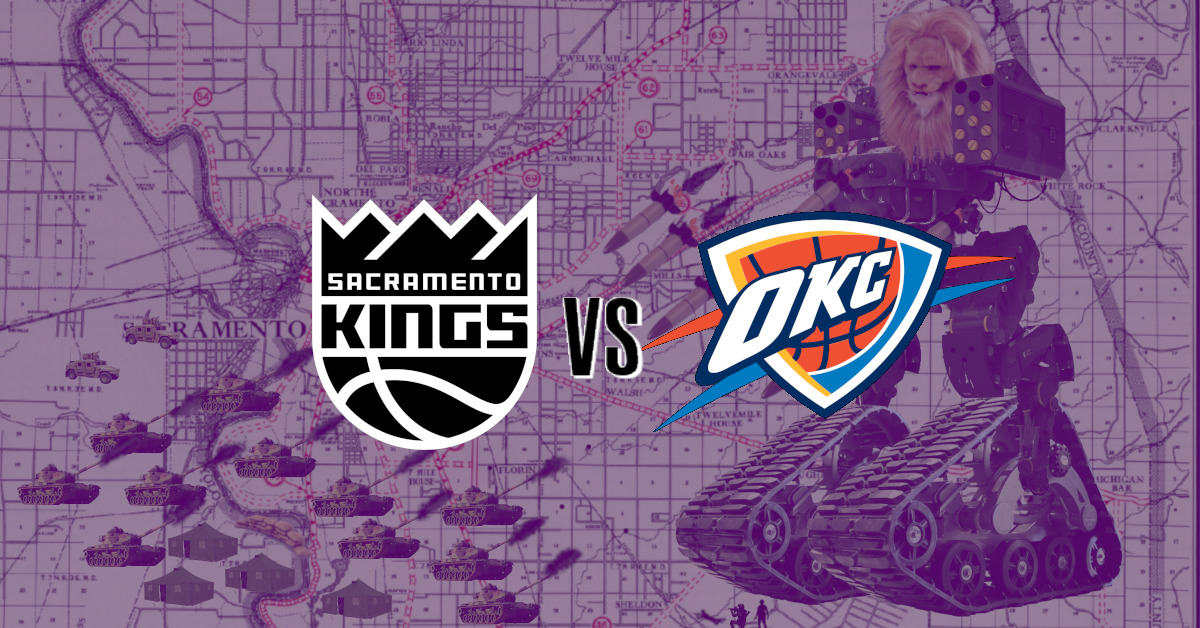 Well, it's gameday against the Thunder...again...and that must mean we're up here at the Golden 1 Center waiting for the forecast from the world's most-famous unintentional tank commander, Vivek Ranadive, who's just about to leak to Sam Amick or James Ham how much more losing we can expect. Yeah sure, I know the Kings won this weekend, I'm just doing a Groundhogs Day bit in May because this game is going to worse than the Bill Murray quotes I bastardize!
Let's talk Kings basketball.
When: Tuesday, May 11th, 7:00 PM PST
Where: Golden 1 Center, Sacramento, CA
TV: NBCSCA - Mark Jones (play-by-play)
Radio: KHTK Sports 1140 AM
For Your Consideration
Things to Look Forward To: We really don't have to talk about much of the game on Mother's Day. The Kings won pretty damn handily, even with their three best players out. All the best news of the weekend has been written elsewhere: Fox confirmed he had COVID-19 symptoms, he somewhat backed Luke Walton returning as coach, though much more could be read into the particular quote. Harrison Barnes had a special Mother's Day, seeing as how he and his wife are now expecting a child. In broader NBA discussion, Russell Westbrook broke Oscar Robertson's All Time Triple-Double record Monday night, which is something I was always told as a kid would never ever get broken and I'm quite excited to be proven wrong.
Okay, I guess I can spend a second talking about my favorite pet project in the NBA right now. You know, it's the same thing your whole life: "Clean up your room. Stand up straight. Pick up your feet. Take it like a man. Be nice to your sister. Don't mix beer and wine, ever." Oh yeah: "Don't draft a 7 foot, 180 pound point guard." With the understanding that most of the appealing options in the '20 draft would be gone by the time the Kings picked at #12, I lobbied for a player that fit a much different strategy than what the Kings ended up going with - Alexsej Pokusevski.
The Kings obviously had a much, much better player fall to them in Tyrese Haliburton, speeding up the timeline a bit, but Poku ended up in literally the best place for him in the OKC Thunder. The Thunder have spent a good deal of time this season in allowing Poku, the youngest player in last year's draft, to get adjusted to life in the NBA. He was brought off the bench, sent to the G-League bubble and now allowed to start and play 26 minutes or so a night for the Thunder. What's more, they seem to allow him to be the player he's supposed to be, not forcing him into a forward or center position his body isn't quite ready for. This weekend against the Kings, he started at shooting guard, wheeled and dealed his way to 13 points, 5 assists, with 3 turnovers and overall showed some flashes to being a much better contributor down the road. Everything, and I mean EVERYTHING is down the road for OKC and I'm glad this kid ended up in a place that will actually give him a chance to succeed.
You all are on notice, Poku hype train is leaving the station soon. You should all be getting on board.
Okay. Enjoy the game. Maybe more game talk when we get to more appealing opponents!
Prediction
You want a prediction about the rest of the season, you're asking the wrong Will. I'll give you a season prediction: It's gonna be cold, it's gonna be grey, and it's gonna last you for the rest of your life.
Just kidding, Kings in another rout of the Thunder. Poku scores thirty though.
Kings: 122, Thunder:106