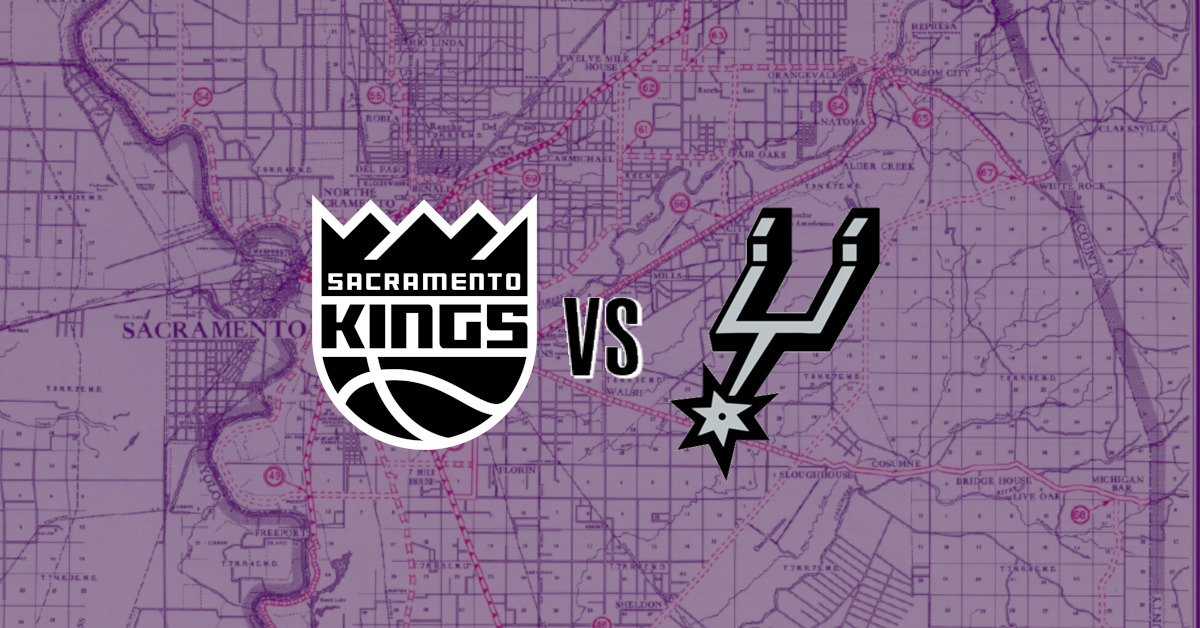 The Sacramento Kings are riding high in the saddle after trouncing the Nets on national television to the tune of 153 points scored. But celebrations can't last for too long. The young, upstart Spurs are in town and looking to knock the new found confidence of the Kings down a peg or two. Led by the timeless Coach Popovich and a bevy of experienced youth, the Spurs are only a few games out of an early playoff position themselves. Can the Kings keep this high-noon confidence a-comin'? Or will the young guns draw first? It's early... my genre references aren't really flowing quite yet... just... who win game? who shoot gooder? Movie reference, movie reference. Okay.
LETTTTTS TALLLLLK KIIIIIINGS BASKETBALL!
When: Tuesday, November 17th, 2022, 7:00 PM PT
Where: Golden 1 Center, Sacramento, CA
TV: NBC Sports California
Radio: Sactown Sports 1140
For Your Consideration
Once Upon a Time in the West(ern Conference): I'm still a bit hungover from that Nets wolloping. Like, I know it happened, my eyes and skin are a bit drier and redder than usual basking in the glow of national praise and excitement over this Kings squad and staying up later than usual to laugh at the general chaos and positive pandemonium that only 153 points and embarrassing a superstar can provide. This isn't the first time in the last 16 years that the Kings have started decent or that good vibes were felt. We have a long time between now and knowing if this squad is actual good, not just making us feel good - BUT I will say, actually being entertained by the local entertainment industry team is a fantastic start.
Okay onto the game tonight, where in years past I could fiddle fart around on this preview knowing full well the Kings were gonna look past this game and let all the good feelings go to waste. Sacramento, at home, after a big win against a young squad that they should absolutely beat - the timeless trap game. The Spurs have lost seven of their last eight games after starting the season with a 5-2 record and shuffling through a pile of young guys, hoping for a few to emerge as stars. With 11 players on the team rocking three or less years of NBA experience, Coach Popovich has stuck around to build one last testament to San Antonio's glory, or die trying.
Led by 6'5 small forward Keldon Johnson's 22.7 points, 4.9 rebounds and 3.6 assists the Spurs offense plays fast (7th in pace) and loose (29th in turnovers) and at the end of the day, has them sitting at the 6th lowest offensive rating in the NBA and scoring at the exact middle point in the NBA (112 points per game). They're not terrible just, playing as expected from a young NBA squad that hasn't quite figured it out. 11th in three point percentage, 15th in two point percentage, and 29th in free throw percentage, the kids have enough there to keep the Kings honest, while also not striking the stereotypical Spurs amount of fear.
The defensive end of things is where this team truly, truly falls apart for San Antonio. They give up the most opponent points per game in the NBA, 119.5 a contest right now. For a team that just scored 153 on a slightly below average defensive team, seeing the third worst defensive rating in the league coming up on your schedule should be a moment of absolute goddamn glee. The Spurs allow teams to shoot 39.2% from deep (29th in the NBA) and 55.6% from inside the arc (24th) so, chances are, yeah, someone in Sacramento is getting HOT tonight. They're bottom 10 in both steals and blocks and if there's a bright shining like in San Antonio, it's that they foul the third least in the NBA and give up the second least amount of free throw attempts, though, when you're opponents are making everything they're tossing up... there might not be much reason to foul.
The Spurs are, and will forever be, the Spurs. With Pop there, they've got a better than average shot at beating the Kings because the man has just earned that right. It could be you, me, two Lakers fans and someone just getting off their shift at Safeway and if Pops was coaching us, I'd say we have a decent shot at keeping the game close headed into the fourth. Do NOT under estimate the Spurs.
Prediction
Kings turn the f**king jets on. Thirty point games for everyone. Kevin Huerter looks like Reggie Miller, Domantas Sabonis looks like prime C-Webb, De'Aaron Fox goes for a triple-double and G1C is atomized into nothing by the collective, cathartic cheer of the beam being lit. Spurs keep it close till mid-fourth.
Kings: 131, Spurs:113