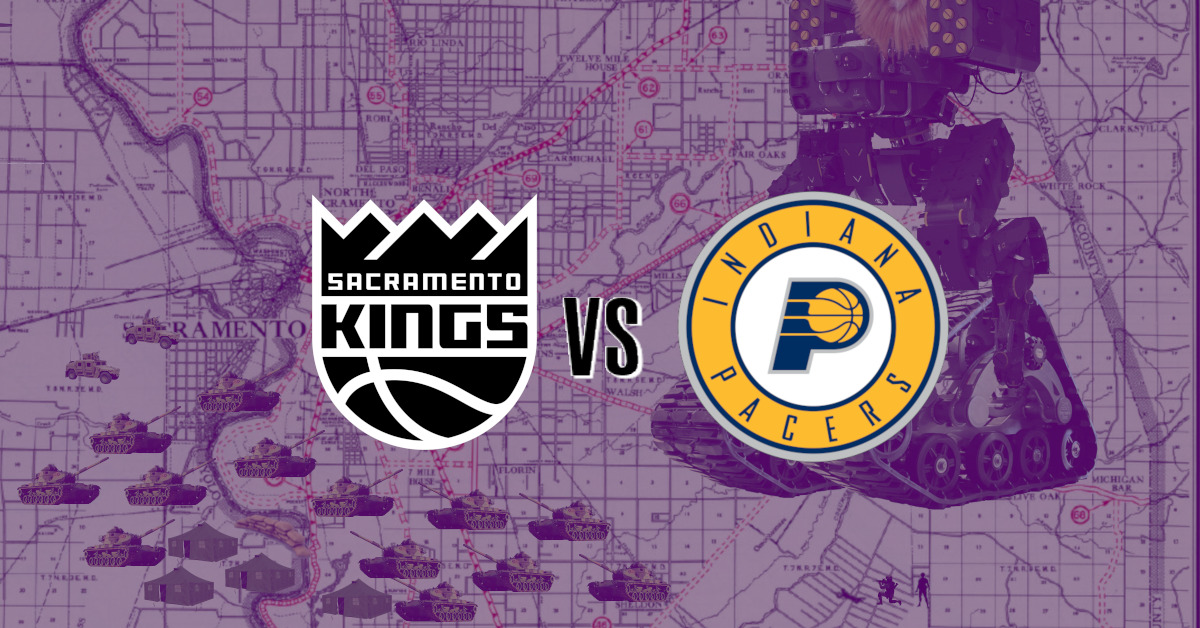 The Sacramento Kings are at it again. After pulling out a closer-than-it-needed-to-be victory last night in OKC, the Kings find themselves on their last leg of the road trip and in Indiana, ready to take on a Pacers squad that's fighting for their playoff lives, and losing. Currently the 9th seed in the East, the Pacers just this morning had a story come out detailing the tense relationship between first year head coach Nate Bjorkgren and his now incredibly hot coaching seat. Meanwhile, that same article details that Luke Walton might be safer than we all hope because former GM, Vlade Divac, didn't slip in a standard stretch provision to Walton's coaching contract. Look for fifteen of those article this afternoon and beyond, just don't look for me, because I'm out in the wilderness attempting to deprogram my brain back to being an ape.
Let's talk Kings basketball.
When: Tuesday, May 5th, 5:00 PM PST
Where: Bankers Life Fieldhouse, Indianapolis, IN
TV: NBCSCA - Kyle Draper (play-by-play)
Radio: KHTK Sports 1140 AM
For Your Consideration
My Attempt at Avoiding Another Rant: So yeah, the Pacers are a bit of a mess this year. If you'll recall, the Pacers extended Nate McMillan right after their play in The Bubble last year, then subsequently fired him in favor of first time head coach Nate Bjorkgren a few months later, with their biggest claims being that they wanted a more modern style of play than what McMillan was bringing to the squad. That has been, well, somewhat of a failure. The Pacers are, in fact, fifth in the league in pace and eighth in the league in scoring at 115 per contest - all hallmarks of a more modern run and gun style. They're almost smack dab in the middle of the pack in terms of three point shots per game and percentage so, they aren't out of the norm their either.
The real difference, the key to this Pacer's squads troubles this season is their defense. Under McMillan the previous season, Pacer's opponents averaged just 107.5 points per game, the third best mark in the league. They were the 6th highest rated defensive team in the NBA. This year, they're giving up 115.1 points per game, good for the sixth WORST marks in the league and all while dropping to sixteenth in the league in defensive rating.
Now don't get me wrong here, the Pacers are still a fairly dangerous team on defense when looking at just raw numbers. They're first in the league in blocks, fourth in the league in steals. The Kings would have still struggled with this team regardless of ratings or ranks. Wait... Will did you say "would have"? "Would have still struggled"? Oh, yeah right, I haven't mentioned this yet but the Pacers have also been decimated with injuries. Malcolm Brogdan, questionable with a hamstring. Jeremy Lamb, questionable with a knee. Myles Turner, out with a torn up toe. TJ Warren, done with foot surgery. Even my small basketball crush, Goga Bitadze is questionable with an ankle injury. The Pacers are dinged the hell up right now and the Kings are going to be able to capitalize on whatever is left. Does that mean they're favorites to beat the Pacers? Ehhhh, no probably not. But after the outstanding play of a guy like Delon Wright last night in Oklahoma City, I'd say this game could be a lot closer than we'd originally think.
Prediction
Brogdon plays just to spite me and drops 30. Buddy Hield finds himself in the midst of a hot shooting night and drop 9 from deep. I see at halftime that Poku is healthy and ready to play Thursday night and I forget all about the rest of this game as my mind wanders to the next game on the schedule.
Kings: 119, Pacers: 117