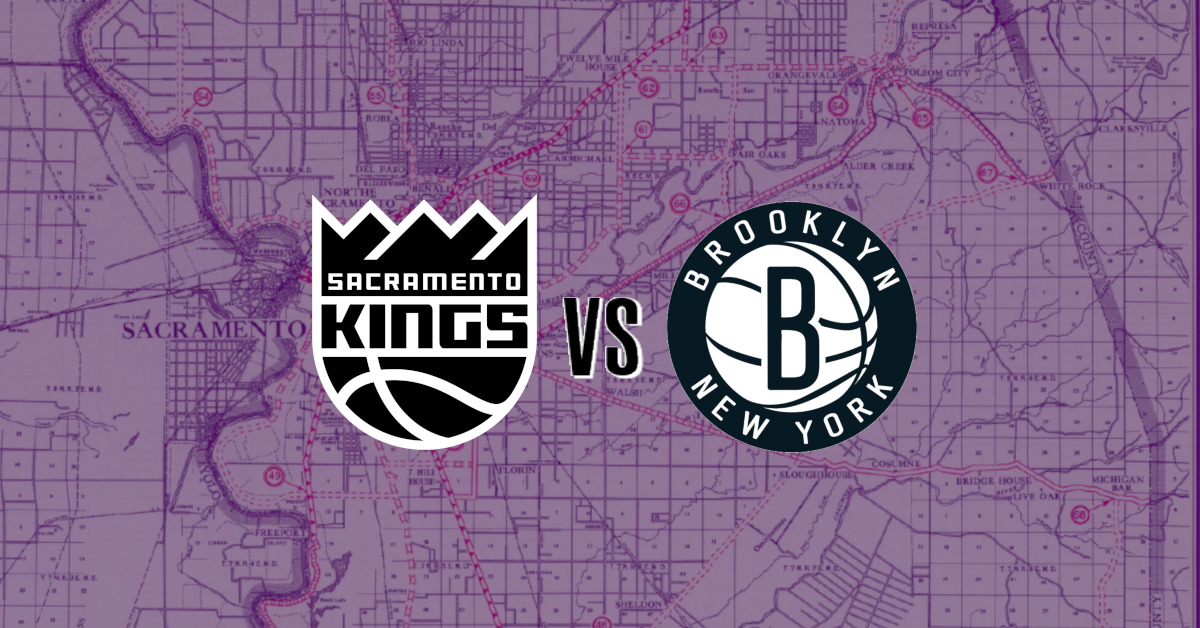 The Kings are riding high, and a three game win streak, as their sole opportunity for true national attention has arrived in Sacramento! Yes that's right, tonight's our nationally televised opportunity for the year as TNT comes to town to see our guys in grey go up against the uniquely screwy Br_ _klyn Nets*. That's right, the uber expensive squad of All-Stars has rolled into town with their three square** circus: Kevin Durant, Ben Sim-nope, Kyrie Irv-NOPE, coach Steve Na-oooope… Kevin Durant will be making his sole appearance this season, and will be looking to single handedly lead the Nets over a Kings squad trying desperately to establish themselves in the playoff hunt early in the season. Can the Kings keep the good vibes going or will a mysterious conspiracy of some of the league's most powerful individuals keep them from succeeding??
Let's talk Kings basketball!
*[All roundness removed from official Nets stuff until Kyrie Irving can figure out what the hell is going on]
*[Rings - also shady]
When: Tuesday, November 15th, 2022, 7:00 PM PT
Where: Golden 1 Center, Sacramento, CA
TV: TNT, NBC Sports California
Radio: Sactown Sports 1140
For Your Consideration
Made Your Bed-Stuy, Now Lay In It: The Nets are a bit of a mess. Yes we know the KD trade stuff, and the Ben Simmons trade stuff, and Steve Nash firing/Ime Udoka near hiring stuff, and the Kyrie Irving anti-vax, and the Kyrie flat earth stuff and the Kyrie anti-sem- THEY'RE A BIT OF A MESS, OKAY. But... all things considered, they aren't a terrible basketball team. Even with Simmons sidelined and Kyrie suspended, Kevin Durant plus just about any four NBA quality players could be competitive on a given night. Yes, the vibes are immaculate in Sacramento, but there can be no overlooking this team tonight.
For one, with all this turmoil, the Nets are a really decent defensive team - with a 12th ranked defensive rating, the Nets currently hold opponents to the 7th least points per contest. They're 11th in the league in steals, 1st overall in blocks and hold opponents to the lowest two point field goal percentage in the league. They've got the pieces necessary to stop a Kings squad still searching for their ultimate form. Now, on the other end of the coin, they're bottom 10 in fouls per game and give up the 4th best 3 point percentage in the league with opponents shooting a tick under 38% from deep against the Nets. If there's one thing I know about the Kings this season, it's that they've got shooters.
On offense the Nets look like a team that's in disarray, with a myriad of star drama, coaching drama, injuries etc. They've beaten teams like the Clippers, they've lost to teams like the Lakers without Lebron, they're just cobbling lineups together until someone can figure out what the hell is supposed to be happening. Their one constant, is first ballot Hall-of-Fame Twitter user and basketball star, Kevin Durant. Durant, at age 34, with an Achilles held together by twine dipped in pure vitriol, is averaging 30.6 points, 6.6 rebounds, 5.3 assists, 1.9 blocks, shooting 52.4% from the field and 35.8% from deep. There has never been someone who could completely cover Kevin Durant. That run doesn't stop tonight. If the Kings want that all effusive praise from Shaq, Charles Barkley and the rest of the TNT crew, they need to find a way to make others on the Nets beat them. Seth Curry, Cam Thomas, Joe Harris - the Nets have guys who can 1) get hot and 2) feel very Kings slayer-y, but none so more than The Slim Reaper himself. Get the ball out of his hands and force a guy like Royce O'Neale to shoot 17-18 times tonight.
The Kings feel like they're on the up-and-up and any win in front of a national audience will be a signature win for the season. If the Kings are going to have a coming out party this season, filled with national media hype and love, there couldn't be a better time to start than a victory against a premiere name in the NBA.
Prediction
Sabonis gets Nick Claxton into early foul trouble then goes absolutely bananas against the bench bigs from Br_ _klyn. There isn't a single person on the Nets that can keep up with De'Aaron Fox and he blows through Patty Mills for a massive 30+ points, 10+ assists game. Edmond Sumner is that random "oh this is the guy that kills us tonight" guy - goes for 16. The Beam Team cruises.
Kings: 127, Nets:111