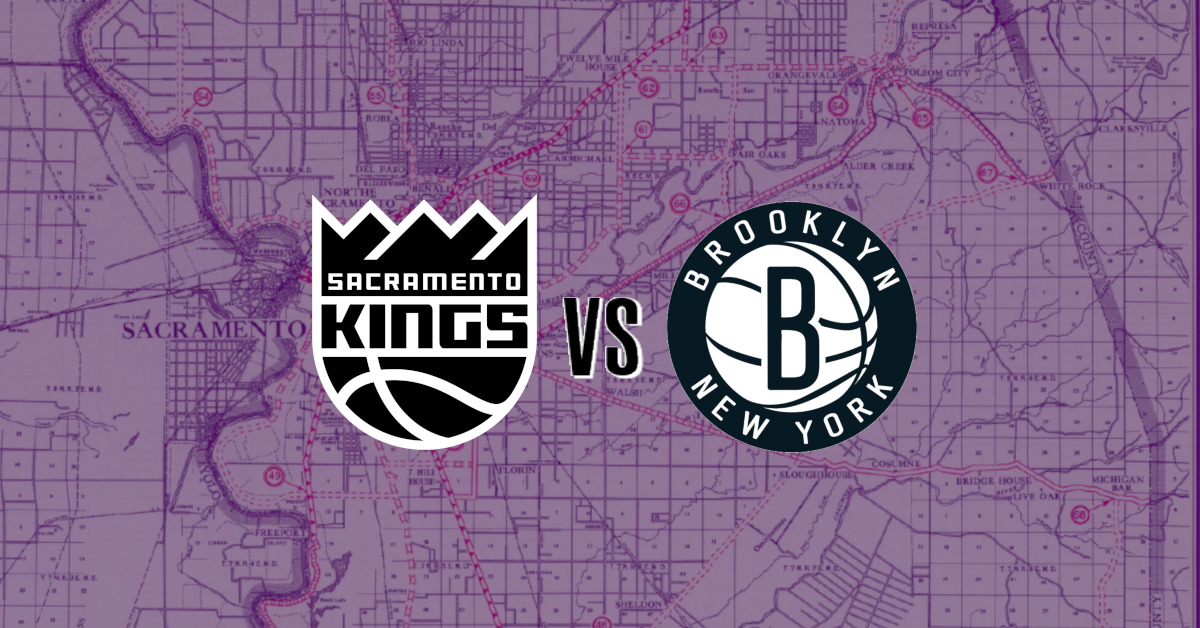 So uhhh... The Nets have lost eleven straight games and the Sacramento Kings are absolutely poised to start the post-Haliburton era at 3-0! Will the Kings of today pull a Kings of yesterday and sink to the level of some very dangerous, yet very screwy competition? Will Domantas Sabonis find a new way to reignite the flames of passion on this Valentines Day? Is there any way you're gonna even watch this game tonight? Thank your florist, your See's Candy rep and your significant others and let's get talkin' about some Kings basketball!
When: Monday, February 14th, 4:30 PM PT
Where: Barclay Center, Brooklyn, NY
TV: NBCSCA - Mark Jones (play-by-play)
Radio: KHTK Sports 1140 AM
For Your Consideration
Monday in the Barc(lays) With(out) Irving: The Nets are going to be a weeee bit understaffed tonight: Kevin Durant, out. Kyrie Irving, out. Ben Simmons, in but also, out. Joe Harris, out. James Johnson, out. During this losing streak they've dropped from first in the standings to EIGHTH and for a favorite to come out of the East, this team is absolutely not looking like anything but a first round sweep. It's about to get worse for them too. Nobody's favorite point guard Kyrie Irving's personal choices have him put him in a spot where he's able to play in exactly ZIP-ZERO-NADA of the next four games for Brooklyn and only eight games for the rest of the season. With KD on the mend, Ben Simmons needing to ramp up activities to be ready for the season and role players dropping like flies, the worst super team assembled since the last time the Brooklyn Nets attempted this are looking more and more mortal by the day.
Now this isn't to say that Sacramento and their suddenly potent offense should just look past the Nets. They've certainly lost to worse teams than the one Brooklyn will send out tomorrow night. Patty Mills and Blake Griffin alone could decide to go vintage for a night and spur young guys like Bruce Brown, Kessler Edwards and Cam Thomas into giving it their all in the name of Kyrie Irving's refusal to hit up a Walgreens. The Kings, however, are healthier, deeper and just plain better than this Nets squad that's being trotted out tonight.
Fun fact that I mentioned this during our latest episode of the Kings Herald Show and shout out to Kings Reddit for bringing it to my attention, but my favorite Small Sample Size stat of late: The Kings averaged 282 passes made (17th) before the Sabonis trade and in the first two games of the Sabonis era they averaged 317, which would tie them for first in the league. Obviously we should expect some bumps in the road and to run into teams that can out play the Kings current "pass a lot and pray someone on the court knows our terminology" but for now, that's a nice, positive start to this new era.
Oh before I go today, if we were still recommending activities to do instead of Kings games... I'd have recommended watching Netflix's "Tick Tick... Boom", the musical about Jonathan Larson. Andrew Garfield goes absolutely bananas in it, and while I know musicals are really some people's cup of tea... I thought this one was pretty great.
Happy Valentine's Day to you my friends. I hope you know, I wouldn't trade you for anything... not even Domas Sabonis.
Operation: M.C.N.A.I.R. Update:
Well, the Kings won the other night... again. They might not ever lose again but in the off chance that they do... I'm still holding onto the ASXL Rare Research Endowment as my donation choice. Again, they're an organization that researches in the hopes of better understanding the ASXL gene family and improve the care for those living with Bohring-Opitz, Shashi-Pena, and Bainbridge-Ropers Syndromes - rare, spontaneous genetic mutations that can lead to seizures, sleep and feeding difficulties, visual impairments, atypical growth, and congenital malformations. On the off-chance that the Kings lose tonight, I'll be donating to them and will be doing so in the name of Cooper Crowe - a five month old Sacramento-area resident who has been diagnosed with ASXL3. We were able to raise over $350 for the Crowe Family after a win so I'm very excited to see what we can do for them after the next Kings loss. If you'd like to follow their journey or donate to them after their next loss, their info is below!
Prediction
Cam Thomas is going for 30, Sabonis is going for 30 - everybody is getting 30 tonight.
Kings: 420, Nets: 360