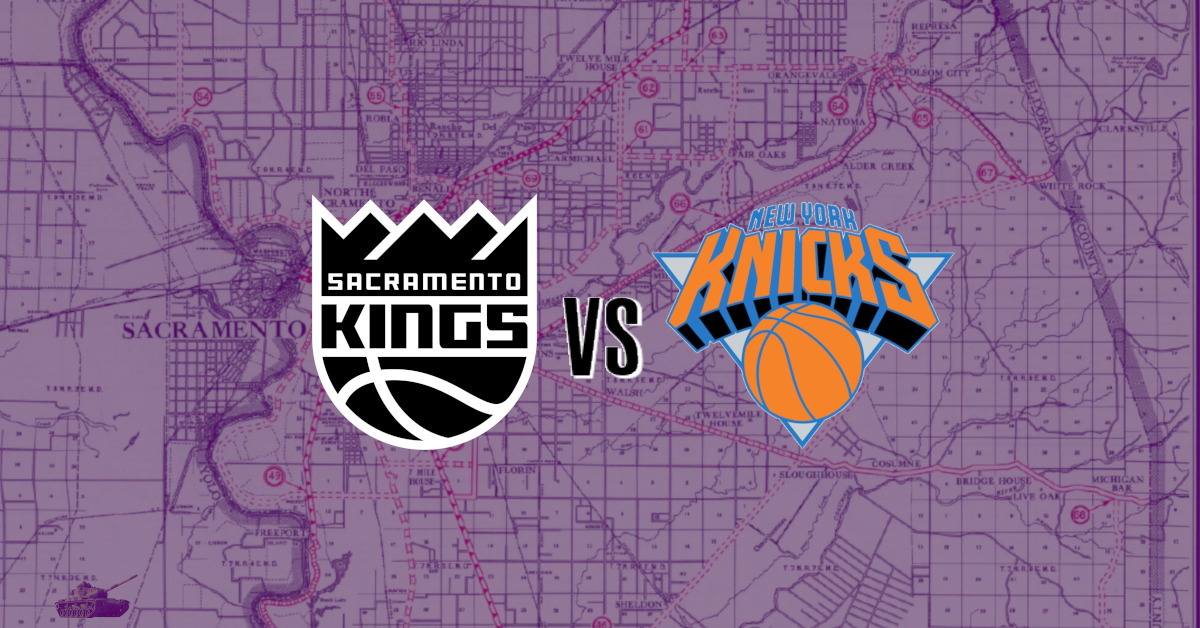 The Kings decided to stick around the Big Apple for a couple extra nights and for their troubles, they've got a game lined up against the New York Knickerbockers! In a virtual tie for the eighth seed with the Miami Heat and the Boston Celtics, this Knicks team is hungry for wins and smelling blood in the water as the Kings will look to avoid losing their ninth straight contest. Led by anthropomorphic meatgrinder Julius Randle and the spiritual antithesis of Ted Lasso, Tom Thibodeau, the Knicks are hoping to finish off this first half of the season strong.
I tried to write that as normal as possible and I felt like wretching. Kings bad, Knicks less bad! Trap game for NYC anyone? Let's talk Kings basketball!
When: Thursday, February 25th, 4:30 PM PST
Where: Madison Square Garden, New York City, NY
TV: NBCSCA - Mark Jones on the call.
Radio: KHTK Sports 1140 AM
For Your Consideration
Shoes Worth Dropping: We saw the first move in what could be a long line of moves for Monte McNair in the release of Glenn Robinson III, who didn't seem to stick quite as well as some might have hoped from the word go. He wasn't terrible, he wasn't great, he was kid of just... there. With this extended losing streak pushing the Kings closer and closer to a top-5 pick, most of the low impact vets like Nemanja Bjelica, Cory Joseph and Hassan Whiteside are expected to be off the team before seasons end and with guys like Harrison Barnes, Buddy Hield and Richaun Holmes expected to have a decent return attached to them, McNair has a million places he can go.
Don't get it twisted. When I say "low impact vets" I mean towards the future of this franchise. Bjelica has been great for the Kings the last few years. Cory Joseph had stretches of decent play. Hassan Whiteside had big minutes once in awhile. They just also, aren't contributing in anyway towards the future outside of sage wisdoms of times past.
Looking at the Knicks as an example of something positive here: things turned quick for them. Yes it was mostly because coach Ted L'Asshol runs his best players into the ground in the name of playing them ungodly minutes and yes, I'm pretty certain NYC is going to hate him for ruining a special player with wear and tear injuries at some point, but for now it is working well. They're a legitimate team. Two games under five hundred in the east isn't a championship berth or anything but they play extremely hard every night, play good defense and have a decent mix of vets and youth. If you swapped rosters with the Knicks right now, Kings fans would be going wild for this team. I mention all of this just to say that proactive rebuilding doesn't have to take four or five years anymore. With good draft choices and a good head coach, turn around times can be very quick.
The Knicks aren't exactly one to one comparisons here because they're in New York and can attract talent on a level that Sacramento can't, but zoom the lens out a little further, looking to the macro. The Kings can have it all, have it quickly, the front office just needs to get it right. These next 29 days are going to be full of rumors and almost deals that don't get done but at the end of it, we're going to have a much better idea of just how prepared this management team is for dragging the Kings to their destiny.
Film of the Night
How To With John Wilson (2020)
Directed by: John Wilson
(TV-MA): (Nudity/Language/Blood)
What IMDB Says: An anxious New Yorker attempts to give everyday advice while dealing with his own personal issues.
What Will Says: Okay so hear me out on this: this is technically a documentary series, but it's only six, half hour episodes. So 3 hours isn't really that much longer than a solid movie. This is one of the most unique and absurdly hilarious shows that I watched during quarantine and it's both entirely fascinating and completely ridiculous. The premise is simple: a man with a camera documents everyday life in New York, showing the idiosyncrasies of the city while he narrates over the top. The result though is somehow much more than the sum of the shows parts. Each episode explores a topic, that more or less sets a guide for what part of New York John is exploring - in one episode he discusses scaffolding. Yes, just scaffolding for a full half hour and yet it's compelling and hilarious TV. Sometime John wanders from the point: in an episode about splitting checks, John ends up at an end of the season party for youth referees and ends up catching some incredibly petty drama between the haves and have-nots and the lengths some of the have-nots will go to stick it to the heads of their organization.
Its incredibly sweet in some moments, while others leaves you gasping at what people will admit to or show strangers with a camera in their face. The simple set up and payoffs for his comedy are somehow obvious but also some of the best I've ever seen. John Wilson is a simple storyteller, understated and maybe just as weird as the city he's attempting to capture but it's rare to see someone with an understanding and love for the city they love as much as Wilson obviously does. Filmed in the months leading up to COVID-19, watching the show made me appreciate Sacramento (and all of its own quirks) on a much deeper level and made me miss a time when the world allowed us all to be out experiencing it. And yet, right as I felt I could slip into actual melancholy about it, the show was off to a convention on the Mandela Effect or in a philosophy professor's office asking if Mankind will make a comback.... or at a WWE wrestling tailgate asking if Mankind will ever make a comeback.
Warning So You Don't Hate Me Forever: 95% of the time this show is completely harmless. However there are some things that definitely earn it a TV-MA rating. There's small things like some classic New York flourishes of language, blood at a subway station or the documentary catching a couple of medics wheeling a dead body down some stairs and tipping the gurney over. There is, however, one scene in the second episode that I believe did almost all the legwork to getting that rating. It's a 10 minute scene in which John finds himself interviewing a man who is advocating for and then demonstrating a device that returns... the "turtleneck" of some men's... "turtles". The camera doesn't shy away during the interview with this very odd man and well, his "turtle" stays out of its aquarium for a decent length of time. Feel free to skip that episode if you get squeamish around awkward nudity. Outside of that this is adult Sesame Street if Big Bird took a camera around the city and also happened to have some minor social disorders.
Where to Watch:
Trailer