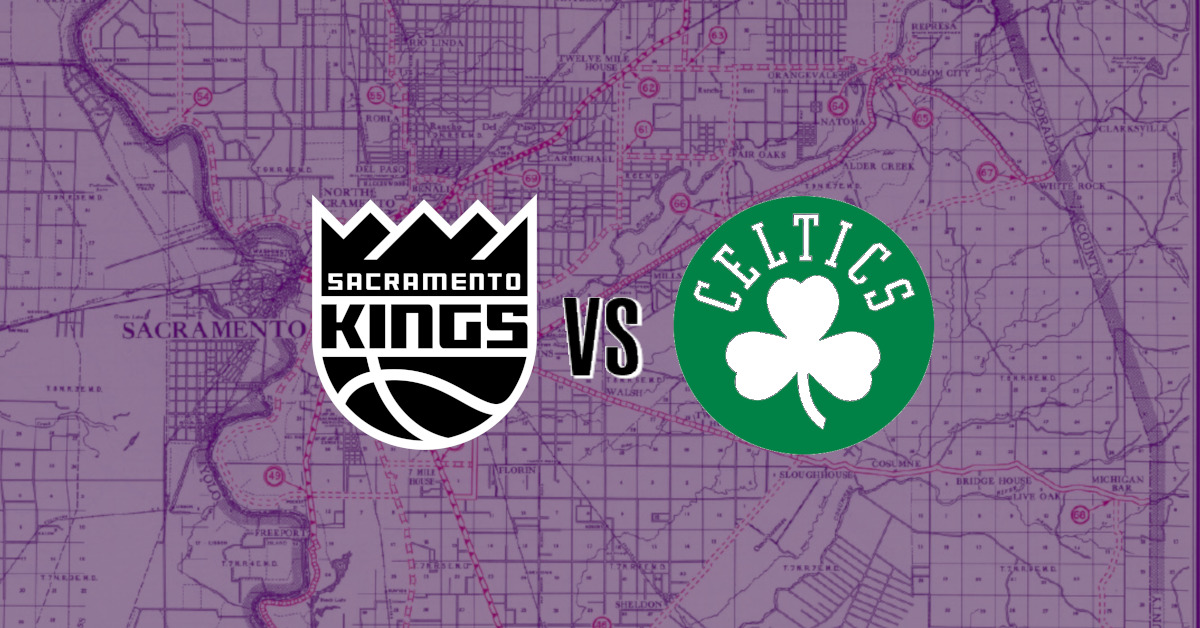 Well, who had the Kings returning home with a 3-1 record on their road trip on their scorecards? Yes after rolling out some of the most egregious basketball in years, the Kings have followed that up with a spritz of competency and are now sitting at just two games outside of .500! De'Aaron Fox is playing like a man possessed, Tyrese Haliburton is out here winning Western Conference Rookie of the Month, the Kings defense is only bad and not, like, historically terrible! Cancel the Cade Cunningham welcome wagons folks because the Kings are headed to the lower end of lottery!
(You thought I was going to say playoffs, didn't you?)
The Kings have a battered but worthy opponent Wednesday with the Boston Celtics coming to town. They're missing key back-ups in Marcus Smart and Fast PP himself, rookie Payton Pritchard, but with Jaylen Brown and Jayson Tatum flourishing to start this season, they remain as dangerous as ever! Can the Kings beat yet another worthy opponent? Is this the game I finally feel rise within my heart a modicum of sustainable hope surrounding this franchise? Magic 8-Ball says "Don't count on it!"
Let's talk Kings Basketball!
When: Wednesday, February 3rd, 7:00 PM PST
Where: Golden 1 Center, Sacramento, CA
TV: NBCSCA - Mark Jones on the call.
Radio: KHTK Sports 1140 AM
For Your Consideration
Brown is Beautiful: So I have to be up front here and say that I absolutely love the Jaylen Brown-Jason Tatum combo and I would do terrible, terrible things to have either of them in Sacramento. I'd sign up for a Ninja Warrior course designed by Jigsaw just for a chance at them both. The rest of this Celtics team (outside of maybe Marcus Smart), take'em or leave'em. This season has been particular fun to watch that duo because well, they're absolute crushing it. Tatum we already knew was bound for these levels of stardom, but Brown's ascendance into a full on superstar has been one of the NBA's best stories early on this season. The kid took is already efficient field goal and three point percentages of 48.1% and 38.2% respectively, through the damn ceiling to 52.4% overall and 42.9% from deep. He's gone from a great third option to a very dangerous 1b option and has ratcheted up his scoring from 20.3 points per game to 26.6 points per game. In the hole left from Doug Funny impersonator, Gordon Hayward, leaving for Charlotte, Brown has stepped in and stepped up in a way surpassed what I thought possible for the kid. More than that, this feels sustainable. He's not just getting off to a hot start, he's just plain shooting better, finding his way to the cup better - he's just plain better and it is an absolute joy to watch.
Tonight the Kings fall into another lucky break in regards to opponents and injuries: guards Kemba Walker, Marcus Smart and Peyton Pritchard are all out. That leaves just Tremont Waters and the bane-of-Bostonian-enthusiasm Jeff Teague, to guard De'Aaron Fox. Coming off of a game last night in Golden State, I'd already expected Boston to be a bit winded this game, but having just Teague and Waters to chase after Fox all night is going to be a pleasure for Kings fans to watch, and an absolute chore for this Boston team to try to contend with. This doesn't mean tonight is an easy win for the Kings. What game ever is? Brown and Tatum are a formidable paring and the tandem of Buddy Hield and Tyrese Haliburton are going to be working especially hard to try to contain some of this firepower from the shooting guard spot. Barnes I have a decent amount of confidence in when it comes to attempting to limit Tatum - Buddy Love and the kid not so much. Lastly in all this, I think the biggest deciding factor in all this will be the refs. Can't believe I have to say it, but after a road trip in which the refs were particularly bad, this game might be close enough to be swayed entirely by the blow of a whistle. Marvin Bagley is coming off a game in which he was ejected for two very light objections. Richaun Holmes spent the whole weekend in a meat tenderizer with no one calling a damn thing. The whole trip it seemed like the Kings were constantly pleading their cases and for the first time in years, it felt justified. If Fox is still in berzerker mode, he's going to be at the rim all night with only Daniel Theis and "The Timelord" Robert Williams to stop him. If Fox can get to the line early, this game could get out of hand in the Kings favor fairly quickly. Now we just need refs willing to make the right calls - something Sacramento is known for inspiring, right?
Prediction
De'Aaron Fox is going to 40 and 10 and my Stan-inspired love letter to Cade Cunningham will go without a stamp for another few weeks. Richaun Holmes is gonna smack at least four shots tonight, Marvin Bagley is going to have a rough go of it against Tristan Thompson, but Marv is going to make Tristan eat a fierce dunk at some point.
Kings: 116, Celtics: 110