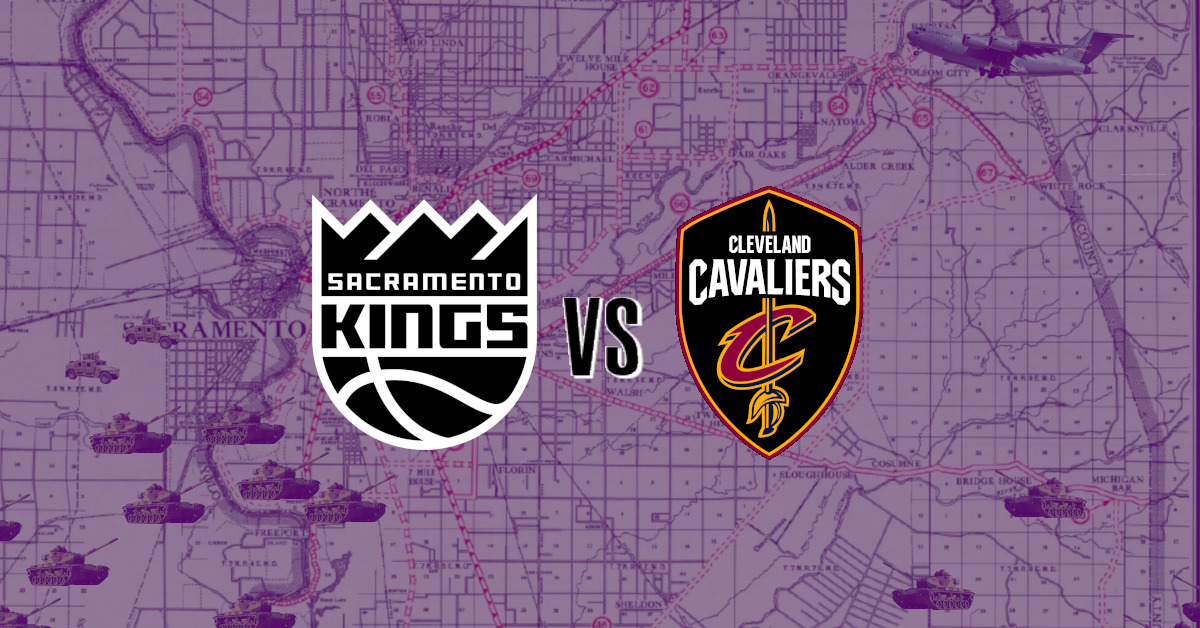 Okay, so we're all in agreeance here that we just aren't going to talk about that Sixers game this weekend, right? Good, that is, man, that is good to hear. So after placing that game in a barrel, sealing it and dumping it at night somewhere deep in a swamp, I'm happy to announce the Kings have another attempt to hurt us in new and interesting ways! This afternoon's game in Cleveland is bound to be fun for tankers and nostalgics alike: Cleveland seem to be running a fun and youthful starting line-up, there's only one game separating the Kings and Cavs for the 6th best odds in the draft lottery and oh, yeah, this is the second to last game before the passing of the trade deadline. This could very well be the last time you see certain players in a Kings uniform, so, soak it all in, baby. Let's talk Kings basketball!
When: Monday, March 22th, 4:30 PM PST
Where: Rocket Mortgage Field House, Cleveland, OH
TV: NBCSCA - Mark Jones on the call.
Radio: KHTK Sports 1140 AM
For Your Consideration
What's Love Got to Do with It: This might be one of those previews where I gush about a team that I really like and I even feel a bit envious of, even though they are just as stuck in mud as the team I room for. I dig the make-up of this Cleveland Cavaliers. They're bad, might be for a decent amount of time too, but they're building a team that I think is going to end up having a lot of success for an 6-8 year stretch. Losers in four of their six games post All-Star Break, the Cavaliers are expected to start a lineup of Darius Garland, Collin Sexton, Isaac Okoro, Larry Nance Jr., Jarrett Allen. Outside of Larry Nance, Jr. who is somehow already 28 years old, the Cavs are trotting a group out there whose average age is just past the legal drinking age.
It isn't just that they're young though - these kids are dogs. Grabbing Jarrett Allen as their defensive anchor was a master stroke, but beyond that Isaac Okoro is going to be a defensive stud once the game slows for him a bit more, Larry Nance Jr. is an absolute steals machine and Colin Sexton has shown flashes of leading his team on the defensive end in the coming years. They're the lowest scoring team in the league at just 104 points a contest and yet watching them, my brain can't help but see that all it's going to take is time. I love rooting for young, bad teams and Cleveland is one of my favorites. There's also a good chance they sneak up on a team worrying about the trade deadline and knife them straight in the back. In their last three games, they've beaten the Boston Celtics, played it close with the Spurs and then beat a struggling Toronto Raptors team just last night. This can't be one of those games where Harrison Barnes slides into anonymity or Buddy Hield goes 2-11 from deep.
Let's chat for a moment about somethings the Cavs do well and umm, not so swell. No team this far in the cellar at this point in the season has many, but the ones that stand out are Cleveland being ninth in the league in blocks and steals and third in the NBA in offensive rebounding. For a team with as many second chances on the offensive end, they also seem to give up quite a few to their opponents - they're 28th in the league in defensive rebounding. They're also 28th in three point percentage and last in the league in three point attempts, converting an average of just 9.5 a game. Furthering this stretch of good news for Kings fans, they're 29th in the NBA in turnovers and only 23rd in assists and for those of us worried about the Cavs living their best lives on the free throw line: they're 11th in the league in drawing free throws but the absolute worst team in the NBA at converting them. Should the Kings be favored in this game? Sure. Am I confident they're going to cover? Absolutely not.
Prediction
Buddy Hield, Harrison Barnes, Richaun Holmes, Nemanja Bjelica, Hassan Whiteside, Justin James, Cory Joseph are all held out of tonight's game for precautionary reasons after all "spraining" their "ankles" in practice. De'Aaron Fox scores 50, Robert Woodard goes for 20 in his first NBA start. Luke Walton somehow still only plays Daquan Jeffries 4 minutes.
Kings: 117, Cavs: 109