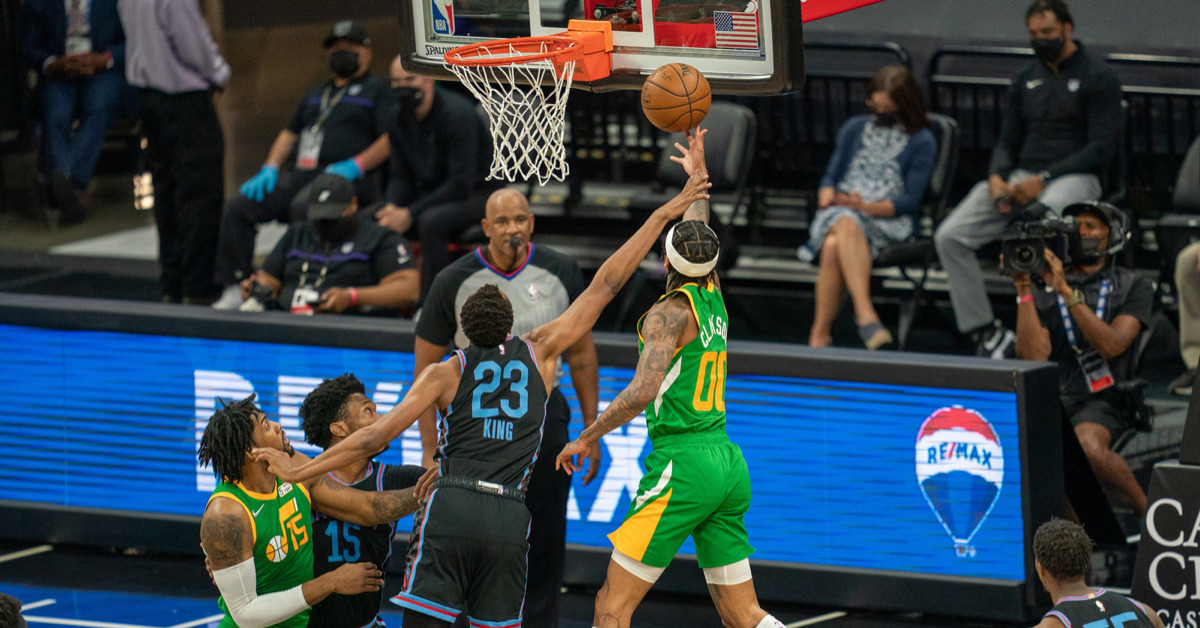 It often felt like this day would never come, but by the strength of the almighty basketball gods, we made it. If you stuck around to watch tonight's game, or if you didn't, and still decided to check in here to get that last dose of Kangz pain shot into your veins before the season's end, you are the poster child of loyalty, and also quite honestly a viable candidate for an episode of Intervention. You, just like the rest of us here, are loyal to a fault, maybe a little crazy for sticking around, and above all else, the best and truest form of what it means to be a Sacramento Kings fan. Tonight marked the end of another disappointing season as the Kings hosted the Jazz at the beautiful Golden 1 Center. For the final time this season, and even though it doesn't really matter, let's see how they did:
Quick Stats
Outcome: Kings lose, 121-99
Sacramento Kings: 99 PTS, 46.2% FG, 30.0% 3 PT, 60.0% FT, 24 AST, 11 TO
Utah Jazz: 121 PTS, 47.7% FG, 46.2% 3 PT, 84.0% FT, 28 AST, 15 TO
By allowing Utah to win, the Kings gifted the Jazz with the #1 seed in the West heading into the playoffs. I will let my insanity convince me that the Kings exercised the little control they had over the postseason and decided to let Utah keep their #1 standing. More logical minds might argue that the better team just did what they were supposed to do tonight - DPOY candidate Rudy Gobert had 16 rebounds and two blocks, while 6MOY candidate Jordan Clarkson dropped 33 points off the bench - but we all know there's no room for logic around here.
The Good, The Bad, & The Ugly
The Good:
Youth Time: The past few games have given us opportunities to see the young Kings get significant run time. We saw breakout games from Justin James and Louis King in the matchups against the Grizzlies. Tonight we got more snapshots of what the young guys on this team can do. Jahmi'us Ramsey had a season and career-high of 12 points and Damian Jones had another solid performance, finishing with 19 points and six rebounds. Ramsey got to really showcase his athleticism tonight as he had multiple slam dunks that were impressively explosive.
Transition Fun: Led by the activity of Terence Davis on both ends of the floor, the Kings had the most success in the fast-paced transition setting that they have thrived in all season long. The handsy defense of Davis, paired with the young legs in Jahmi'us Ramsey and Damian Jones, were the perfect combination for some fun transition plays. We even got a windmill attempt from Kyle Guy in open transition late in the fourth quarter. Even though it ended up coming off the back rim, it showed big #WhyNot energy and I loved every part of it.
The Bad:
Half Court Game: The Jazz came out a bit sloppy with low energy and careless turnovers which the Kings took advantage of in the first quarter. Eventually, as great teams do, the Jazz reassembled and ironed out the kinks. Utah cleaned up their offensive possessions and forced the Kings into half court basketball. In this setting, the Jazz operated like a well-oiled machine, while this Kings squad looked like a bunch of nuts of bolts still trying to figure out how to fit together. This was expected and there's not much to fairly criticize here - these are guys who haven't had much floor time, let alone with each other. But this half court game is what stopped the Kings' momentum and gave the Jazz the ability to pull away.
The Ugly:
Letting it Slip Away Early: The Kings built up a 12-point lead with three minutes remaining in the first quarter as the Jazz were still getting their bearings being in the dry Sacramento air. To keep things exciting for longer, the Kings just needed to close out the final three minutes of the quarter. Instead, the Jazz came out of a timeout and went on a 15-0 run to flip the score in their favor and took a three-point lead. From there, the Jazz never looked back.
The King of Kings
In line with my identity for being dramatic, I write this with a shadow of sadness and a heart full of gratitude as I bestow the final crown of the season for tonight's King of Kings. It couldn't go to anyone else. You, along with every reader, patron, commenter, writer, and member of this TKH family are tonight's and every night's true King of Kings. To still be here, as a genuine Kings fan, after all of the turmoil, speaks volumes of you as a person, and I respect and admire you. To build this community where commiseration is common, empathy is inherently ingrained, and passionate and thoughtful discussions happen daily is something that will always inspire and impress the hell out of me. And to welcome me into this family and allow me to write about this complex relationship we all have with the Sacramento Kings is something I can never be thankful for enough. You are my people. We are bruised. We are scarred. We are heartbroken. But we are still here. And that's what makes this fanbase the best in the world. I am looking forward to this summer break that we all so desperately deserve, but also can't wait to be back here with you in the fall. Until then, stay dramatic, stay tough, and remember that because you are a Kings fan, nothing can ever hurt you.