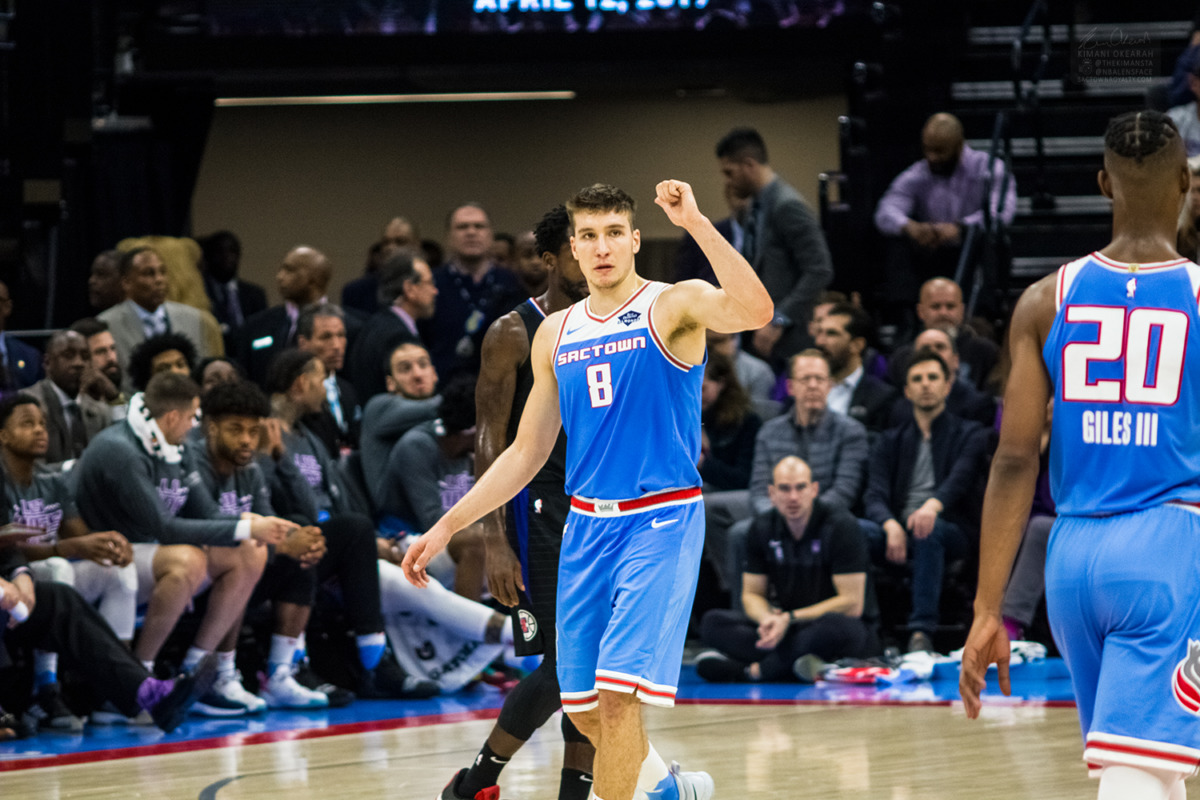 One of the first major decisions new Sacramento Kings general manager Monte McNair will have to make in the offseason is the future of starting guard Bogdan Bogdanovic. Bogdanovic will be a restricted free agent when the 2020 offseason officially begins, and while the regime that brought him to Sacramento is no longer here, Luke Walton is, and Bogi was a key member of his rotation last season.
Due to Bogdanovic's restricted status, McNair and the Kings will be able to keep the Serbian guard in Sacramento long-term if they choose to do so, but at what cost?
ESPN's cap guru and former assistant general manager for the Brooklyn Nets, Bobby Marks, released salary projections for all the top free agents this summer. Bogdanovic is one of those top free agents. Marks categorized Bogdanovic as a "top starter" with a projected salary starting at $14-$16 million per year. This is far from groundbreaking considering it falls in line with what most would have projected for Bogdanovic, but hearing it from someone in-the-know with a national approach carries a little more weight.
I found some of the other names in that $14-$16 million window more interesting than the Bogdanovic projection by itself as it provides some additional context for how a national analyst values Bogi in relation to some of his peers.
Free agents in Bobby Marks' $14-$16 million salary window:
Goran Dragic
Evan Fournier
Bogdan Bogdanovic
Joe Harris
Kentavious Caldwell-Pope
Tim Hardaway Jr.
Malik Beasley
Danilo Gallinari
Davis Bertans
Jerami Grant
I'm sure I have some deep rooted Bogdanovic bias in here somewhere, but there are certainly a few players on Marks' list that I wouldn't put in Bogi's league as a basketball player.
ESPN Senior Writer Kevin Pelton provided some projections of his own regarding the 2020 free agent class by ranking the top-25. Bogdanovic came in 6th on Pelton's rankings behind Anthony Davis, Fred VanVleet, Christian Wood, Brandon Ingram, and Davis Bertans.
For the Kings and Bogdanovic, the $14-$16 million window makes a lot of sense for both sides. But if Sacramento can retain Bogdanovic on the low end of that projection, I'd consider it a pretty significant win for Monte McNair. $14 million for Bogdanovic feels like a bargain in light of some of the contracts Vlade Divac handed out during his tenure, and in this instance the Kings could seriously benefit from the lack of competing teams with enough cap room to make a real run at Bogdanovic in free agency.