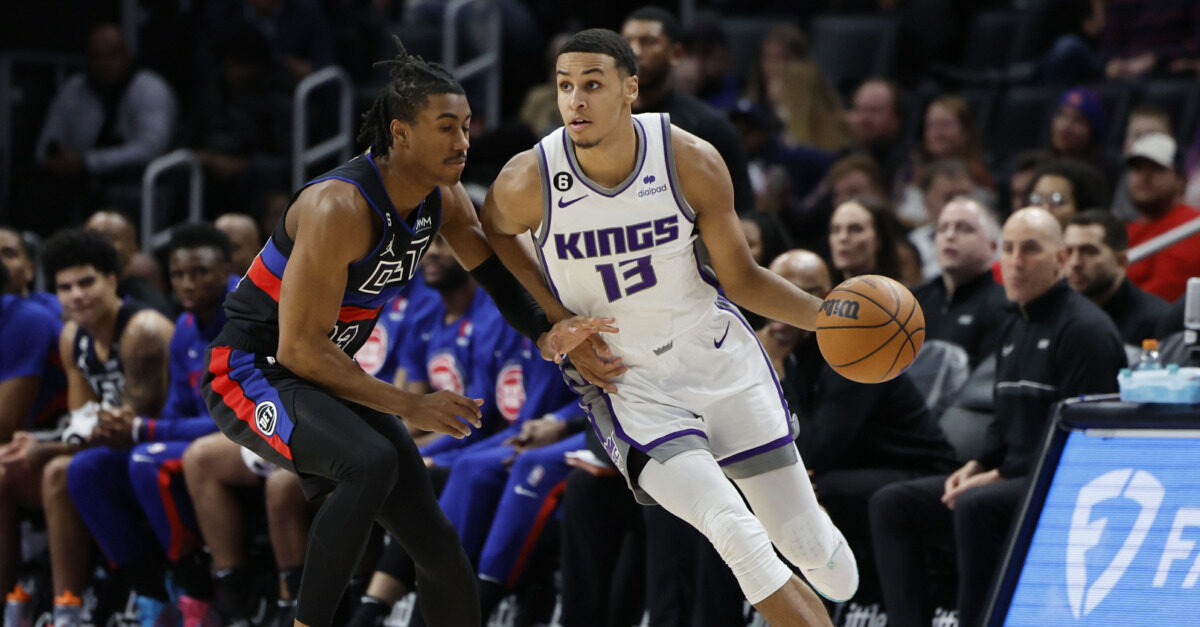 From the moment the Sacramento Kings drafted Keegan Murray, pundits (myself included) have questioned Keegan's upside. After a full season in the NBA, in which I would argue Keegan exceeded lofty expectations, those same doubts still remain.
In a re-draft of the 2022 Draft Class, The Athletic's Sam Vecenie ranked Keegan Murray SEVENTH!
From Vecenie:
I had Murray a bit lower than this on my board pre-draft, even though I expected him to be able to come in and impact the NBA earlier than most other rookies as a more-developed 22-year-old. Indeed, Murray was quite good on a terrific Kings team this season, averaging 12 points and five rebounds while shooting 45 percent from the field and 41 percent from 3. I thought he got better defensively as the season went on and was an impact player in the playoffs. Murray averaged 10 points and six rebounds while shooting 48 percent from 3 in the playoffs, playing 28 minutes and proving he can stay on the court in big moments. Most importantly, after three difficult playoff games, Murray improved drastically in the final four, averaging 15 points and eight rebounds while shooting over 51 percent. Murray looks exactly like what was expected of him pre-draft. I compared him to Tobias Harris before the draft, and I still feel like that is the most likely outcome: a player who is super efficient offensively, can occasionally create his own shot and not be a sieve defensively in big moments. Harris had a five-year stretch from 2017-22 when he averaged 19 points, seven rebounds and three assists while shooting 48 percent from the field, 39 percent from 3 and 85 percent from the line. I think that's probably the ballpark for Murray, with a peak of averaging 20 points per game at some point. I'd rather take a flier on the greater upside of the players above him, but I think there is a case for him as high as No. 3 if you think his shot creation has a little more juice than I'm projecting.
The players, in order, that Vecenie ranks above Keegan Murray:
Paolo Banchero
Jalen Williams
Chet Holmgren
Jaden Ivey
Shaedon Sharpe
Jeremy Sochan
Now, it is important to note that Vecenie is not ranking these players based just on their rookie seasons, but rather is using their rookie seasons as yet another data point for analysis. But where I take issue with Vecenie's analysis (and to be clear, I'm a big fan of Vecenie's work, I think he puts out some of the best draft content out there), is that these rankings still rely on upside far more than they rely on NBA output.
Kings fans, of course, know that rookie year output does not equate to an NBA career. There must be a minimum of four Kings fans who have done laser removal of a 20-5-5 tattoo.
It's also worth noting that every player Vecenie lists above Keegan had a very good year. I 100% agree with Paolo as the top pick in a redraft. I also understand still keeping Chet so high on the board, even though this year's injury immediately validated all the concerns people had (and concerns I argued against in the pre-draft process!) about Chet's frame and durability.
I also understand the upside arguments for Williams, Ivey, and Sharpe. And I'm a big fan of Sochan, he's an incredible player whose contributions aren't fully evident on a stat sheet. I hated every game the Kings had to play against him.
But there's one line I keep coming back to that sticks in my craw:
I'd rather take a flier on the greater upside of the players above him, but I think there is a case for him as high as No. 3 if you think his shot creation has a little more juice than I'm projecting.
This is the essence of the debate. Do you believe in Murray's upside. And slotting him seventh and then throwing in a note that he could be as high as 3 feels like a cop-out against the future success Murray is likely to have.
Keegan Murray didn't have the luxury of jacking up a high volume of shots to find his way in the NBA. Murray was, at best, the third option on the Kings offense, but was more often the 4th or 5th option. At the start of the season his role was little more than standing in the corner to space the floor and hit open threes. Banchero (despite my agreement that he has true superstar potential) had a season Usage Rate of 27.2, higher than Kawhi Leonard, or Russel Westbrook, or Nikola Jokic. Jaden Ivey undoubtedly improved as the season went on, but his 25.1 Usage Rate was higher than Karl-Anthony Towns, or Jimmy Butler, or James Harden.
The simple fact is that the stats of rookies on terrible teams are inflated by the fact that they can play through their mistakes and continue to learn as a primary option. Kings fans have seen it many times! But Keegan Murray demonstrated an ability to score and contribute to meaningful basketball in a limited role and with Mike Brown often imposing a short leash. Kings games simply mattered more, and Murray had to learn to contribute despite not being the featured player, and without the luxury of low expectations.
And all Murray did in that situation was shoot 45.3% overall and 41.1% from 3, setting a rookie record for made threes, and growing his game throughout the year, earning First Team All-Rookie Honors. As the third, fourth, or fifth option on most nights.
There are issues with Murray's game that he needs to improve, don't get me wrong. He needs to be better at finishing at the rim in traffic. He needs to continue to improve on defense. He needs to create more off the dribble. But there was nothing about Keegan's rookie year to suggest he won't improve in those areas. He improved throughout the year, especially creating off the dribble, which was one of the biggest question marks with Keegan transitioning to the NBA.
Given the growth he demonstrated this past season, and his performance in the playoffs, I think it's foolish to doubt Keegan's future in this league. But people have doubted Keegan's upside from the moment the Kings picked him. Keegan just has to keep quietly proving the doubters wrong.
I believe he will.