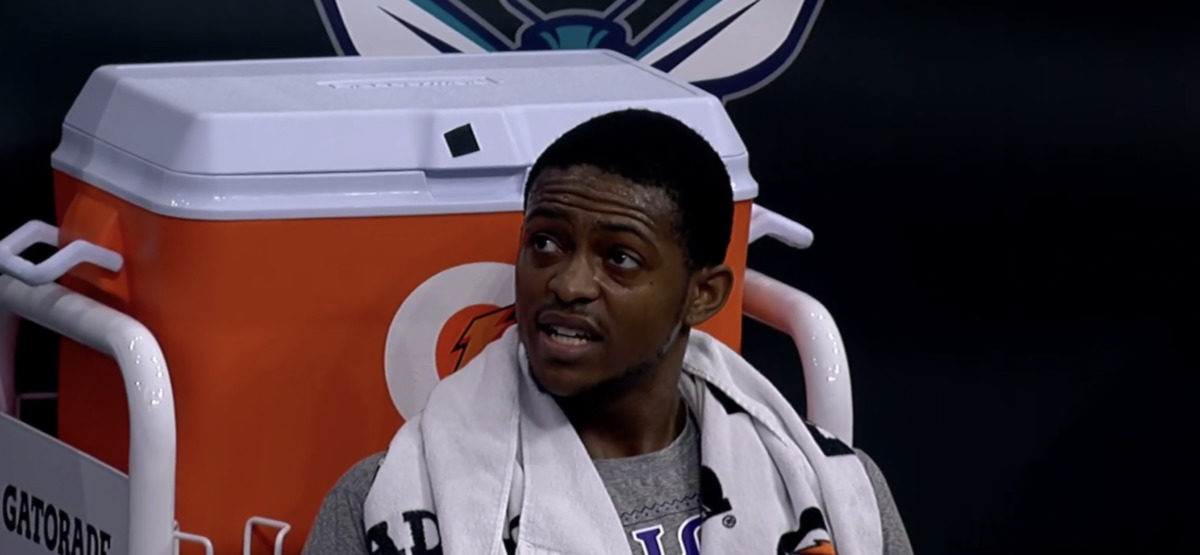 Despite some valiant efforts, Will has yet to convince Greg to fire me, and I have yet to convince Will to watch Lady Bird. So Will's stubborn boycott continues and I'm still here to describe all the ways the Kings continue to break my heart. After a very Kangz-esque performance on Saturday night in Atlanta, the Kings traveled to Charlotte looking to bounce back (or continue the tank?) against the Hornets. Let's see how they did:
Quick Stats
Outcome: Kings lose, 122-116
Sacramento Kings: 116 PTS, 55.8% FG, 29.0% 3 PT, 64.7% FT, 28 AST, 10 TO
Charlotte Hornets: 122 PTS, 47.9% FG, 40.0% 3 PT, 80.0% FT, 30 AST, 8 TO
The return of Gordon Hayward, Scary Terry's late-game frights, and the extreme TV sitcom dad energy of Cody Zeller all proved to be too much for the Kings tonight. The Kings had a 15-point lead in the third quarter, but were once again stung by the Hornets in the final stretch of the game. A 5-point Kings' lead with four minutes to go ultimately resulted in a 6-point loss that will just be added to the long reel of my nightmares.
The Good, The Bad, & The Ugly
The Good:
High Post Action: Early on, the Kings found the weakness in Charlotte's defense in the high post area and milked it like a fat cow. We first saw this in Harrison Barnes working his way into the open area to turn and face the basket for a wide open slam. Richaun Holmes also found his favorite push shot a handful of times from this same area. After draining a few, the defense stepped out on him which allowed for some beautiful high-low action between him and Marvin Bagley III. Richaun is an underrated passer and, especially from that area, this makes it easier for Bagley to float in the dunker zone for easy buckets.
High Effort Scrambles: There are a multitude of layers to what makes Kings defense so awful - sometimes it's lack of knowledge, sometimes it's lack of communication, sometimes it's just pure lack of effort, and oftentimes it's all of the above. While they still found themselves in scrambles where two guys were caught running at the ball, the Kings were able to mask some of these poor rotations with their effort. Hard closeouts, sprinting to provide help coverage, and active rebounding all saved the Kings from the usual sequence of 20 seconds of scrambling for an eventual easy basket. In one instance in the first quarter, their high effort scrambling even forced the Hornets into a 24-second shot clock violation. I know it's not healthy, but I can't help but wonder what this team could be if they played with that level of effort consistently.
Block Party: The Kings had six blocks for the night, with Richaun Holmes hosting the block party with four rejections. This indicates more active and accurate help side defense, something the Kings have been striving to improve on.
The Bad:
Rookie Battle: I just remembered another important thing to know about me: I LOVE Tyrese Haliburton. But in this much anticipated battle between the two leading candidates for Rookie of the Year, I must concede this game to LaMelo Ball, who ended with 16 points and four assists. Tyrese had just four points and three assists, as he is still shaking off some rust after coming off of a four-game rest from a calf injury, followed by the week-long All-Star break. After a slow start tonight, his frustration was clear and confidence rattled. He seemed hesitant through the remainder of the game, and we missed his usual playmaking and confident presence. This was a tough test for our rookie, but it's just one battle in a long war. I still believe in Tyrese's candidacy for ROY. LaMelo makes the pass that ends up on SportsCenter, but Tyrese is the one to deflect those passes from even making it to their destination. LaMelo twists his way to the basket for the flashy layup, but Tyrese nails the clutch corner pocket 3-pointer to dig his team out of a scoring drought. And to just throw out some numbers, Tyrese Haliburton ranks 17th in the LEAGUE in assist to turnover ratio (3.4), while LaMelo Ball is ranked at 75th (2.2). Just saying.
The Ugly:
4th Quarter Execution: My personal version of hell is watching the last three minutes of a close Kings game. For what feels like the millionth time, we once again saw the Kings fail to close out a game. As crunch time approached, the Kings tried desperately to hold on to their lead by slowing the game down. But this has never worked in their favor and tonight was no exception. The Kings become too one-dimensional (aka give De'Aaron Fox the ball and watch) in a slowed down setting and ultimately lose games because of it. We want the ball in De'Aaron's hands, but we can't afford to allow the entire defense to focus on him while everyone else stands perfectly still around the perimeter ball watching. The Hornets were able to get big stops and speed the ball down to their offensive end to fight their way back and bury the Kings once again. Personally, I'm tired of this film, can we put something else on?
The King of Kings
Tonight's crown goes to Richaun Holmes for his huge performance on both ends of the floor. As Marvin Bagley III left midway through the game with a hand injury, Richaun stepped up to carry the load. Most impressive to me was his defensive discipline, as he got some big stops on Gordon Hayward down the stretch. Ending with 17 points, 15 rebounds, and four blocks, Richaun is tonight's King of Kings.
Up Next
Wednesday, March 17th @ Washington Wizards - 4:00 P.M. (PT)