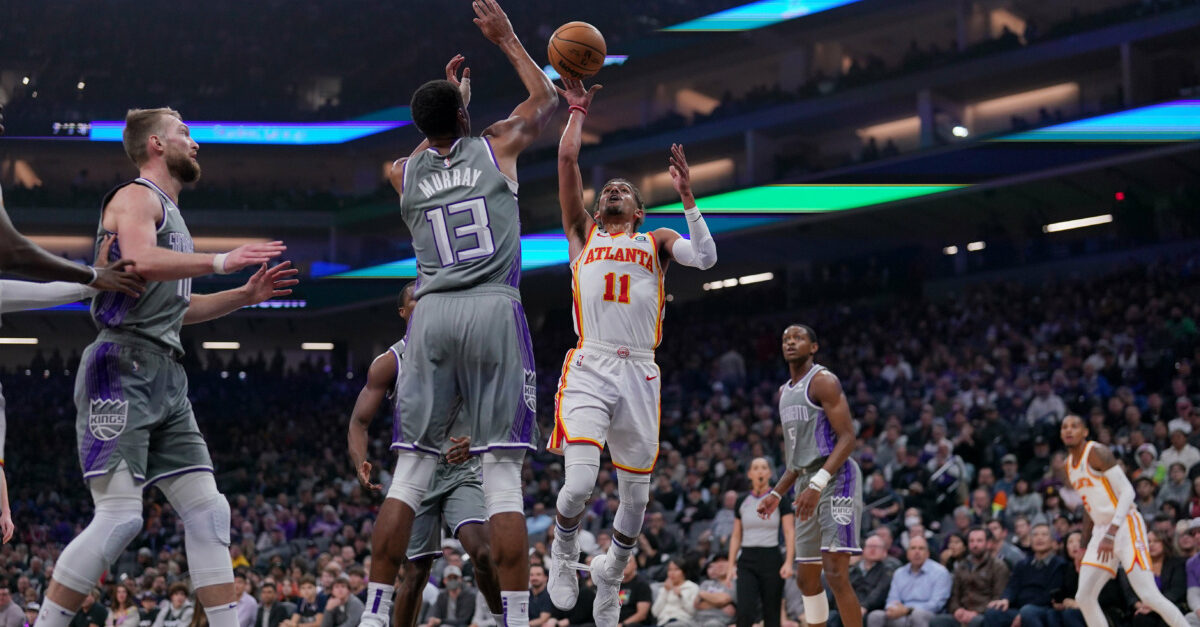 Following another dramatic win over the Utah Jazz, and my subsequent request for prescription refills on all available blood pressure and heart medications, the Cardiac Kings returned to Sacramento for a nice five-game home stay. First up tonight was the Atlanta Hawks, who got the best of them back in November. The Kings have been flirting with being five games above .500 for what feels like an eternity, and tonight was another chance for them to finally seal the deal. Let's see how they did:
Quick Stats
Outcome: Kings lose, 117-120
Sacramento Kings: 117 pts, 46.6% fg, 40.0% 3 pt, 92.6% ft, 26 ast, 42 reb, 11 to
Atlanta Hawks: 120 pts, 53.6% fg, 33.3% 3 pt, 90.0% ft, 21 ast, 44 reb, 16 to
I'm going to start a petition to cancel back to backs - who's with me? The Kings had every chance to win this game, but overall had a disjointed night through all four quarters and ultimately ran out of steam in final possessions. Whether that was simply due to tired legs from grinding out a tough win in Utah last night, or for other reasons, a loss is a loss and the Kings go back to the drawing board on figuring out how to crack that five over .500 ceiling.
The Good, The Bad, & The Ugly
The Good
Starter Production: The Kings had four starters finish with 20+ points. De'Aaron Fox led with 25 points (more on that later) and Kevin Huerter closely followed with 24 of his own with four made 3-pointers in what was supposed to be his revenge game against his former club. Harrison Barnes logged 22 points, going a perfect 6-6 from the free throw line. Last but not least, Domantas Sabonis notched 20 points, 14 rebounds and eight assists and tied DeMarcus Cousins for most consecutive double doubles in Kings' history (15). The total combined 99 points from the Kings' starting five carried the load for their offense tonight and kept them in a game that often felt devoid of any major offensive runs by the Kings.
Free Throws: Up until two heartbreaking misses late in the 4th quarter from Domantas Sabonis, the Kings were shooting a perfect clip from the line. They ultimately finished 25-27, led by a perfect 7-7 performance by De'Aaron Fox. Although the two missed at the end really stung, the silver lining to be found is that the Kings were in a position to win because they had consistently taken care of business at the free throw line earlier on in the game.
The Bad
Quiet Bench: The Kings got another quiet night offensively from their bench. Aside from Malik Monk, who contributed nine points, five assists, and a lot of contagious energy, the rest of the Kings' bench only combined for nine extra points. While Davion Mitchell provides invaluable defense for this team night after night, and Trey Lyles always brings his hard hat to do the dirty work, the Kings needed just a bit more offensively from these two, who combined for 38 minutes, but just seven points.
Fourth Quarter Fumble: Like so many recent Kings games, this one came down to the wire. After some entertaining heroics, the Kings found themselves with a 1-point lead with less than a minute remaining. Domantas Sabonis made it to the free throw line, and after a perfect night from the stripe, it felt like he was going to give the Kings a bigger lead to try to close out the game. Well, nothing really went right from there. Sabonis missed both free throws, leaving the Kings' lead at just one point. Mike Brown then won a challenge on the other end after Trae Young went foul hunting and the refs once again fell for it. Dejounte Murray inbounded the ball for the Hawks from the sideline with eight seconds on the shot clock, and within three seconds made an immediate cut past Kevin Huerter to the basket to get fouled at the rim by Sabonis. Murray made both, giving the Hawks a 1-point lead with 16.1 seconds remaining. The Kings still had plenty of time to win this, but unfortunately, the next play out of the timeout resulted in a Dejounte Murray steal and layup, giving the Hawks a 3-point lead. De'Aaron Fox missed the floater, Sabonis missed the put back, and that was game.
The Ugly
Tired Defense: Atlanta's offense is incredibly boring to watch. In fact, it gives me haunting flashbacks to what we had to watch with this Kings team in the past 10 years or so. But even uglier than the Hawks' offense was the Kings' defense. While the Hawks relied mainly on transition scoring and isolation ball in the half court, the Kings failed to consistently stop them in either setting. Led by John Collins and De'Andre Hunter, each logging 22 points, the Hawks also had four starters finish with 20+ points. Trae Young and Dejaunte Murray followed them up with 21 points a piece. Off the bench, Bogdan Bogdanovic contributed 17 points, which was just one point less than the Kings' entire bench combined.
The King of Kings
I cannot stress enough how fun it has been to watch De'Aaron Fox go to work in 4th quarters. Although he didn't get the final possessions to go his way tonight, he had an amazing sequence to get his team to a winning point late in the 4th. Started by an absolutely disgusting poster that I will be thinking about for the next couple of days, Fox then followed this amazing offensive display with just as much effort on the defensive end when he poked the ball out of Trae Young's hands to cause a turnover and foul on Young. This play then converted into a 3-pointer from Kevin Huerter that gave the Kings the lead. Fox finished this incredible sequence off by drilling a 14-foot fadeaway for an and one to nearly blow the roof off of Golden 1 Center.
DE'AARON FOX. pic.twitter.com/J6UPMLdUG2

— Sacramento Kings (@SacramentoKings) January 5, 2023
Operation: MCNAIR - Season 2 Watch
Tonight's chosen charity is the California Rural Legal Assistance Foundation. Donate if you can and be sure to notify Will via Twitter (@WillofThaPeople) or e-mail ([email protected]) so he can continue to track donation totals.
Up Next
Saturday, January 7th vs. Los Angeles Lakers - 7:00 P.M. (PT)