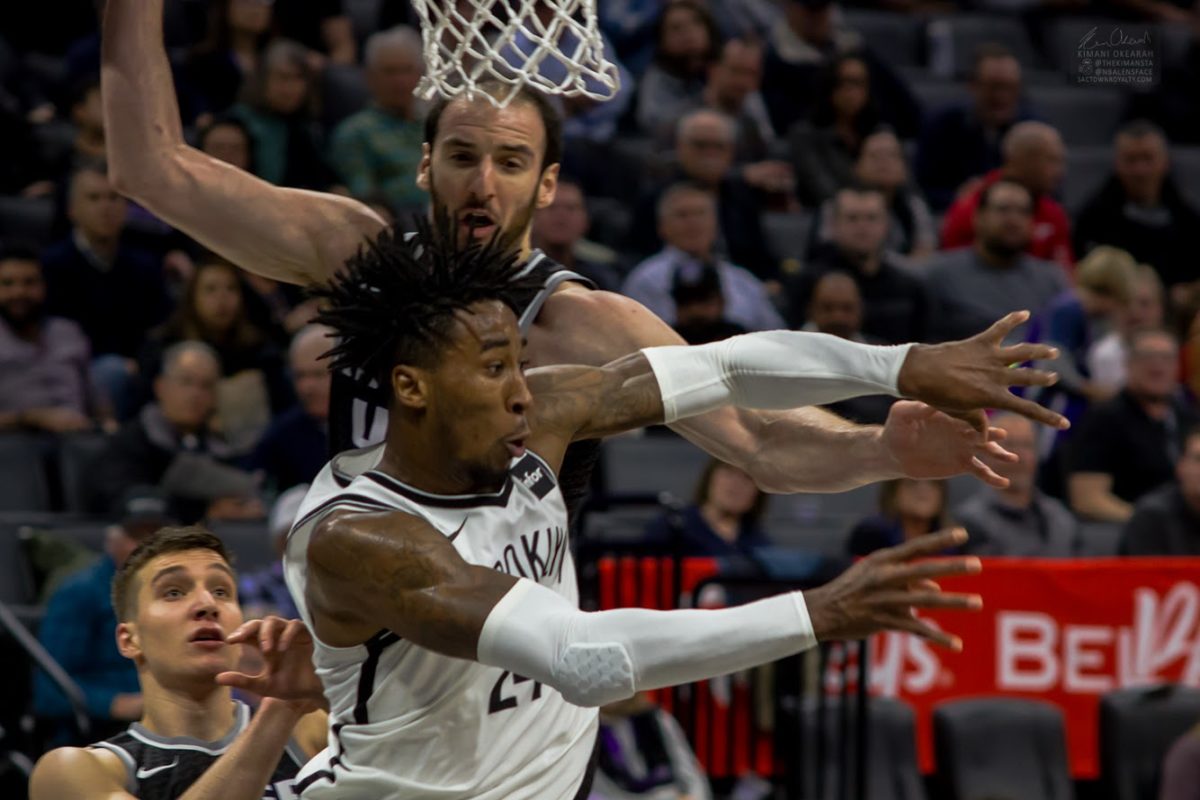 This edition of free agent profiles will include multiple players instead of one film breakdown to a specific player. The forward market this offseason lacks appealing talent, so I compiled a list based on Sacramento's needs. Disclaimer: Not every available player will be mentioned.
Assessing the Forward Situation
Harrison Barnes: under contract, projected to remain as the starting small forward
Kent Bazemore: unrestricted free agent, unknown if the Kings will attempt to re-sign him
Corey Brewer: unrestricted free agent, unlikely to return
DaQuan Jeffries: restricted free agent, likely to return
The Kings are likely looking at a situation where Barnes returns as the starter with Jeffries slated behind him. Sacramento could target a wing -- like Devin Vassell or Saddiq Bey -- to back up Barnes, but they could decide to sign a veteran or a young free agent option if they draft at a different position.
Available Targets
As mentioned in the beginning, the small forward market is far from pleasing. Re-signing Bazemore is a possibility, but Sacramento could look to get younger instead of paying a chunk of money for a 31-year-old option.
Maurice Harkless, UFA:
The eight-year veteran has relied on his defensive ability and instincts to keep his place in this league. On offense, he's best utilized in situations where he can feed off of the creations of others. This past season saw Harkless playing with the Los Angeles Clippers where he shared the floor with Kawhi Leonard, Paul George and Lou Williams. Those guys will carry the load; it's Harkless' responsibility to make his shots when he receives the pass.
Harkless posted a points per shot attempt number of 117.0 in L.A, ranking in the 71st percentile, according to Cleaning the Glass; that's his second-best number in that category. When he went to the New York Knicks, he fell to 109.3 points per shot attempt and into the 45th percentile. The difference in teammate quality couldn't be more evident. Additionally, Harkless shot 37% from three in LA. With the Knicks, he dropped to 29%. The season prior with Portland, Harkless shot 28%.
Defensively, Harkless works best with other good defenders. He's definitely solid as a one-on-one defender, but putting him in a system like L.A. -- where he played with great defenders across the board -- is how you extract his value at a favorable level.
Verdict: Harkless is an admirable target within the context of this class, and at age 27, the Kings could pursue his services, but he's not providing a major impact with the contract he'll receive. He's extremely limited offensively, and though he can supply a positive defensive presence, his impact will be limited. He's a great complimentary piece to have on a contending team, but the Kings should look for a cheaper and younger player.
Derrick Jones Jr., UFA:
Our own Tony Xypteras profiled Jones Jr. earlier and you can read that here. Tony did a great job of laying out why the Kings should pursue the 23-year-old wing, so I won't reiterate the statistical analysis here.
Let's jump to the verdict: Jones is young, can play with pace, efficient on two-pointers and can defend multiple positions. The spacing issue could be a concern, but Jones showed some promise on non-corner triples. Sign him and continue developing him behind Barnes to see if you have something with him. Miami used Jones often in the regular season, but he fell out of their rotation when it mattered. As a 23-year-old UFA, he's someone the Kings need to target.
DeAndre' Bembry, RFA:
Selected 21st overall in 2016, Bembry represents a draft pick when new assistant GM Wes Wilcox was with Atlanta. Bembry has carved out a nice career so far as a limited role player spending all four pro seasons with the Hawks. The 26-year-old restricted free agent could come at a low cost, but the cons are substantial.
Before I dive into the cons, I'll point out that the primary reason to sign Bembry is for defense. Bembry's steal percentage of 2.4 ranks him in the 95th percentile, according to Cleaning the Glass. He averaged 1.3 steals a game for each of the last two seasons. His defensive box plus/minus also continues to rise per season, increasing to a career-high of 1.1 this past season. Looking at some film, Bembry excels in off-ball situations and can read passes like a cornerback. It'd be useful to have in specific scenarios, but he doesn't provide much beyond that.
Offensively is where I distance myself from Bembry. He's not a floor spacer at all; Bembry's 25% rate from three slots him into the 9th percentile, per Cleaning the Glass. His release is slow and lacks fluidity. He showed some promise with his shot in his sophomore season, but it has only regressed since. Bembry wants to be as close as possible to the rim before attempting a shot, otherwise he'll miss. Even then, his rim finishing of 58% is only good for the 45th percentile, per CTG. Also, Bembry's offensive rating was only 98.9 this season. Combine that with his defensive rating of 110.6 and you have a net of -11.8.
Verdict: He's 26, but I just don't see the reasoning behind pursuing him when you could chase someone like Jones Jr. instead. Bembry wouldn't make much of an impact unless he's playing end-of-the-bench minutes, but you don't need him for that.
Josh Jackson, UFA:
Jackson makes this tricky. He's a former 4th overall pick (Thanks, Phoenix), 23 and an unrestricted FA. He didn't end up in this situation for no reason. Jackson's record off the court, where he's been accused of getting his infant daughter high and was arrested at a music festival, is the reason he's where he is today. Jackson's on-court play in Phoenix didn't exactly scream 4th overall pick material either, but that would be a different discussion if off-court issues weren't prevalent.
Jackson's on-court play with Memphis saw him attack the rim efficiently. He finished on 71% of his attempts, good for the 90th percentile, according to Cleaning the Glass. He could score as a pick-and-roll initiator, cut backdoor or in transition. Jackson's two seasons in Phoenix saw him in the 16th and 14th percentiles, respectively. Jackson can also go to his developing long mid-range jumper for points or shoot from deep. Jackson's not a sharpshooter, but he's worthy of a closeout; he hit on 34% of his threes, per CTG, placing him in the 43rd percentile. That's a significant jump from the 7th percentile he was in as a rookie. Also, Memphis was a +5.8 with Jackson on the floor (82nd percentile).
On defense, Jackson's steal percentage of 2.0% puts him in the 88th, per CTG. It's a smaller sample size, but he's also posted good steal percentages in Phoenix. With his 6'8 height and 6'10" wingspan, Jackson makes for a competent defender. He also posted a net rating of +2.5 in 22 games with Memphis (small sample size, but promising).
Verdict: Jackson sits in a similar boat as Jones Jr. in terms of FA situations. But in terms of basketball talent, Jackson could add more to the court than Jones Jr. I don't condone his off-court behavior, but McNair just hired Wilcox as an assistant who publicly made a racially insensitive joke (not comparing the incidents, just pointing it out). While I'm curious to see if McNair or Wilcox will address that in a future press conference, I'd be curious to see where they would stand on Jackson's status.
***
The names so far have been the higher profile options the Kings could chase. The following names will be quick profiles of potential players the Kings could sign for cheap.
Wes Iwundu, RFA:
The Orlando Magic forward is turning 26 soon, but has featured in good minutes since being drafted 33rd overall in 2017. He's not particularly strong in one main area on either end of the floor, but on offense, he's a solid three point shooter (36%, 58th percentile). Last season, Iwundu shot 39% for the 81st percentile (both stats per CTG). He can be a decent off-ball threat from deep and on defense, he doesn't make many impact plays but he won't necessarily cost you games either. He's a solid all-around ballplayer that could fill in Brewer's spot on the bench if signed, though I'd prefer other options.
Rondae Hollis-Jefferson, UFA:
The former 23rd overall pick in 2015 is also turning 26 soon, but he's established himself in this league as a defender who can't provide much offensively. I like him as a small-ball four or even five, but beyond that, you can do better even in a parched market.
Ryan Broekhoff, UFA:
Broekhoff may be 30, but he's shot the ball well from deep despite low volume. Nicknamed "The Accountant", Broekhoff can cash in from deep and be an efficient shooter overall. He fell out of Dallas' rotation and could be picked up for cheap as another option to replace Brewer's spot on the team. Come in and get buckets when called upon. Last season, Broekhoff's 3P% of 43 placed him in the 93rd percentile, per CTG. His eFG%, 62.6, ranked him in the 99th percentile, per CTG. His numbers dropped this year with fewer minutes, but he also posted a net rating of +8.3 last year (111.2 OFR, 102.8 DFR). His age could be the key downside, but say if McNair flips Nemanja Bjelica for assets, Broekhoff could come in and play more minutes.
***
Players like Davis Bertans, Danilo Gallinari, Jerami Grant, Carmelo Anthony and Jae Crowder are also entering FA, but they'd likely demand too much money (Bertans, Grant), are a win-now player (Gallo, Crowder) or make little sense from an age perspective (Melo). The Kings obviously could sign anyone else I didn't mention here, or they might not sign a wing at all. Assuming Barnes and Jeffries are back, the Kings could draft a Vassell, Bey or Williams and call it a day at that position. Regardless, the new front office has a plethora of decisions to consider.