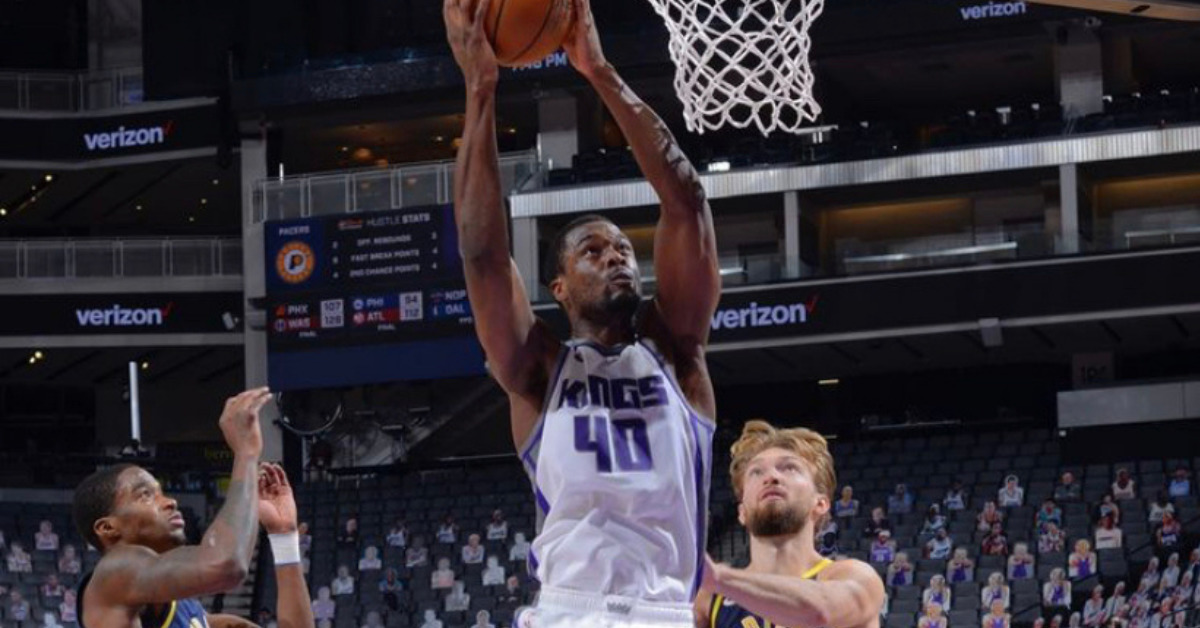 The Sacramento Kings are only 11 games into the season, and we've already experienced a rollercoaster of emotions. A propitious beginning was quickly beset by a 1-5 stretch capped off with the Kings on the wrong end of consecutive blowouts.
Then came the Indiana Pacers.
A feisty group on both ends, Indiana is a unit with minimal roster turnover, seemingly advantageous in this unprecedented season. The vital transition involved the hiring of Nate Bjorkgren, who has developed an offense optimizing Domantas Sabonis, the All-Star big who is flourishing yet again. Sabonis, coupled with the improving Malcolm Brogdon, already makes for an intriguing grit-and-grind team. And that's before we get into TJ Warren, one of the #BubbleBreakouts in Orlando and Myles Turner, who's swatting four shots a game (and also coming off dribble hand-offs with Sabonis!).
Indiana entered the game with the second-best record in the East; the odds were against Sacramento, but they weren't docile. They competed until the buzzer, extracting a much-needed victory.
Let's watch the tape on how it transpired:
First Half
The game started rugged immediately. Sacramento runs a stagger screen for Buddy Hield down the right elbow to obtain an open look for him. The other option to De'Aaron Fox's left is a Harrison Barnes post-up, but that doesn't quite materialize.
Three things: 1. I like involving Buddy instantly. He's a flaming-hot shooter yet to ignite, and they attempt to do so here. 2. You should actually set *good* screens. Both Marvin Bagley and Richaun Holmes set deficient screens that don't touch Victor Oladipo. 3. That leads us to Oladipo jumping the passing lane, leading to easy transition points.
The idea is present; the execution is not.
That same issue that plagued the last play reappears. It's a double-drag for Fox in which Bagley slips to the basket and Holmes pops out. Barnes comes down for the ball, but there's no off-ball action. Everyone except Fox is stagnant. Spoiler alert: The basketball won't go in itself. Holmes attempts to form a late pick-and-roll situation, but it never transpires.
Sacramento now trails 6-0, displaying no energy or passion. You need an easy bucket to generate momentum. Position yourself as the coach: What's the best matchup to manipulate? Let's go to Barnes and pursue Justin Holiday in the post (Holiday's a solid offensive player, but he's not strong enough to defy Barnes down low).
Sacramento then runs an empty set doing just that. Barnes' prowess in the post shines, and he draws a foul to earn a trip to the line.
That play above recouped Sacramento's mindset. Now that they're on the scoreboard, let's play ball; Barnes picks up Oladipo full-court. A dribble hand-off to Brogdon occurs first, but Fox eliminates Indiana's ensuing double-drag by chesting Brogdon to the half-court line.
Indiana then runs a stagger screen for Oladipo, which flows into a PnR with Sabonis. Sacramento collapses on Sabonis, forcing him to pass while rotating brilliantly with an X-out by Fox and Hield, icing the late Sabonis pick and closing out the final shot. That play is a defensive nerd's dream.
Again, ignite your shooter. Fox directs traffic and rejects the screen from Holmes, telling him to set a wide pindown for Buddy instead.
Here's Indiana's mistake: Turner drops after the pick instead of icing Hield. You want to ice Hield because he's dribbling with his left hand. He's already a poor-decision maker and if you pair that with Hield operating with his weak hand, force him to beat you with a pass. Sabonis and Holiday were preparing to tag Holmes' roll, so Turner had that covered. Instead, three points for Sacramento.
The Fox-Tyrese Haliburton dyad has tremendous potential. The two are salivating together, and this play exemplifies that. Haliburton ghosts the high screen, popping out to the left wing instead. Brogdon rotates late, permitting Hali enough time to load the cannon.
Haliburton is currently shooting 50% from deep on 4.9 attempts a game. With Fox's gravity (on display here), Haliburton will receive a plethora of open looks like this.
I'm shifting the spotlight to Marvin Bagley for the rest of this half, predominantly because he was involved in multiple quality plays. I won't clip them all, but as Sacramento's bench maintained the score, Bagley returned and did what Sacramento's been seeking: make winning plays.
Indiana develops a two-man game between Sabonis and Doug McDermott late in the shot clock, and Sabonis establishes his desired position down low. As Sabonis swivels into the shot, Bagley swoops in from the weak side with a high contest, altering the attempt.
A few plays later, here's Bagley in the PnR game with Fox. One dribble, shoulder down to create space, bounces up and scores over Sabonis. That's a promising flash from Bagley; he just needs consistency with it.
Bagley garnered two first-half assists. Coming into the game, he averaged just 0.8 a game. This play was a positive development for Bagley since he wasn't cemented by poor tunnel vision.
Two things: 1. Bagley loves slipping screens, but in his case, they're not particularly effective. His slipping here allows Indiana to ice Haliburton, but, as usual, the rookie showed the poise to maneuver and find Bagley anyway. 2. Bagley gathers, springs and floats it down to Holmes, who demonstrates the patience against two bigs restricting themselves from picking up a third foul.
After a three-point buzzer-beater by Fox, the Kings led after one.
Second Half
With Warren and Jeremy Lamb absent, Indiana lacked the strength from their wings to defend Barnes, especially when attempting to remove him from his spots.
Like I mentioned before, deploying the Barnes' post-up was an effective strategy. Here's how this one materializes: Sacramento empties out Barnes by threatening a Hield stagger screen at the top of your screen. The ball was always going to Barnes. Barnes establishes position, pulling Sabonis out for the weak side help. Sabonis strives to disconnect Barnes' turnaround route, but watch Myles Turner. As Sabonis leaves, Turner is left splitting the difference between Bagley's baseline cut and Holmes' push-shot space.
Turner has to pick his poison. Barnes feeds a cutting Bagley, Turner reacts late, easy flush.
I wanted to highlight this. Entering this match, did you predict Bagley would do this? Give credit where it's due; Bagley maintains his ground against a stronger, more physical Sabonis and shows off the bounce to block the shot. He also blocked Aaron Holiday's drive attempt from behind early in the fourth. Bagley didn't emerge on the box score, but he contributed to winning plays.
I will hammer this point one final time: The Barnes' mismatch was pivotal. Just watch him work and finish with the up-and-under against Sabonis. It's not astounding that Barnes turned in his best performance of the season (30 points, 10-14 FG, 2-3 3P). This was *his* matchup from the start, and the Kings exploited it to perfection.
Defense wins you games, especially in crunch time. This was the first of two incredible blocks by Holmes late in the fourth, saving crucial points.
In the Oladipo-Sabonis PnR, Sabonis slips the empty-side screen. Haliburton, the lone low man along the baseline, rotates to prevent the layup. However, Barnes falls asleep covering the backdoor cut by Haliburton's man, who Sabonis hits on a manipulative bounce pass.
Enter Richaun Holmes.
Okay, last clip, and it probably decided the game. It's a similar play to the previous game but occurs on the opposite side. Sabonis slips the screen, and Fox provides the low man help (no backdoor lane open for Indy this time), but Sabonis' craftiness results in an open layup succeeding the euro step. Or so Sabonis thought.
Sacramento maintained the lead from that point, and Fox buried Indiana once and for all with his vicious dunk that made rounds nationally.
This win resembled the impish triumphs from earlier in the season. It helps that Barnes and Holmes are playing to their ceilings, but whether or not their play remains consistent is nebulous. Still, Sacramento took a stalwart Indiana squad to the final buzzer and withdrew their fifth win of the season.