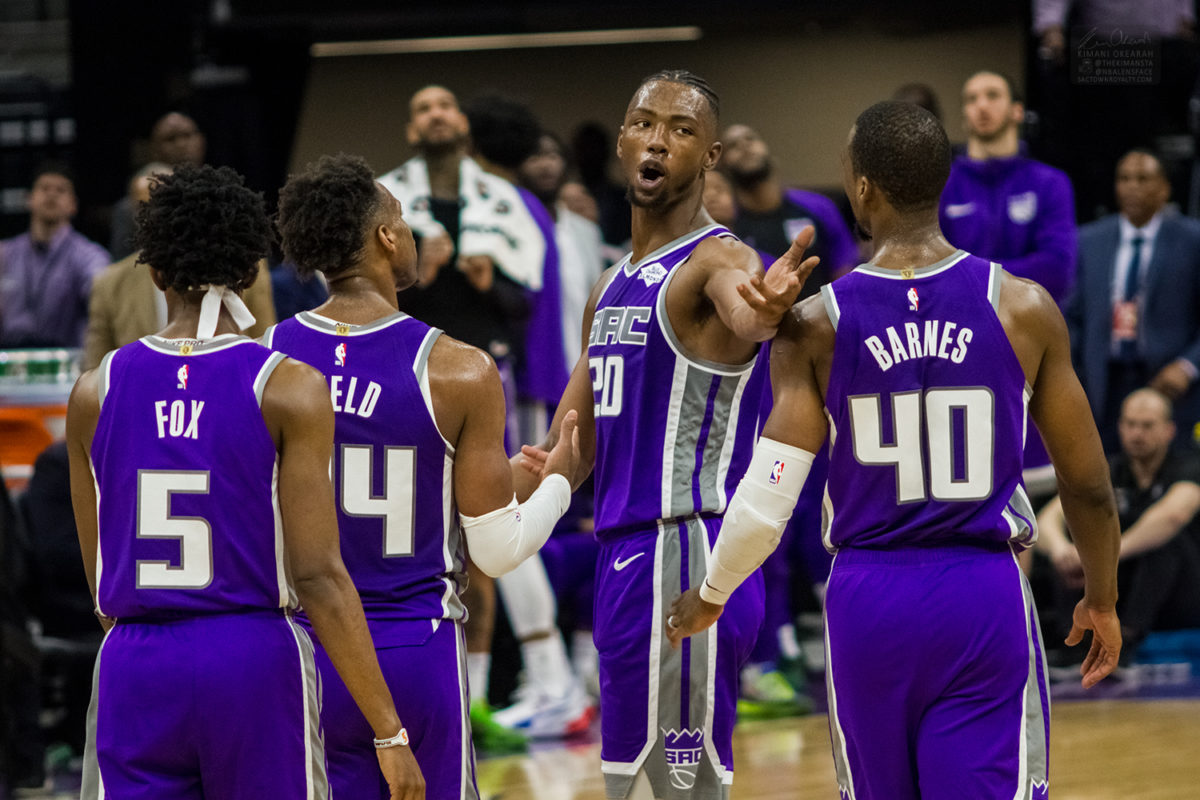 With the Sacramento Kings frontcourt appearing to be at its healthiest point since opening day, Harry Giles, who became a prominent player pre-hiatus, could see a shift in his role when the season resumes.
The first few months of the season were extremely confusing for the 6'11€ center now in his second season. Not necessarily right away, as Dewayne Dedmon, Nemanja Bjelica, Richaun Holmes saw the majority of the frontcourt minutes. Harrison Barnes and Trevor Ariza occasionally slid to the four position on rotations as well, especially when head coach Luke Walton stuck to eight-man rotations when injuries began to accumulate.
Frustrations would begin to mount as Giles wouldn't see the floor even when opportunities presented themselves. Many pointed to the fact that Sacramento declined to pick up his option, thus letting Giles walk easier in free agency if he chose to do so. By declining his option and not including him in the rotation, even when they needed a spark, Giles' value dwindled every minute he didn't play.
But the Kings' frontcourt situation began to rot and needed a fresh insertion into the basket. Giles finally received the nod in late December, putting up 11 points, three rebounds, three assists, one steal and one block while shooting 4-7 from the floor.
Giles displays phenomenal court vision for a player his size. He's bound for one €œwow, how did he make that pass?€ a game. No other big on the roster could match that skill. As the season progressed, Holmes went down again with an injury, Atlanta traded for Dedmon and the door swung wide open for Giles to start. Walton made the move.
Giles' first start came against Miami on Feb. 7 and though he only played 14 minutes in that win, he put up 10 points, five rebounds and a steal on 5-5 shooting. He only fouled once, but Walton opted to give Bjelica and Barnes the frontcourt minutes to match up against the Heat.
The starting center role would stay with Giles until the season resumed and he flashed the potential the league has waited to see since the Kings drafted him in the first round of the 2017 spot.
In the three starts after the Miami game, Giles averaged 9.0 points, 8.0 rebounds, 1.0 assists, 2.6 fouls and 57% shooting. In ten games after the All-Star break, those averages became 10.8 points, 6.2 rebounds, 1.6 assists, 3.6 fouls and 58% shooting.
The Kings went 7-3 in the 10 games after All-Star weekend in which Giles started along with De'Aaron Fox, Bogdan Bogdanovic, Barnes and Bjelica. But there were downsides to Giles' game.
His defense was unreliable and inconsistent. He'd make the occasional block but labeling Giles as a rim-protector is a false characterization. Giles' net rating was also a -10.1, per NBA.com and his defensive field goal percentage didn't fare well either. His DIFF% when it came to defending shots overall was a poor +9.6. That's cash money for opposing players on offense.
Once he came to Sacramento, Alex Len's defensive ability became exceptionally beneficial against players of all sizes, but Giles needed more work on that end of the floor. However, even when the roster is at full health, there's no big man that can replicate the vision and passing Giles brings to the table.
The question remains whether Giles' skills are more worthy of minutes than Holmes and Len when the season resumes. Bjelica and Barnes may get the bulk of the minutes at the four, depending on Marvin Bagley's health. Holmes solidified himself as the starting center with his rise this season and that shouldn't change. Len accepted his role and excelled in it upon arriving in Sacramento.
There may be a position battle for the backup center role as that's likely where any spot for minutes lie for Giles. He played 99% of 579 minutes this season at center under Walton so it's difficult to imagine him going back to the four, where he played 67% of 820 minutes.
We'll see what Walton does as the targeted date for the season's resumption approaches.