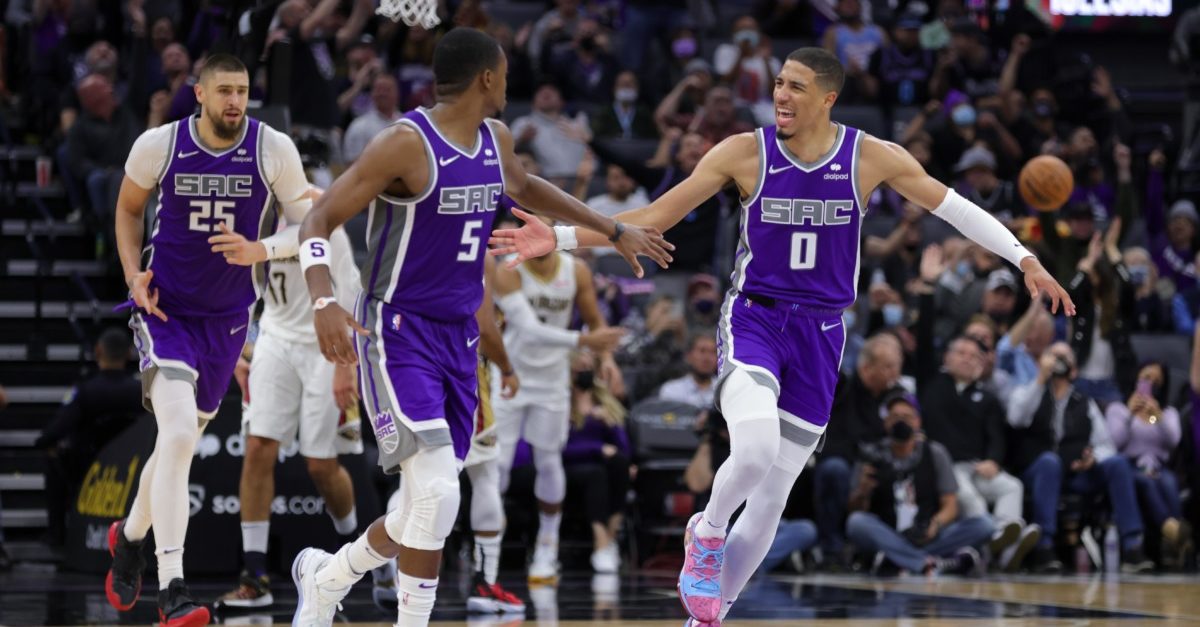 Amid all the recent trade chatter, it looks like the Sacramento Kings have resorted to reorienting themselves around De'Aaron Fox and Tyrese Haliburton. This is arguably the most sensible path forward: at 24 and almost 22 respectively, you have two talented young guards a few years away from the prime of their careers and under full team contractual control for the foreseeable future, the fruit of drafting well. Fox and Haliburton look great on paper together, one as a battering ram aggressively pressuring the rim and the other a patient surgeon dissecting a defense with a scalpel. The Kings have all of their draft picks, several veterans with trade value, and a number of expiring contracts which will convert to capspace this coming offseason.
Basically, the Kings are in a decent position to make smart moves for pieces that fit around Fox and Haliburton.
The keyword here is FIT. Lets face the facts: the Kings are awful this season. Their record is even worse than last year, and even in a down season in the Western Conference, the Kings are on the outside looking in when it comes to the play-in tournament, let alone the playoffs. Standing pat at the upcoming trade deadline all but assures the Kings will not only miss the postseason for the SIXTEENTH consecutive season (!!!), but also hang out in the mid-to-late lottery range in the draft, a depressing spot the Kings called home for nearly the entire stretch of the playoff drought. This is the NBA's purgatory, too good for a high impact pick, too bad to make any postseason noise, and too old overall to count on internal growth to propel the team to the next step.
There has to be change. The big question is what that change looks like.
Earlier today, the unassailable Tom Ziller cautiously wandered back into the Kingdom to ask important questions: if the Kings are so bad, why should they build around Haliburton and Fox at all? The statistics he cites are quite damning:
Fox and Haliburton have played 853 minutes together this season, and the Kings are -92 in those minutes. That's a -5 per 48 minutes. Fox has played 1,468 minutes without Haliburton, and the Kings are -157 in those minutes. That's -5 per 48 minutes. Haliburton has played 1,501 minutes without Fox and the Kings are -138 in those minutes. That's -4.4 per 48 minutes.

(This one is going to hurt.)

The Kings have played 203 minutes with neither guard on the floor. The Kings are +11 in those minutes. That's +2.6 per 48 minutes.
That's the unfortunate data in the aggregate, which Ziller admits can be noisy. And the response is exactly that: there is too much noise here because, going back to the word of the day, the players don't FIT next to Fox and Haliburton.
What pieces DO fit? Its not a mystery. The Kings need a designated perimeter stopper at SF to compensate for Fox and Haliburton's weak man defense. They need a stretch PF to open up driving lanes. And they need a rim protector to clean up mistakes on the perimeter.
What do they have? They have Harrison Barnes, a fine defender for wings and small bigs, but struggles to chase guards on the perimeter. They have Buddy Hield, a high-volume three point shooter who is small and a defensive liability at SF. They have a trio of PF candidates (Marvin Bagley, Chimezie Metu, Mo Harkless) who all shoot in the 20% range from three. They have Richaun Holmes, a terrific pick-and-roll partner but who is also undersized at C and a poor rim protector.
These pieces don't FIT.
And even still, there is data here that could be promising. For all of Harkless' shooting defects, the Kings have still been able to find success with him in the lineup because his defensive versatility is a good fit for Fox and Haliburton-centric lineups with strong offensive support pieces in Barnes and Holmes. From Tim Maxwell's Twitter:
The Kings are 7-7 with Moe Harkless in the starting lineup. He has the team's fourth-best net rating differential.

After starting in his first three games for Alvin Gentry (Kings went 2-1 in that stretch), Harkless has not started again.

He has received 11 DNP-CDs under Gentry.

— SactownBabyGiraffe (@TimMaxwell22) January 24, 2022
The Kings' starting unit with Harkless next to Fox, Haliburton, Barnes, and Holmes is still their most commonly used lineup at 106 minutes. The lineup boasts a strong offensive rating (113.5, would be 2nd among all teams in the NBA), a healthy defensive rating (109.6, 15th), and a solid net rating (+3.9, 6th). The Kings have inexplicably gone away from Harkless, but there were signs of something there.
To show how much fit matters, look what happens swapping one decent fitting piece for another, poorly-fitted piece: the net rating plummets with the same lineup minus Harkless, whether its with Metu (-6.9 in 69 minutes), Hield (-7.4 in 67 minutes), Bagley (-15.9 in 48 minutes), or Davion Mitchell (-21.1 in 17 minutes). The only other positive with this four-man unit is Terence Davis (+4.6 in 15 minutes), who brings a similar type of defensive versatility as Harkless, albeit at a much less disciplined level. Otherwise, the pieces just don't FIT.
Basically, if the Kings were a car, Ziller is asking how fast can they really drive with this engine. It's a legitimate question that can't be answered, because while the car turns on just fine, the tires are flat, the car is stuck in first gear because the clutch is worn out, and the steering wheel is missing. Again, at 24 and 22 years old, Fox and Haliburton are young enough where there's time to fix the parts and then take stock of the engine.
If the latest report from Shams Charania and Sam Amick are accurate, it seems that Monte McNair understands this. The task is not easy, but if the Kings can win smaller trades with their aging core veterans going out for defensive-minded roleplayers coming in, they might find that Fox and Haliburton can take the team to greater heights than originally anticipated.