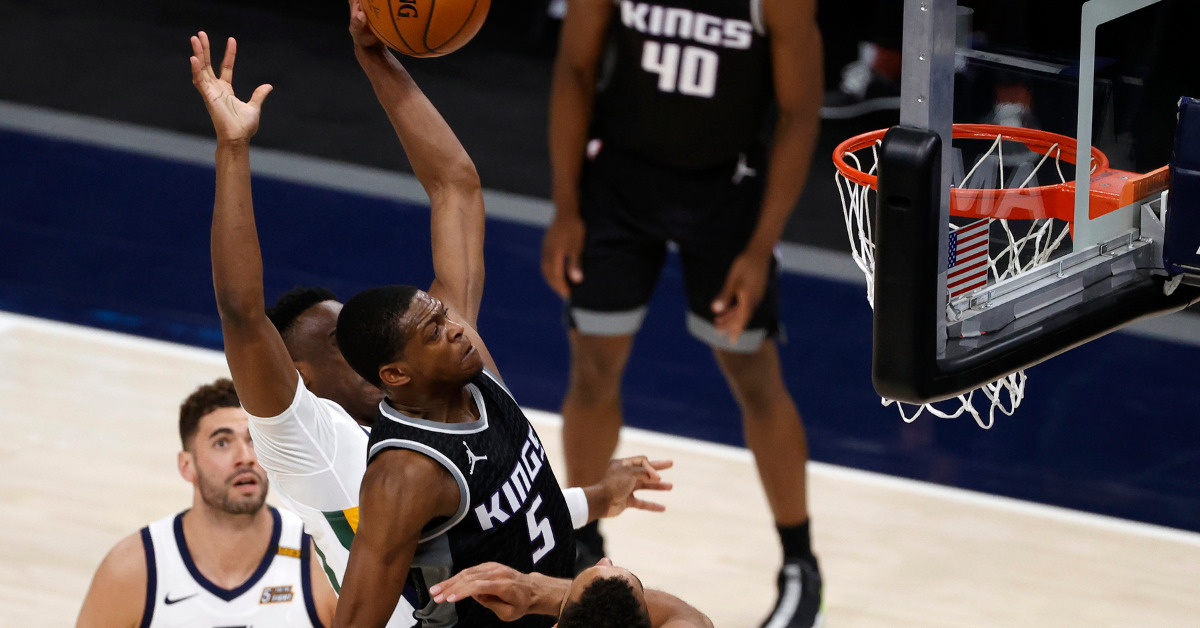 De'Aaron Fox is playing on a whole new level. In last night's streak-breaking win over the Mavericks, Fox scored 30 points and added 12 assists and 4 rebounds. And it wasn't even his best game of the last week.
Over the last 5 games, Fox has averaged 32.6 points, 8 assists, 4 rebounds, and 2.4 steals. For the season Fox is at 25.3 points, 7.2 assists, and 3.5 rebounds.
As noted by StatMuse, last night was Fox's 7th 30 point game of the season.
De'Aaron Fox with his 17th 30-point game of the season tonight. He had 10 such games combined in his first 2 years.

30 PTS (12 in 4Q)
12 AST

He leads the NBA in 4th quarter scoring this season. pic.twitter.com/QWMxczrjaW

— StatMuse (@statmuse) April 19, 2021
As StatMuse also notes, Fox is leading the NBA in 4th quarter scoring.
We can hem and haw about whether Fox needs to score more earlier in games, but what Fox is doing is a model we've seen countless star guards do in the past. Spend the early part of the game getting teammates involved, share the ball, get everyone their opportunities. Then, when the chips are down, take over and dominate.
That, more than any other growth we've seen this season, is what impresses me so much about Fox this year. He's always been the fastest guy on the floor, but he's now augmented his game with a variety of ways to punish defenses. When Fox is ready to take over, he's damn near unstoppable. His ability to finish through contact is noticeably improved, as is his ability to punish defenses with step-backs or mid-range pull ups.
Fox is establishing himself as one of the premier guards in the NBA. He still needs to be a little more consistent night to night, and it would be nice if he got more respect from the refs (miss me with the fact that he's 10th in the NBA in FTAs, he still should be taking more).
In another miserable season of Kings basketball, it's nice to have a player of Fox's caliber to be that beacon of hope for the future.