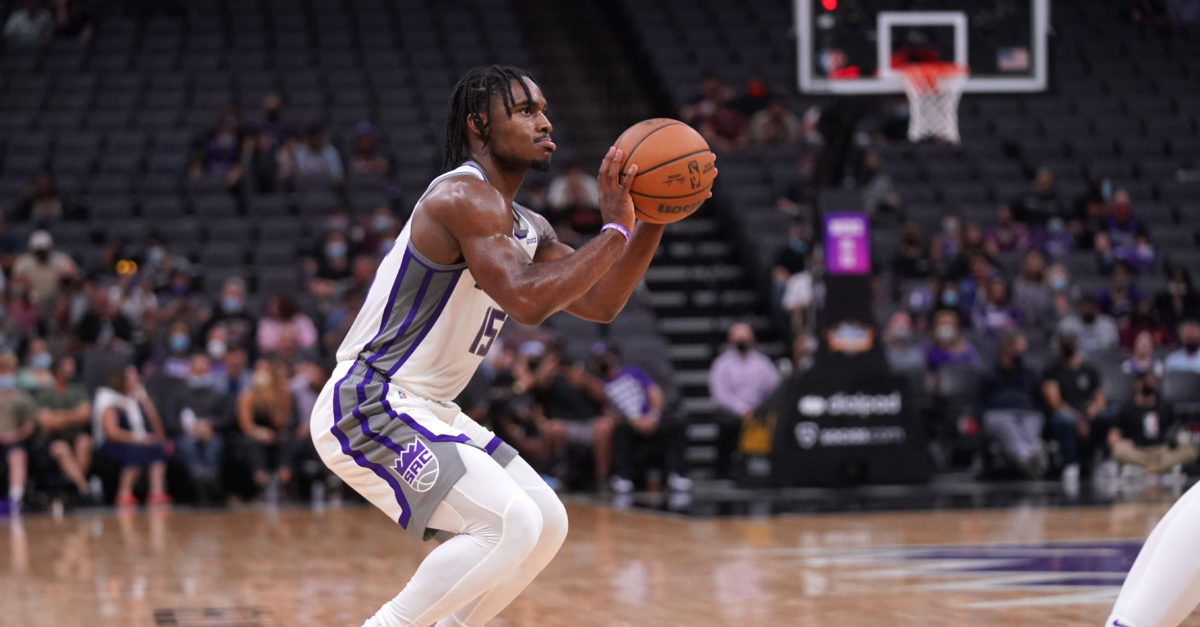 One of the big question marks about Davion Mitchell coming into draft day was his shooting. He shot 44% from three in his last year at Baylor, but 32% and 28% the previous two seasons. He also shot 64% from the line in his final college season.
So, the question remained if that 44% three-point percentage was an accurate read on his capabilities. Well, we saw the shot translate in the NBA Summer League, and it is continuing in preseason. On Tuesday, Mitchell knocked down 6 of his 9 threes on his way to 20 points. (He went 3-3 from three in the Kings previous game against the Los Angeles Clippers.)
Aside from these performances there is plenty of reason to believe the shot will continue to translate, specifically because of his form.
There are some key components to what makes a player a good three-point shooter and Mitchell is displaying a lot of them. Let's take a look.
Balance
Mitchell is on the shorter side for a guard, but he is built like a running back and his strength allows him to do a lot on the court. His core and leg strength gives him really great balance, which helps with his incredible defensive acumen. You rarely see him stumble or take unnecessary steps, and he is able to hold his ground in almost any situation.
It also helps his shot.
If a player does not have good balance and core strength their legs can get tired, their shots begin to fall short and defenders can push them off their spots. Mitchell consistently gets to his spots beyond the arc with his feet planted and pointed at the basket. His knees are bent and his torso is straight using a smooth vertical motion.
Here, you see him use a crafty jab step to get the defender to back off. He then firmly plants his feet, knees bent, feet squared at the basket with verticality on the release
Again, feet planted and pointed at the basket, knees bent, verticality all in one motion. Splash.
Here, he really has to rely on that balance because he is moving to his right and has a defender coming at him from his left. Yet he is still able to completely stop on a dime, plant his feet and get his verticality again.
Repetitive Motion
You probably saw in the above clips how consistent Mitchell is with his feet and movement during his shot. Good shooters try to shoot exactly the same way every time. Mitchell's release is very consistent.
Here, we get a good look at it. Mitchell instinctively moves to the corner once Moe Harkless commits to the drive and the defense collapses on him. Mitchell finds himself wide open, sets his feet and on the release you see the quick flick of the wrist, and nice follow through. (Shoutout to Harkless for knowing that one was in and running back once Mitchell caught the ball.)
Below, you see the verticality, the follow through with the wrist and the consistency.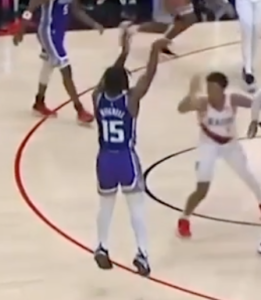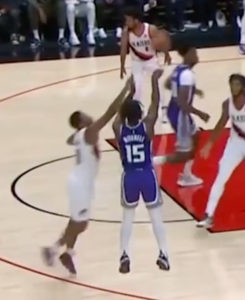 Quick Release
Good shooters are decisive when they shoot. There isn't second-guessing and their shots are usually one seamless movement, and quick. If your shot isn't quick, the more chances you have for wasted motion and throwing off the needed repetition.
Once Mitchell sees Holmes screen the defender, the decision is made. He is planted before the defender can get around and back to him. The shot is out before the defender can extend his hand. Using his strength, he springs straight up on the shot quickly.
Here, the defender helps out a little by getting completely fooled on the drive by Harkless. By the time he turns his head back around Mitchell is already planted and the shot is up. Bucket.
Following the win over the Blazers, Walton commented on how well the rookie is adjusting.
"The amount of work he has put in to understanding the offense and adjusting to the size of the NBA has been great and it's been quick," Walton said.
We probably shouldn't get too carried away since we are still in preseason and Mitchell did this against second- and third-string Blazers players. We also don't have much of a read on his free throw shooting yet as he has yet to attempt one (something to keep an eye on). If Mitchell keeps this shooting from three up, coupled with his defense, basketball IQ, and work ethic, it is going to be really difficult for Luke Walton to keep him off the floor for very long this season.