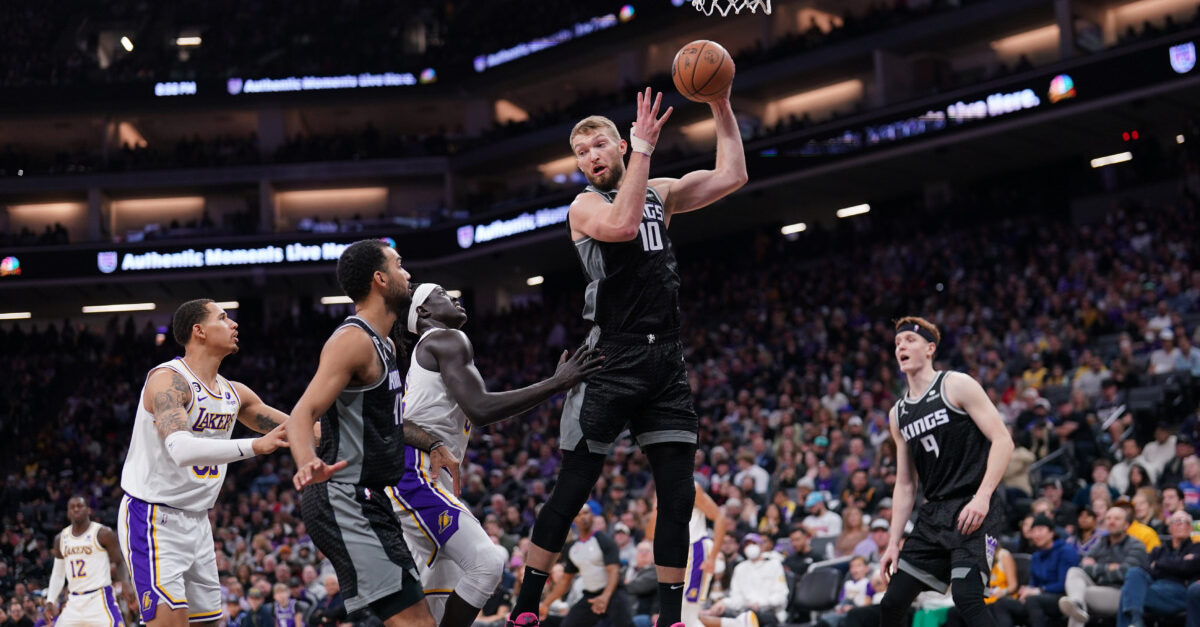 On Monday Domantas Sabonis was named Western Conference Player of the Week, so this is a good time to talk about the All-Star race. Domantas Sabonis was named an All Star two times during his time with the Indiana Pacers, as a reserve in the 2019-20 season and as a replacement for Kevin Durant in the 2020-21 season.
Here are the stats during those seasons:
2019-20: 18.5 points, 12.4 rebounds, 5 assists, 25% from three, 54% from the field, 72% from the line, .8 steals, .5 blocks.
2020-21: 20.3 points, 12 rebounds, 6.7 assists, 32% from three, 53% from the field, 73% from the line, 1.2 steals, 0.5 blocks.
Now, let's take a look at this season:
2022-23: 18.9 points, 12.6 rebounds, 7.1 assists, 38% from three, 61% from the field, 74% from the line, .8 steals, .5 blocks.
From a number's perspective, Sabonis is averaging more rebounds, more assists, and shooting better from three, the field and the line than he did in both of his All-Star seasons. Now, he isn't at that 20 points-per-game mark, but he also is taking 2-3 less shots per game than he did in those seasons. When a team is built with the type of offense the Kings have, Sabonis doesn't need to take as many shots and can focus more on ball movement, which is probably why he is averaging a career-high 7.1 assists.
This season, according to Cleaning The Glass, he is in the 98th percentile at his position for assist-to-usage ratio, the highest of his career. He also is in the 98th percentile in assist percentage. And lastly, he is in the 98th percentile in defensive rebounding, the highest of his career. Not to mention that in 41 games, he is leading the league in rebounds (12.6) and double-doubles (33). He is third in triple doubles (4).
Oh, and he has the Kings leading the league in points per game (120).
And then there are the historical stats:
The Kings have 130-plus points in four straight games for the first time in franchise history.

Domantas Sabonis is the first Kings player with a 15-15-15 game (points-rebounds-assists) since Oscar Robertson on Jan. 8, 1965. pic.twitter.com/QKaRittkw0

— ESPN Stats & Info (@ESPNStatsInfo) January 14, 2023
Centers to record a 15/15/15 game:

— Nikola Jokic
— Wilt Chamberlain

And now, Domantas Sabonis. pic.twitter.com/qRvOOEyAAX

— StatMuse (@statmuse) January 14, 2023
Domantas Sabonis finished with 26 points, 22 rebounds and eight assists tonight vs. GSW. He is the first Kings player with at least 25-20-8 since Chris Webber (26-22-10) on 11/23/99 vs. the New Jersey Nets. pic.twitter.com/bqQomEB5cW

— Sacramento Kings (@SacramentoKings) November 14, 2022
In the early return All Star voting for the Western Conference front court, Sabonis wasn't listed. Players who were:
Draymond Green (who is averaging 7.9 points, 7 rebounds and 6.7 assists).
Kevon Looney (who is averaging 6.7 points, 8.4 rebounds and 2.8 assists).
Andrew Wiggins and Kawhi Leonard (who has played in 21 games) are also listed. It isn't too surprising considering this is the NBA fan vote, and we all know it is a popularity contest, but the biggest stat that should justify Sabonis earning a spot is this: The Sacramento Kings are the 4th seed in the Western Conference and have been in that range for quite some time now.
The Sacramento Kings are the 4th seed.
And of course, De'Aaron Fox and Mike Brown deserve a good part of the credit for this season, but let's be honest, the Kings are not in this position without Sabonis. Everything the team does runs through this man, and he has put them on his shoulders with a busted thumb. He has embraced Sacramento and its fans, and he brings back memories of the last time this franchise turned the corner through highly skilled bigs. He deserves an All-Star spot and could still get one even if it as a replacement, but should he not make it, it doesn't really matter. That is because after wins when Kings fans gather around the outside of Golden 1 Center waiting for that beam to light like it is New Year's Eve, it is largely because of No. 10. And that makes him an MVP to Sacramento.
To vote for Sabonis and Fox as All-Stars, click here.