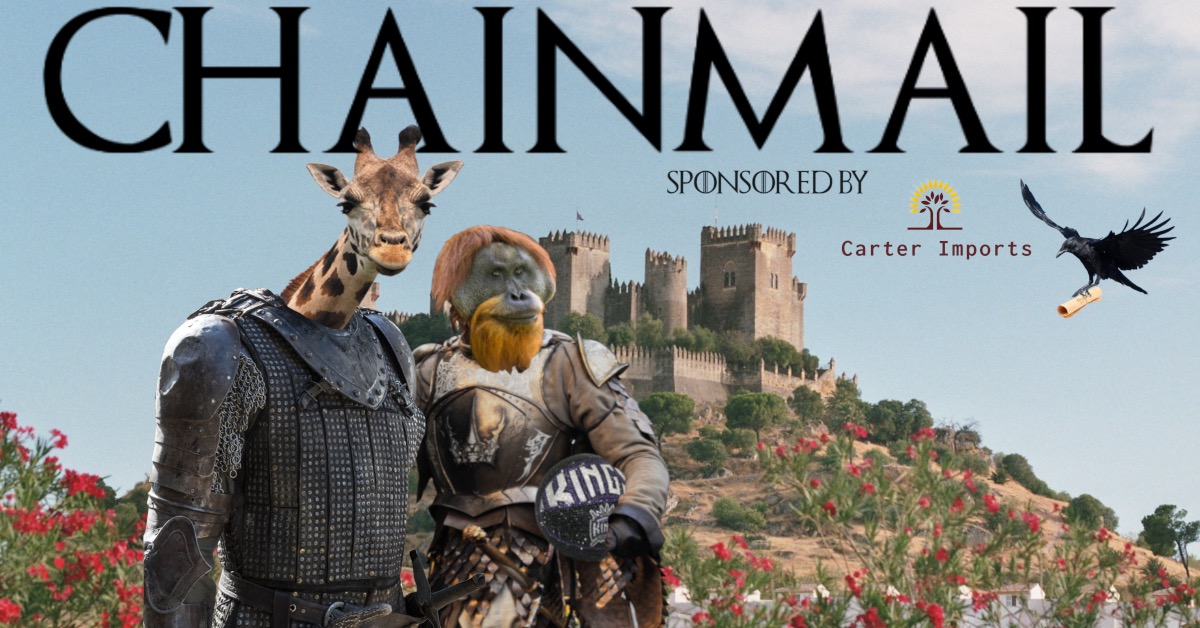 Welcome back to Chainmail! This week, we're talking through the Rookie of the Year Race, trade possibilities, draft prospects, and we even have a surprise special guest who holds almost as much fame as recent podcast guest Hasan Minhaj! (It's Bryant)
Before getting to your questions, we want to thank our sponsor for the mailbag, Carter Imports! Carter Imports is a Sacramento-based company that imports some of the very best Extra Virgin Olive Oil and Cretan Thyme Honey available in the world today. There has never been a better time to support one of our own than right now!
Let's dive right in!
From Adamsite:
Where will Bradley Beal end up and how can the Kings possibly benefit in him being traded?

Disclaimer: I fully don't think the Kings have the assets to get Beal, but I think they could be the beneficiaries as a third or fourth team in any deal.
Tim: I'm not entirely convinced that Bradley Beal is going anywhere this season. He's acknowledged his frustration with the losing, but he also signed the extension and knew it was a long path toward winning in front of him. From Beal's point of view, I don't see a trade demand occurring.
The Wizards could wake up and realize that they're not going to be a contender anytime soon, but they also recently traded John Wall for Russell Westbrook to try and win some games. Getting to the playoffs in the Eastern Conference is relatively easy, especially with the play-in tournament, so Washington could very well be satisfied sitting five games under .500 for the next couple of years and still making the playoffs. I don't think Beal's getting moved.
Will: Yeah, I'm of the same mindset here that Beal isn't going anywhere and the assets that it would take to get him might not be worth the investment. Acquiring Beal would cost no less than Buddy and Barnes and a couple of unprotected first rounders (though I bet they'd also try to get Haliburton in the deal as well) and I still don't think it's enough to keep other teams from throwing out a better offer. With Beal just recently saying he has no desire to leave the team, I'd venture to guess he's going to need another year or so of this to really want out.
From Peja:
What would it take for Haliburton to win ROY?
Tim: He'll have to be demonstrably better than both James Wiseman and LaMelo Ball this year. Wiseman is on the Warriors, so he'll get the television coverage and the social media coverage. LaMelo has the name recognition, as well as the bigger, less efficient box score numbers. If Haliburton can significantly outplay both of those guys, he might be able to get support from big names in NBA media, which would help his cause greatly.
Also, he needs to get to that 20-5-5 mark.
Will: I think it'll take the Kings getting to the 10th seed play-in game for Haliburton to have a chance. Lamelo Ball has the media hype, Wiseman is already the underdog, blog boy pick at this juncture, so only winning can really push Haliburton into the limelight as a key reason the Kings are in the hunt for the eighth seed in the Western Conference playoffs. If he can maintain his efficiency and grab a couple of highlight plays at the top of SportsCenter before the season is over, I think a competitive Kings squad would give him a big leg up.
From BabalooMagoo:
Has Richaun Holmes' play this year been good enough to silence those that say he's not part of the Kings youth movement (geez, he's only 28) and does he deserve a contract extension going forward?
Tim: A quick correction in that Holmes is only 27-years old, but the point remains that he doesn't exactly match up with the early 20s of De'Aaron Fox, Tyrese Haliburton, and Marvin Bagley. That being said, cores don't have to all be young. Richaun is good enough to be marked as a minor part of this key group of players.
As far as an extension goes, Holmes actually isn't eligible for a contract extension. In the summer of 2019, he signed a two-year, $10 million via the mid-level exception, and veterans are not eligible for contract extensions when they sign two-year deals. And that ineligibilty may actually be okay for the Kings.
We don't know how the draft is going to go, and if Monte McNair ends up snagging a big man, say Evan Mobley, do you really want to sink a bunch of money into Holmes? That's a lot of money dedicated to the threesome of Bagley ($11 million), Mobley ($7 million), and Holmes ($10 - $12 million), especially when considering the $28 million going toward De'Aaron Fox next season. It's not a worst-case scenario, but it's not a fabulous expenditure either, especially if Holmes is locked into a four-year deal.
Because Holmes can't be extended, he'll have to be re-signed in one of three ways: through cap space (the Kings won't have any as of this moment), through the mid-level exception, or through early bird rights, which allow the Kings to offer him a new contract based on either 175% of his previous salary or 105% of the league-average salary, whichever is greater. I'm planning on putting out an article with these details in the next couple of weeks.
Will: The weirdness of the Holmes deal is exactly why he can't be considered part of the core regardless of the price. He's an uncontrollable asset at this point and while I think he truly does like it in Sacramento and wants to continue to play for these fans, money is going to talk for the guy. This is his one chance to make a good solid chunk of change and with the Kings inability to offer much more than the next team - I think the prudent thing to do would be to move him to a team with the need so that he can get the contract he deserves and acquire something for him. Avoid a Bogi-blunder at the start of free agency next season, if at all possible.
Now, if the Kings are dead set on keeping him and he's dead set on staying, then I'd be happy to have him back. I just wouldn't trust either side to not do anything until the ink is dry on the paperwork.
From WizsSOx:
Do the Kings actually have a good starting (most used) line up? When compared to other teams (+/- Pts per 100 poss), they stack up pretty well. Better than many forecasted playoff teams (Denver, Portland, Bucks, Suns).

So what do you see as the biggest reason for not having a similar record to some of these teams? Poor coach/rotations, poor bench talent or is this a mirage?
Tim: The Kings starting lineup is interesting from a numbers perspective. The've played the second-most minutes of any group in the NBA (229), and they've outscored opponents by 44 points in their time together. They've gone +46 in the first half and have only been outscored by one total point in the third quarter, which means the typical second-half collapse isn't necessarily on that group. Sacramento gets killed when the bench enters the game.
And that's where the Kings are going to struggle all season. Frankly, their reserve unit sucks. Aside from Tyrese Haliburton, you've got Cory Joseph, who is bad, Glenn Robinson III, who isn't impressive, and either Hassan Whiteside or Chimizie Metu, neither of whom are quality backup centers. It's a mess of a group, and I don't know if there's a way to fix it, even with a better coach. The Kings have one pretty good player, three or four solid players, and then a bunch of net negatives. That's why they're not matching up with purported contenders.
Will: I think it's fairly well established that I think this team is a lemon, and this bench is a big factor in that. Cory Joseph has dropped off again this season, Glenn Robinson shouldn't be expected to pull the kind of weight needed to make this unit good, Whiteside plays every possession like he's entered a "Next Shot Wins" competition for custom Humvee and the rookies just aren't ready to contribute on a nightly basis. Which is fine, honestly, because I think the idea was to always have a bench unit just good enough to pass the eye test, cheap enough to not be a burden and bad enough to not win us any close games. The Kings have rented space on their bench to a few vets that wanted to showcase their talents and when the sell-off happens, the Kings and those former Kings will both be better for it.
Also, the head coach is one of the three worst in the league. I speak no further on that.
From ForKingsandCountry:
What is Tyrese Haliburton's ceiling? I have been puzzling over this for awhile and everybody keeps saying €œsuper role player€ but why isn't it higher than that if he's going to continue to be this efficient on the offensive end?
Tim: Haliburton's ceiling is a multi-time All-Star and the best player on a playoff contender. The "super role player" went out the door once Tyrese started playing like a quality role player five games into his NBA career. Is his ceiling higher than that of Fox's? I think it may be closer than people want to acknowledge.
Will: I really hate to be a wet blanket, especially in the midst of his fantastic rookie year, but I still think his ceiling is as a super role-player and the very tippy top is maybe an injury replacement All-Star once or twice. In my mind that's amazing value for a 12th pick and being hopeful as hell for a Kings rookie, but it also isn't nearly as high as, say Tim's assessment. I think Tyrese won't be an All Star, mostly because he's a pass first, second and third guy and only takes his scoring when it's truly needed within the offense. Now, guys like Rondo and Draymond Green were All-Stars without much in the way of a scoring backbone, I just don't know if that same avenue exists for Haliburton without the Kings being a team as good as the '08 Celtics or those recent Warriors teams to give voters the excuse to push him in despite the shiny scoring stats. I can see him topping out at 15 points, 8 assists, 5 rebounds a game with 2 steals to boot, and that's an extremely useful player. I just don't think I've seen enough to say that he's going to be more than that.
From jlandweh:
A lot of us know about some of the top picks in the draft (which have been covered on the site)€¦Cunningham, Mobley, Suggs, and even Kuminga.

With the Kings becoming more a little more competitive and possibly sliding down the lottery slightly- what are some picks in the 5-15 range that you like and why?
Tim: Well, in my educated opinion, I think...
Bryant: DID SOMEONE SAY DRAFT PROSPECTS?! Pull that overgrown tongue back into your jaw giraffeman, I got this.
While the talent at the very top of the 2021 Draft (Cade Cunningham and Evan Mobley) are franchise changers, the depth of wing and forward prospects likely to enter the draft could offer the Kings some chances at real difference makers, regardless of where they end up on draft day.
Duke forward Jalen Johnson (missed half the season so far with a foot injury) is a versatile offensive player and promising defensive player who could fill the Kings need for a power wing, even if his shots aren't currently sinking.
Stanford's Ziaire Williams offers real shooting upside (6'8 with a 6'11 wingspan), and although he had a rough start to the season, his offensive numbers have started to bounce back as he's shook off an early season knee injury. He's shooting 38% on threes in conference play, with nearly 2 makes a game.
There are a ton of believers in Florida State's Scottie Barnes, a 6'9 bulldog who rubs as the point forward for the Seminoles and plays defense with reckless abandon. I'm not quite as high on Barnes as many, as a lack of real touch or shooting ability makes me worry about his limited offensive upside (beyond his passing instincts).
Finally, my recent draft crush is Moses Moody, a 6'6 wing from Arkansas who is averaging 17 points and 6 boards for Eric Mussleman's squad. He's physical on both ends, sinks nearly 2 threes a game, is earning 6.3 free throw attempts per 40 minutes, has solid defensive numbers, AND has a 7'0 wingspan. If the Kings are sitting in that 8-10 range, Moody might be my favorite choice.
If you want a ton more draft chatter, check out the recent Kings Pulse podcast episode where Brenden and I discussed a ton of prospects with PD Web, a must-follow draft guru has been watching these guys for years. His optimism for both the Kings future and their many options in the draft class was great to hear, and he shared his insight on everyone I named above and more (including Tennessee guard Jaden Springer, Kentucky's BJ Boston, and Texas' Greg Brown). He also gave real insight into Jalen Green and Jonathan Kuminga from the GLeague Ignite program; while Green and Kuminga are at the top of many public big boards, the fact is that many of us armchair scouts haven't seen anything of the pair beyond highlights, as their first televised full games don't start until February. This is a complicated if talented draft class, so we'll have a ton of draft coverage coming over the next few months.
Will: I'm not following that up with anything Bryant hasn't already said! I will say I'm a bigger fan of Scottie Barnes than Bryant and I'm really coming onto Moses Moody. But yeah, what Bryant said!
From meadsdman:
Which front offices around the league are feeling the pressure of a slow start? How do the Kings match up as trade partners and which young players should the Kings target in return?
Tim: The New Orleans Pelicans and the Dallas Mavericks are two teams that Monte McNair should probably be calling. The Pelicans walked into the season expecting to compete for a playoff spot behind Zion Williamson, newly-maxed Brandon Ingram, and a group of veterans, but they're currently sitting 6-10, having lost 8 of their last 10 games. Meanwhile, the Mavericks are in a similar, if even worse boat, as they're missing multiple future first round picks from the Kristaps Porzingis deal, and despite employing a top-5 NBA player in Luka Doncic, they're 8-10, having lost 6 of 8 games.
Either of those squads could target any combination of Harrison Barnes, Buddy Hield, and Nemanja Bjelica. From the Pelicans point of view, Lonzo Ball would be the clear target, with JJ Redick as the other piece of salary. Dallas could probably use Buddy Hield more than anyone else on the roster, and they have large expiring salaries in Tim Hardaway Jr. and James Johnson (I know, I know), as well as two young prospects in Josh Green and Tyrell Terry. If Monte McNair can snag any of those young players and expiring salary for Harrison Barnes or Buddy Hield, I would be more than satisfied.
Will: I'd venture to guess that the previously mentioned Washington is feeling a lot of pressure right now. They brought in Russell Westbrook to help compliment Bradley Beal in the hopes of getting back to the playoffs and instead they're playing miserable basketball right now. Losing Thomas Bryant for the season was a big blow but I really expected them to be better than bottom of the cellar in the East. Right now they don't necessarily look like a target to send Buddy, but I could see them getting desperate and trying to pry Richaun Holmes or Harrison Barnes from the Kings. Right now their big man depth is Robin Lopez, Moritz Wagner, newly signed Alex Len and Jordan Bell, so if they dangled firsts or Rui Hachimura as a swap for Holmes, I could see the Kings going for it if they really wanted to sink sooner rather than later. I could also see them aiming for Barnes as a veteran presence to take the load off of rookie Deni Advija and slide down to play power forward in lineups in need of some scoring punch.