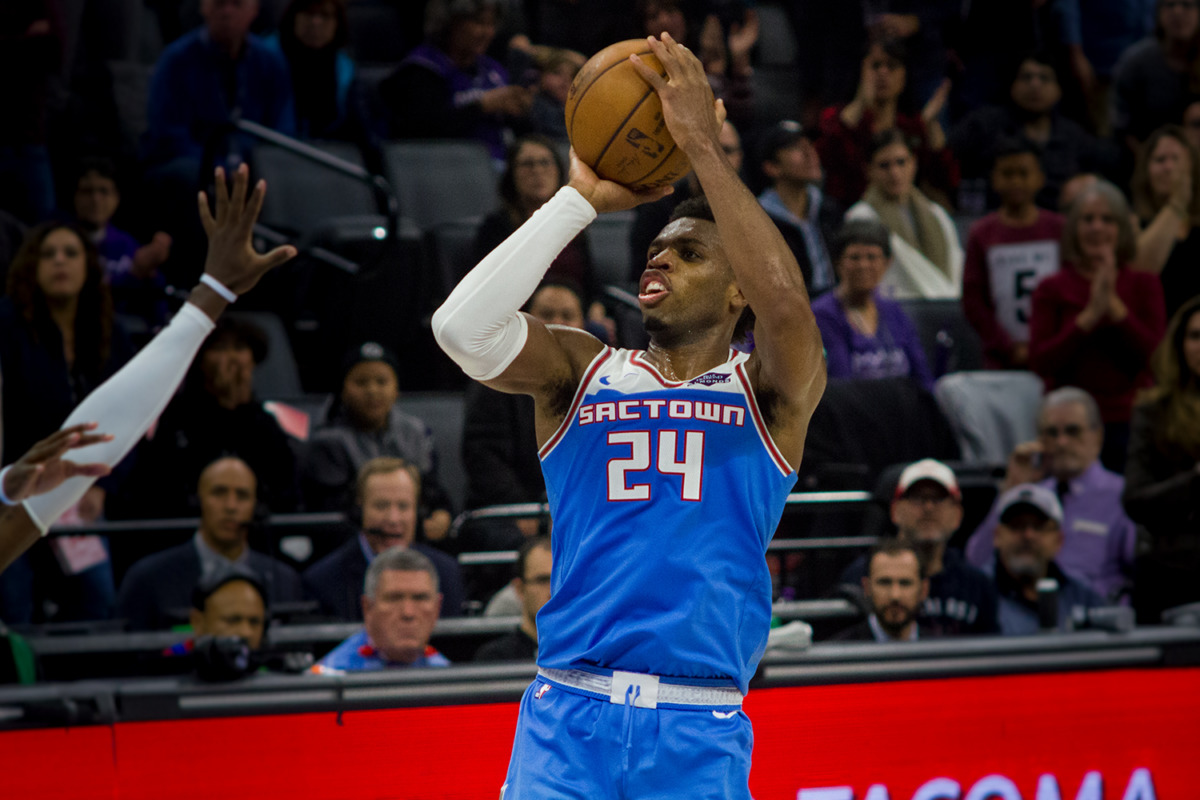 Luke Walton's first season as the head coach of the Sacramento Kings has left a lot to be desired. It's not all on Walton that injuries have hindered team chemistry and development, but some issues that have been in his control haven't been handled appropriately.
For the good moves that Walton has made to the squad, like swapping Buddy Hield with Bogdan Bogdanovic in the starting lineup, questionable changes have also remained prominent for the former NBA player.
One of those gloomy head-scratcher moves lies in the hands of Hield, literally. When De'Aaron Fox went down with an ankle injury, the Kings immediately lost their best playmaker.
Backing Fox up on the depth chart are Cory Joseph and Yogi Ferrell, two guards that don't possess the explosive, keep-up-if-you-can identity that Fox plays with. That definitely limited what Walton would've liked to do on the court.
The mistake he made was trying to turn Hield, one of the league's best sharpshooters, into something he may never become: an offensive initiator.
Hield's turnovers per game for the current season sits at a career high of 2.3. Naturally, his turnover percentage is also at a career high of 11.8. Buddy hasn't enjoyed the season he thought he would have after a strong campaign last year, but it's hard to completely fault him for that.
As good as Cory Joseph is defensively, the Kings didn't sign him to produce on offense. Yogi also becomes limited offensively as a smaller guard. As a result, Walton began to run more plays through Hield as the primary ball handler.
Do I fault Walton for trying that out? No.
Do I fault Walton for sticking with it even when it wasn't working? Yes.
Walton saw an opportunity to take Hield's game to another level, though as Hield's skillset has shown in the past, it likely wasn't going to succeed.
Before we dive into the tape, it's important to know that there were successful plays coming from Hield-led sets, but if the Kings want to win in Orlando, they need to stray away from attempting to develop a weakness of Buddy and focus on his strengths instead.
Much of Hield's turnovers before Fox's injury resulted from lazy passing, loose ball handling and questionable decision-making. When you pair those qualities with additional duties on offense after your best playmaker goes down, the on-court product will look unappealing.
Some of Hield's initiating worked, as we'll look at later, but it largely proved to be ineffective. Going into this pick-and-roll with Richaun Holmes, the play is bound to fail as soon as Buddy picks up the dribble. In the last film room, we saw some of Buddy's passes work out. But many times, he failed to recognize that you can't always pass the ball to the roll man after the screen.
Mason Plumlee is in good position and Malik Beasley seals off any room for Buddy to pass it to Holmes. When Buddy picks up the dribble, Beasley reads the hip movement - the ball is going to Holmes so he jumps and deflects it. If you stop the clip at three seconds, Juancho Hernangomez is sliding over to Holmes. If Holmes is able to catch the pass, he'd have nowhere to go as he's isolated on the right side of the court.
The better play would've been a pass to Harrison Barnes, who is right in front of Hield, have Holmes come up to screen Jerami Grant and let Hield circle back to the right corner. Denver's defenders would've been scrambling to adjust.

I'm not entirely against Hield bringing the ball up the court. If he brings it up, passing the rock elsewhere immediately is safer than him running around with loose handling.
In this instance, he takes advantage of LeBron James getting to Nemanja Bjelica late under the rim. The ball gets to Bjelica who returns the ball to Hield. Hield is in a bad situation here. He's surrounded by defenders with body momentum swinging right. That would lead to an off-balanced shot.
There's two options here: take the unbalanced shot with 16 seconds on the shot clock or put your feet down, shield the ball and pass it back to Barnes who would have to come back to aid Buddy. Instead, Buddy chooses option Z and attempts to split Danny Green and James on defense with a one-handed pass that has minimal effort behind it. Green and James are two high IQ defenders so naturally, they steal the ball.
This half-court set is meant for Buddy to initiate. Cory Joseph, the other guard on the court, is in the paint. This is where I'd prefer Joseph as the initiator and let Buddy be the one running around looking for space.
Much of the downfall of this play falls on the elbows of Holmes. The €œscreen€ dusts by Kris Dunn and Hield fails to shield his body better, leading to an easy steal. Even if Hield is able to avoid getting stripped, there's not much movement or separation from the other players without the ball. It seems like a play that was bound to fail.

With 18 seconds left on the shot clock, Chris Paul invites Hield to drive with his left-hand - something Hield struggles with. Nerlens Noel is in good position to protect the paint and with the way this 2-vs-1 situation is heading, it looks like you have a pick-and-roll developing. But there's steps to effective pick-and-rolls and with Paul baiting Buddy to take the drive, Buddy jumps straight to the final step of a proper PnR: make the right decision. Do you pass it to the roller, find a shooter, attempt a shot yourself or dribble it back for a reset?
Remember how I said that Buddy often fails to recognize you can't always go back to your roll man? Well, he did it again on this play that resulted in a turnover.
Part of being an effective guard in any PnR is understanding where and who your shooters are on the court. When the defense cuts off the roller, it's up to the guard to figure out what to do.
In this specific instance, Abdel Nader is the primary slider to Holmes, leaving his man open (as you can tell by now, Barnes is often the guy that puts himself in good positions to get the ball in many of these plays). Hield passes the ball behind Holmes and as great of a finisher he is, he can't do it all. Instead, Hield needs to understand that when a defender is sliding, his man is likely open. A lobbed pass back to Barnes would've resulted in a three-point opportunity. Instead, it was a preventable turnover. Paul did his homework in that clip.
So far we've seen clips of Hield's loose handling and inability to read defenses, but he also has struggled to be a scorer in isolation plays. Buddy has seen the ball on isolation plays on multiple occasions, but it hardly materializes. The league's efficient iso scorers are able to create space with crafty ball-handling with the ability to score off-balance jumpers from anywhere. As good of a scorer as Buddy is, isolation does not play to his strength. He's prone to making mistakes and giving him the chance to score on his own doesn't always work.
In this play, you have less than 10 seconds on the game clock. Buddy hasn't made a move against Josh Hart and now there's five seconds left. Buddy traps himself by setting his feet and not taking the shot, so he can either force a shot over Hart's out-stretched hands or move the ball. Hield has an opportunity to get off a leaning shot after getting Hart to bite just enough, but ends up attempting a pass to Barnes who is in the middle of two defenders. Preventable turnover again.

Alex Len does a great job with a reverse pivot after setting a screen, but John Henson sees it coming and backtracks. Buddy tries to force the issue again and doesn't make the right play. Len isn't going to catch that and no other shooter has an ideal look - besides the dribbler himself.
Buddy just needs to slow down in these situations. The game moves fast, but Hield tries to play faster. The final step of a PnR comes down to the dribbler's decision and here, Buddy has plenty of room for an open jumper. Len's screen opened up all the room Buddy needed for a shot. There's nothing the defense could do if Buddy took the jumper, he just opted for the pass which was the wrong choice.

Sometimes Buddy did make the right decisions when he needed to create. Here he does a great job of penetrating the defense and getting into the paint.
When Hield gets Noel to jump, he simply dumps it off to Harry Giles with ease for a big slam. Notice how throughout the drive, Hield doesn't try to rush or force the ball to somewhere where it shouldn't. He takes his time, reads where defenders are moving and passes it to a cutting Giles.
The screen set by Giles isn't necessarily the best, but it gets the job done. Hield then proceeds to attack the hip of Amir Coffey, a two-way player for the Los Angeles Clippers.
If the dribbler attacks the hip efficiently, it ensures that the defender can only trail you, essentially removing him from the play. That means that Buddy will have space in front of him to attack, but he has to be careful that the trailing defender doesn't swat the ball away from behind. Giles is able to sneak behind Montrezl Harrell who gets sucked into Hield's attack and Hield simply lobs it up for the slam.
If basketball is able to resume in Orlando, then the Kings must use Hield more as a shooter. The way that Hield creates his own shot is by running around and finding space to receive the ball. It's largely the reason as to why he shot absurd numbers last year.
On plays where he took zero dribbles, Buddy took three-point shots 30.9% of the time and converted on 40.9% of those looks(2.1 makes, 5.2 attempts). In this play, you see Buddy run up-and-down the baseline reacting to the ball movement. The defense forgets about him, so Joseph is able to find Hield for a wide open splash.

Remember the clip of Hield in isolation with the game clock winding down?
Now it's Joseph in isolation with Hield on the wing. Joseph is able to use Giles' screen to draw Josh Okogie in, allowing for a kick-out pass in which Hield drills it. Sometimes it's that simple.
If the Kings want to maximize their chances at making the playoffs, they have to play to the strength of their players. Walton's utilization of Hield as an initiator hasn't panned out accordingly and with Fox, Joseph and Bogi all healthy and available as ball-handlers, you don't need Buddy in that role. Instead, let Buddy do what Buddy does best - tire the defense out with nonstop running and drilling those open looks.