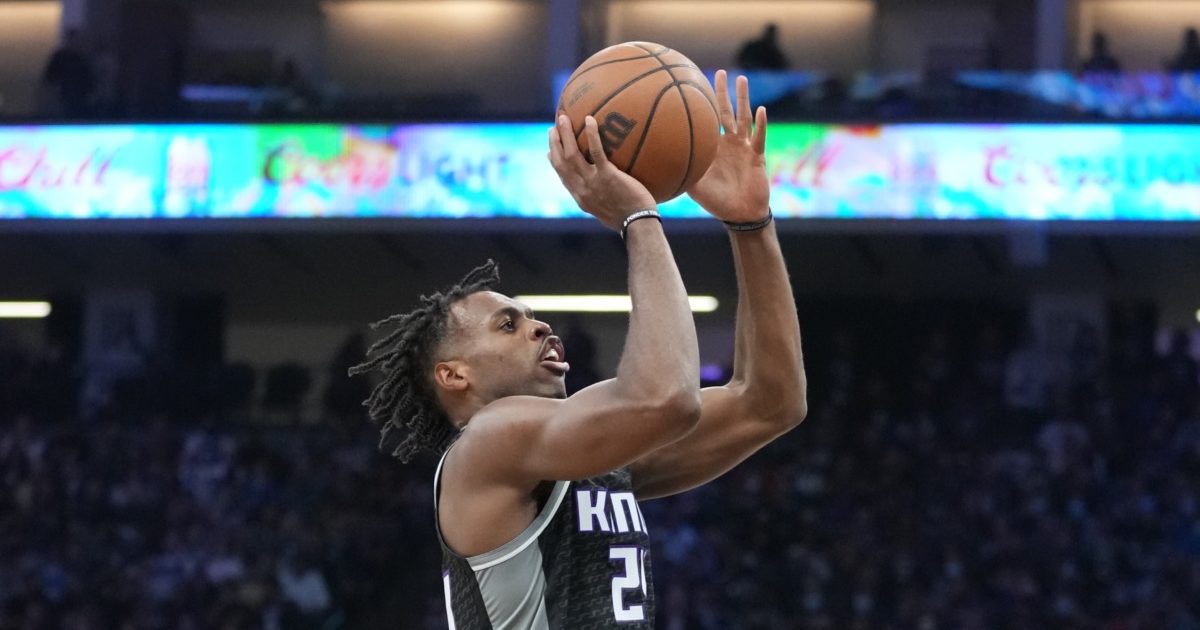 Buddy Hield surpassed Peja Stojaković Friday night for most made threes in Sacramento Kings franchise history, finishing the game with 1,076 career threes. It is quite the accomplishment.
The game is much different than it was when Stojakovic played. Hield has averaged 7.4 three-point attempts per game over his career. Peja averaged 5.5 over his career. So, you have to wonder what Peja might have done with the type of usage high-level three-point shooters get in today's game. That shouldn't take away anything from what Hield has accomplished in his five seasons in Sacramento though, especially since Hield did it in 332 games and it took Peja 487 games. Buddy is a great shooter and congratulations to him on this achievement.
He also is playing well in his role off the bench so far this season.
A lot has been made about Buddy Hield starting v. coming off the bench during his time in Sacramento. Hield, who is making $22 million this season, wants to start, like any other player in the league, but when he has come off the bench he has produced. We saw it when Bogdan Bogdanovic earned the starting role over him and through two games this season with Tyrese Haliburton starting – Hield has been highly effective as a spark. He is averaging 20.5 points, 6.5 rebounds and 1.5 assists. He is 46% from the field and 45% from three. If he were to keep that scoring up, he would be on track with his 2018-19 breakout season when he averaged 20.7 points per game.
"He's been fantastic ever since camp started," Luke Walton said. "Start, don't start we're all in this to win and he's been 100% bought in and he's been playing some really good basketball for us."
Hield's rebounding is a really welcome sight as this team will need help in that category this season from the guards. In fact, he is third on the team in rebounds behind Harrison Barnes (12!) and Richaun Holmes (10.5). His defensive rebounding has been good. The percentage of opponents missed field goals that Hield rebounded is 20%, according to Cleaning The Glass. That number has never been higher than 13.6% in his career.
"Whenever they call me, I'm doing my job. If I come off a ball screen and teams are doubling me, I hit Richaun [Holmes]. Whenever Luke puts me in, whenever he calls my number, I go in there to do my job. Of course, they want me to score the ball and make plays for my teammates, but whether he starts me, he doesn't, come off the bench, I just have to be a ready professional and do my assignment and make something happen when I go out there – be effective," Hield said.
He may have made some changes to his spots on the floor this season also. Hield's shot chart so far has been slightly different than previous seasons. Small sample size, of course, but through two games, 16% of his threes are from the corner. It has never been higher than 11% in years past, and he is 60% on those corner threes. He also has yet to take a long midrange shot (between the free throw line and three-point line) – though that number dropped from 19%, to 15% to 8% in the three previous seasons, so that may be a shot he is looking to remove from his game.
Now, he still is averaging two turnovers a game, and we can't ignore the long outlet pass that was off the mark in the final minutes of Friday's game that resulted in key a turnover. That was definitely a reminder of the type of untimely miscues he is capable of. Overall, though, Hield has been productive and a positive for the team.
If Hield can keep up his production off the bench, he may end up being in the running for 6th Man of the Year, especially if the Kings can play winning basketball.