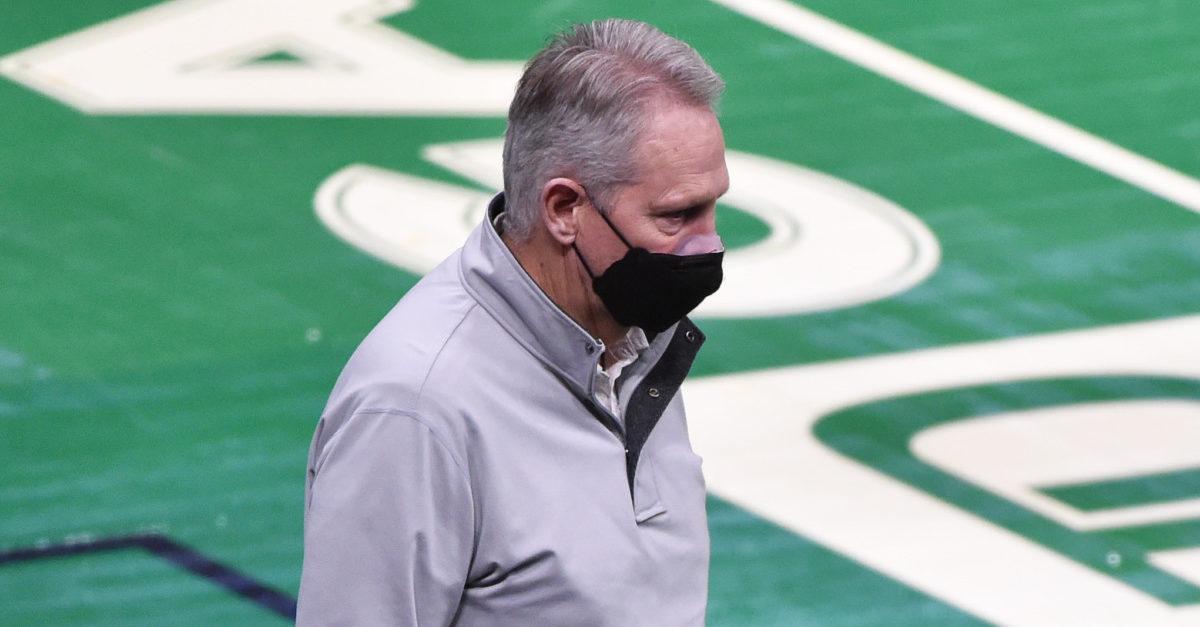 In a move than went from a whisper to a bang in a matter of minutes, Danny Ainge is resigning from his position with the Boston Celtics. Equally surprising, Ainge will be replaced by current Celtics head coach Brad Stevens, who will no longer be coaching the team. Stevens will lead Boston's search for a new coach. All of this news broke in rapid succession, via Adrian Wojnarowski and Shams Charania.
Boston Celtics President of Basketball Operations Danny Ainge is seriously considering his future with the franchise and could make a decision to step down, sources tell ESPN.

— Adrian Wojnarowski (@wojespn) June 2, 2021
Boston head coach Brad Stevens is planning to transition from his current role into becoming the new head of basketball ops. of the Celtics, sources tell @TheAthletic @Stadium.

Danny Ainge plans to resign from his role as Celtics President, sources said.

— Shams Charania (@ShamsCharania) June 2, 2021
Brad Stevens is moving into the front office on a full-time role, and Celtics are expected to start a search for a new head coach, sources tell ESPN. Celtics staff and coaches have been informed of the changes. https://t.co/yPf6ERS6NK

— Adrian Wojnarowski (@wojespn) June 2, 2021
Stevens has been described as worn down with coaching since The Bubble, and welcomed the chance to make the transition to the front office, sources tell ESPN. Stevens will help lead the search for his successor as head coach.

— Adrian Wojnarowski (@wojespn) June 2, 2021
Danny Ainge, for all the jokes at his expense, has been a hugely successful GM in Boston. He's had some draft misses but has also had some huge draft successes, and has made some enormous trades for the Celtics. His moves to acquire Kevin Garnett and Ray Allen led Boston to the 2008 NBA Championship. Ainge's move to trade back in the 2017 Draft and still grab Jayson Tatum is one of his biggest heists, and leaves Boston with a bona fide young star to continue to build around.
Stevens' ascension is surprising, primarily because Mike Zarren seemed like a natural successor to Ainge. Zarren has been Ainge's right hand man for...forever. It's unclear if Zarren will remain with the Celtics, or if he'll follow Ainge to a new destination.
As for Stevens' replacement as head coach, Chris Haynes reports Jason Kidd and Lloyd Pierce are expected to be candidates.
Los Angeles Lakers assistant coach Jason Kidd and former Atlanta Hawks coach Lloyd Pierce are expected to be head-coaching candidates for the Boston Celtics, league sources tell @YahooSports.

— Chris Haynes (@ChrisBHaynes) June 2, 2021
It's been expected that Kings GM Monte McNair wants to make a big splash with the roster this summer. The Celtics have many intriguing pieces, but Danny Ainge was well known as a difficult person to negotiate trades with. There was a lot of discussion of Boston being interested in Harrison Barnes at the deadline, but nothing came of it. It will be interesting to see if Stevens is perhaps a more willing trade partner.