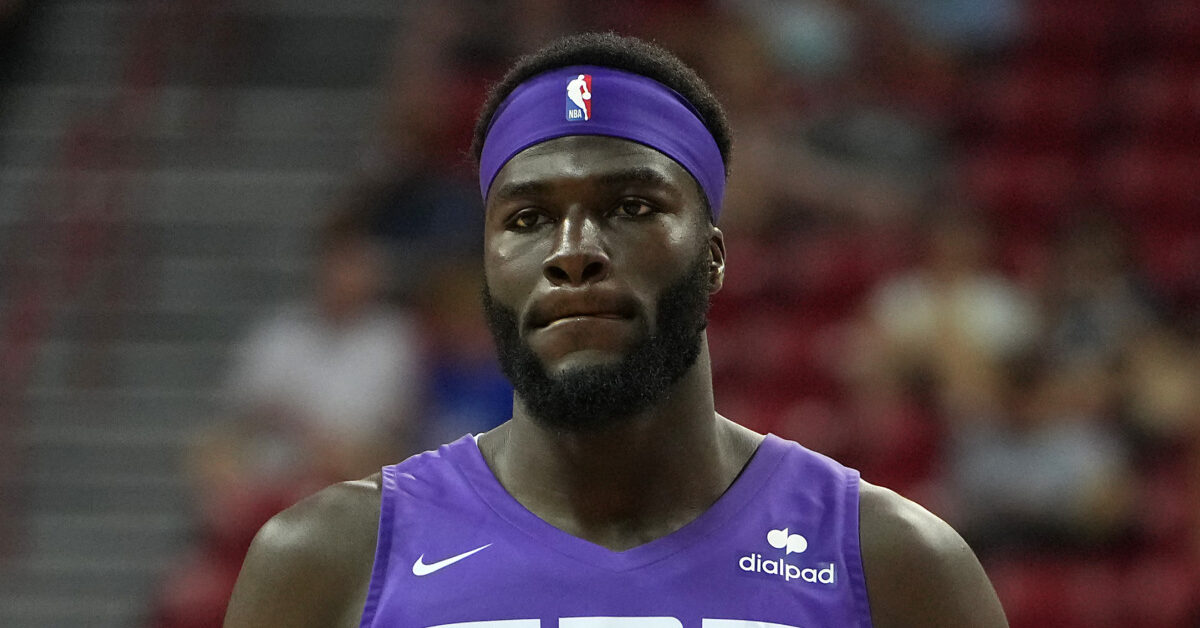 While many people are focused on the current 2022 Eurobasket tournament taking place that featured players such as Domantas Sabonis, Alex Len, Sasha Vezenkov, and other members of the Sacramento Kings played basketball within the last few weeks as well.
Neemias Queta, the first NBA player from Portugal, played a pair of 2025 Eurobasket pre-qualifiers games for the Portuguese national team this summer. Sacramento's big man was clearly the star of the roster and was therefore the focal point for his team on both ends of the floor.
Queta was often the biggest player on the floor during his time with both the Sacramento and Stockton Kings, and his 7'0" frame along with a 7'4" wingspan gave him a substantial advantage over both Romania and Cyprus in his two international showings.
That's not to take away from Queta's skillset, fundamentals, and ability on the floor which was fully displayed in these 40-minute games. Game one came against Romania, where Queta managed 20 points, 10 rebounds, and three blocks while converting 10/18 from the field in just under 26 minutes of playing time.
Romania's big came close to matching Queta's height, but his mobility wasn't even remotely comparable. Sacramento's big was a force to be reckoned with in the pick-and-roll, setting monster screens and rolling hard to the basket with the intent to finish and utilize his improved footwork when needed. Other times, his sheer power was more than enough.
Queta, who is still getting accustomed to playing at his current weight, could benefit from playing a more physical brand of basketball as time goes on, but his finesse moves are impressive nonetheless.
His soft touch around the rim with both hands, willingness to take jump shots, and flashes of stellar footwork were displayed in Las Vegas for Summer League and that clearly carried over into his international performances.
As you can see in the final portion of those clips, calling Neemias Queta's size advantage significant feels like a massive understatement. I couldn't help but feel bad for the Cyprus "big" that was tasked with slowing down the seven-footer.
In his second game with Portugal, Neemias Queta somewhat casually tallied 17 points, 14 rebounds, three assists, and two blocks on 7/12 from the field in 23.5 minutes of playing time.
Obviously, Quetta's overwhelming size also was an advantage on the defensive end of the floor where I'm sure Sacramento is hoping to see significant progress. There were times throughout the two showings that he seemed a bit too eager to send a shot attempt into the third row, but even when he fell for pump fakes he was often able to recover and alter the subsequent attempt.
Five total blocks doesn't paint the full picture of just how dominant of a defensive presence at the rim Queta was. Portugal comfortably won both of their showings by a combined 49 points. The opposition was consistently scared to drive into the paint but instead settled for jumpers as evident by neither team scoring more then 70 points.
It's also worth noting that Queta attempted three triples throughout these games, but did not succeed in converting any of them. They weren't all exactly close either.
Given the context of his teammates, opposition, plus the ridiculously small sample size of two games, it's hard to take all too much from the time Neemias Queta spent playing for Portugal this summer. It went somewhat as expected for the 39th overall pick in the 2021 NBA Draft.
His size was his greatest advantage and he excelled in using that to dominate around the basket on both ends of the floor while leading his country to two comfortable victories. Hopefully, Queta can carry over some of this positive momentum into training camp at the end of September.